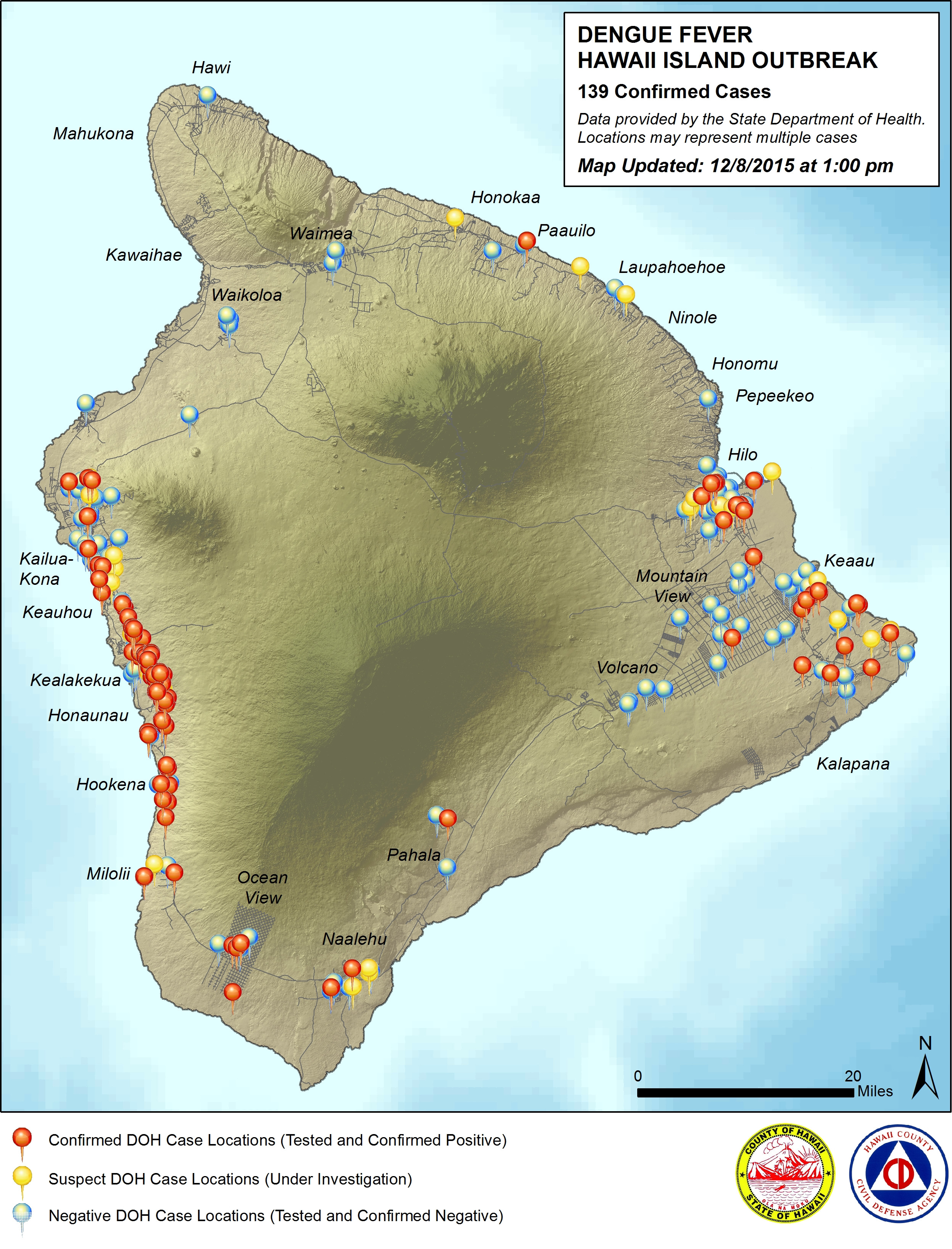 HAWAII ISLAND – On Tuesday, the number of confirmed cases of dengue fever on Hawaii Island held at 139, the same as the number reported on Monday. Hawaii County Civil Defense posted a new map reflecting the current case count.
The Department of Health planned to conduct spraying for mosquitoes in various areas of South Kona, Hamakua, South Hilo and Puna yesterday. Infected mosquitoes can transmit dengue fever to humans.
There was also some encouraging news on mosquito repellent. According to a media release, the Hawaii State Department of Health and the County of Hawaii announced donations valued at more than $23,000 in mosquito repellent products from Longs Drugs, part of CVS Health, and Foodland Super Market, Ltd. to aid in efforts to fight the spread of dengue fever on Hawaii Island.

MEDIA RELEASE

The donations, which included over 220 total cases of repellent with over 2,400 cans of spray from Longs Drugs, facilitated by Aloha United Way, and 20 cases of 4,800 individually wrapped towelettes from Foodland were distributed to at-risk populations on Hawaii Island, including people with housing insecurity and others for whom purchasing repellent is a challenge.

"Ending the spread of dengue fever in Hawaii is a team effort, and we are grateful to Longs Drugs and Foodland for joining us as we work to prioritize the health and safety of people in our state," said Virginia Pressler, M.D., director of the Hawaii State Department of Health. "A major component of fighting the spread of dengue fever is the prevention of mosquito bites – and this donation of repellants will directly aid us in protecting residents and visitors from bites on Hawaii Island."

Dengue fever is spread by mosquitoes – mosquitoes carrying the illness from an infected individual can spread it to another through mosquito bites. To prevent the spread of dengue fever, DOH recommends applying mosquito repellent containing DEET, wearing long-sleeved shirts and pants when in areas with heavy mosquito activity, using indoor insecticides, and clearing areas with standing water.

Earlier this month, DOH launched "Fight the Bite", a statewide public education campaign that provides residents and visitors with simple tips and information they can use to prevent the spread of dengue through infected mosquitoes. For more information on "Fight the Bite," visit health.hawaii.gov.