CAPTAIN COOK, Hawaii – As the number of confirmed cases of dengue fever on Hawaii Island held at 145 Thursday, the Department of Health provided video documenting part of the ongoing mosquito control effort on the island.
This week, the Hawaii State Department of Health and the CDC entomology team are out in the field conducting mosquito surveillance in Kona. South Kona was initially identified as a hot spot for dengue, and the area around Captain Cook remains a location of high risk for the mosquito-borne illness.
In the video provided by the health department, Ryan Hemme, the Senior Entomologist of the CDC's Dengue Branch within the Division of Vector-Borne Diseases, describes how the team is collecting mosquito samples and setting traps in the Captain Cook area. The field work is being done hand-in-hand with additional studies at their makeshift laboratory in the Keakealani building in Kealakekua.
The team is working with two mosquito traps: Autocidal Gravid Ovitrap (AGO) and BG traps.
According to the state, the entomology team objectives are:
Provide consultation on surveillance of dengue vectors (mosquitoes).
Initiate an investigation to incriminate the mosquito species involved in the outbreak (Aedes aegypti, Aedes albopictus, Aedes japonicus)
Compare mosquito captures in BG and AGO traps to determine if continued surveillance using AGO traps would be adequate.
Conduct assessments of aquatic habitats (containers) that may be producing most of the mosquitoes in and around buildings in areas where confirmed dengue cases have been reported.
Provide vector control recommendations based on available literature and findings of this investigation.
---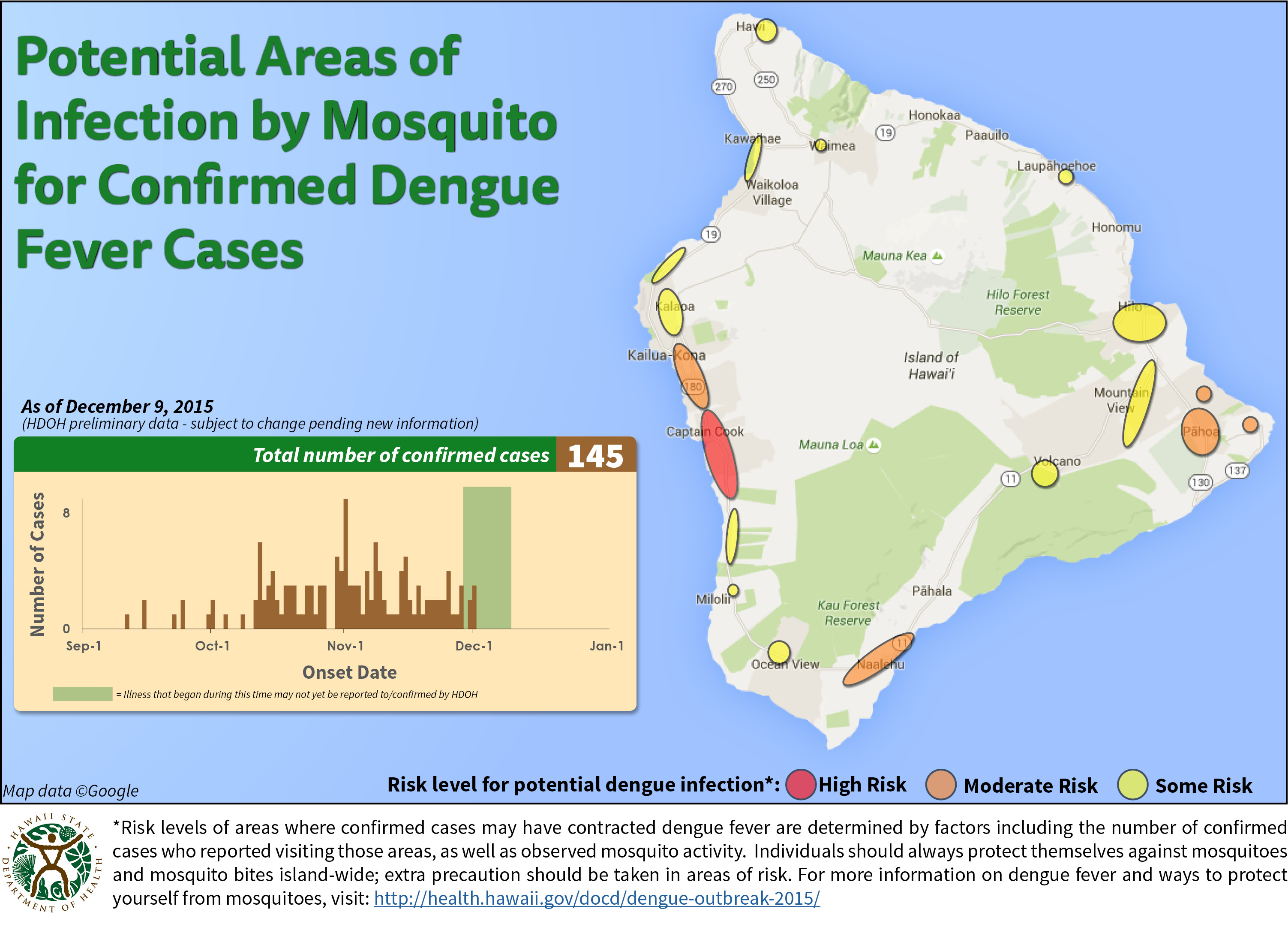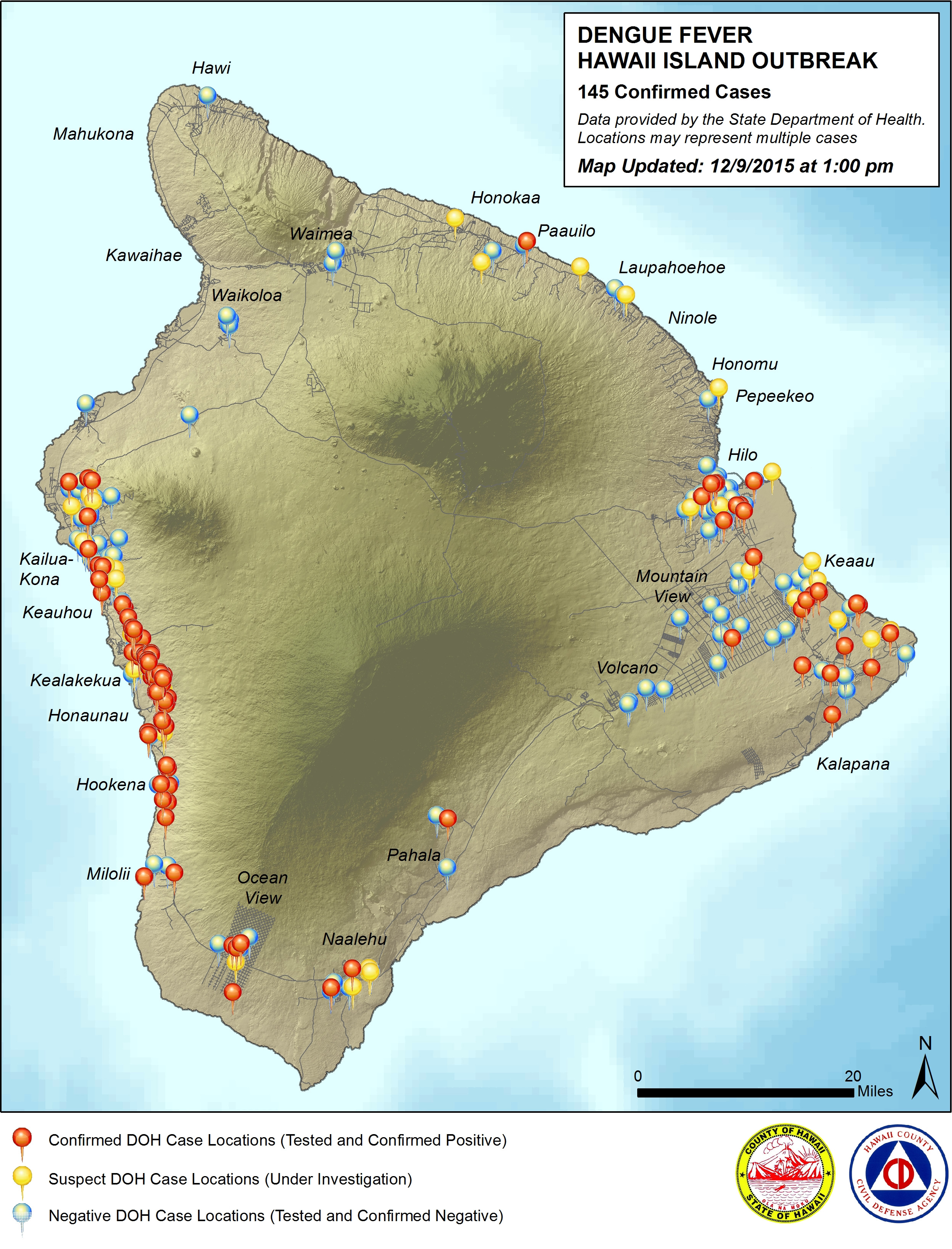 ---

Dengue Fever information update

This is a Dengue Fever information update for Thursday December 10th at 1:00 PM.

The State Department of Health continues to work with other state and county agencies on the issue of the Dengue Fever outbreak. As of 1:00 PM today, the Department of Health had reported 145 confirmed cases originating on Hawaii Island. These cases include 128 residents and 17 visitors.

Dengue fever is a virus that is transmitted or spread by infected mosquitoes and not directly from person to person. Dengue Fever is not endemic or common to Hawaii. It was likely introduced by a person who contracted the virus in another area of the world and became infectious while in Hawaii.

Because dengue fever is only transmitted by mosquitoes, the Department of Health is spraying and treating areas with high mosquito presence and confirmed cases. The Department of Health is conducting spraying in various areas of South Kona, Hilo and Hamakua today.

Although spraying and treatment of areas is ongoing, the most effective method to reduce the spread and eliminate Dengue is to fight the bite. Minimize or prevent the possibility of being bitten by an infected mosquito by wearing clothing that minimizes exposed skin, use mosquito repellant and avoid activities in areas of high mosquito concentration during the early morning and late afternoon periods when mosquito activity is greatest.

In addition, persons feeling ill and having a fever should remain indoors to prevent the possibility of being bitten and infecting mosquitoes.

For additional information on Dengue Fever and preventing the spread of Dengue Fever, go to health.hawaii.gov or call the Department of Health at 974-6001. Everyone's help and assistance with this outbreak is much needed and appreciated.