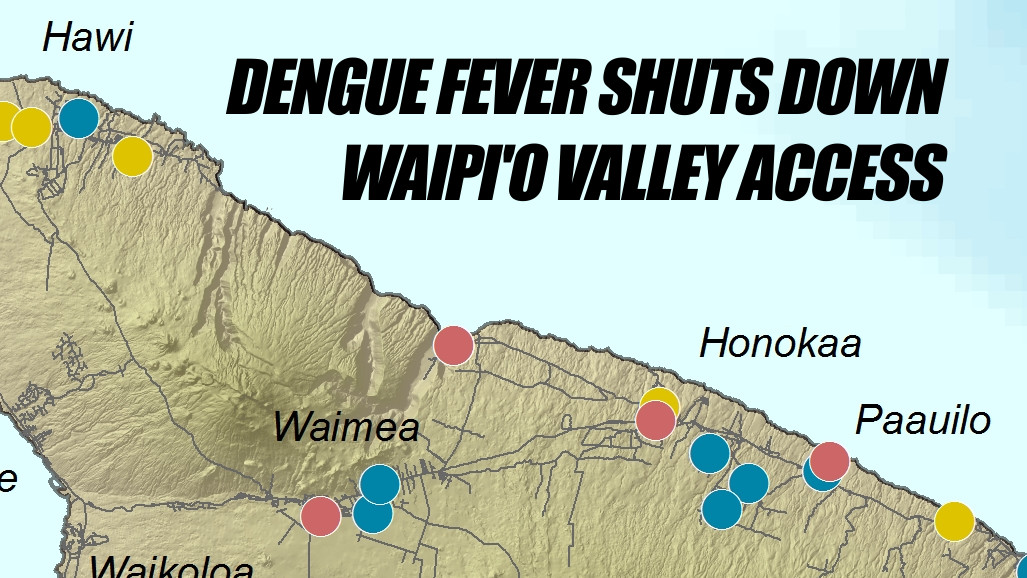 HAWAII ISLAND – Hawaii County Civil Defense shut down the Waipio Valley Access Road and valley area to all traffic effective 2:30 p.m. today, and a message from the agency says the access will be limited to valley residents only.
"This restricted access will remain until further notice," civil defense said.
As of Wednesday, the Hawaii Department of Health reported there have been 2 new confirmed cases since yesterday. The total number of confirmed cases is now 215. Officials say only two of those confirmed cases are potentially infectious.
Waipio Valley is the third location on Hawaii Island to be closed to visitors in response to the dengue fever outbreak that was first identified in September 2015. The first spot was Ho'okena Beach Park, followed by Miloli'i Beach Park. The State Department of Land and Natural Resources also closed lands in the vicinity of Miloli'i and Honomalino to all people except essential personnel and residents of the areas.
The health department will begin holding weekly dengue information sessions in Kona and Hilo. "Participants will learn about the prevalence, transmission, and symptoms of dengue fever; outbreak response efforts; how to interpret case counts and maps; and the best ways to fight the bite," DOH stated in a media release.
Weekly sessions will be held every Thursday at 11:30 a.m. at the State Office Building in Hilo (Rooms A, B, and C located at 75 Aupuni St.), and at the West Hawaii Civic Center in Kealakehe (Mayor's Conference Room).
Beginning Jan. 19, weekly sessions will be held every Tuesday at 12:30 p.m. at Yano Hall in Captain Cook.
These sessions are open to the public and scheduled to continue through February. Contact the Department of Health Hawaii District Health Office at 974-6001 for more information.
DOH produced a new risk map for Hawaii Island on Wednesday.