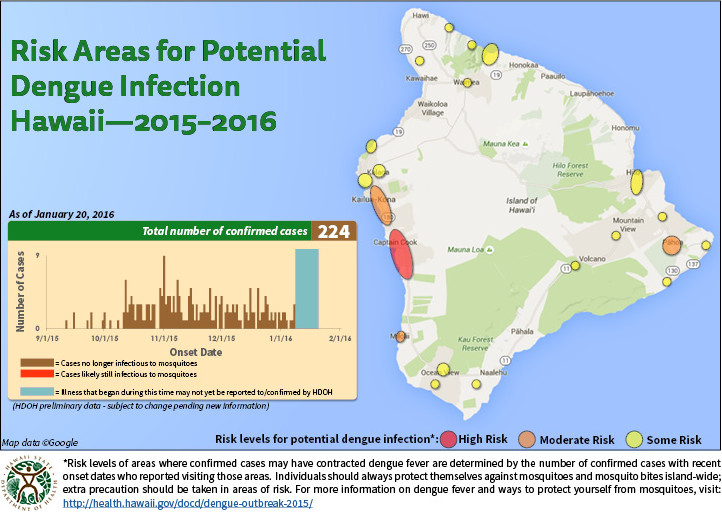 HAWAII ISLAND – Six new confirmed case of dengue fever were reported by health officials on Thursday, bringing the total number of recorded infections on Hawaii Island to 230 since the outbreak was identified in September. Only three of those confirmed cases are potentially infectious to mosquitoes.
Here is the latest:
CLOSED: The Waipi'o Valley Access Road and valley area remains closed and access is limited to Waipi'o Valley residents only until further notice. Ho'okena and Miloli'i Beach Parks remain closed until further notice. The State Department of Land and Natural Resources (DLNR) has also closed state lands in the vicinity of Miloli'i and Honomalino to all people except essential personnel and residents of the areas.
NEW MAP: A new risk map was published on January 20 by the state Department of Health. Milolii is now an area of moderate risk (orange), and the area of some risk (yellow) near Waipi'o Valley has gotten larger. There are also new areas of some risk (yellow) in Kalapana and north of Kawaihae.
CDC RETURNS: This week, an entomology team from the Dengue Branch of the Division of Vector-Borne Diseases, U.S. Centers for Disease Control and Prevention (CDC) returned to Hawai'i to continue their consultation and mosquito surveillance work with DOH on dengue vectors (mosquitoes) in the Kona area. Civil defense says the team will use all available historic and current data to map, trap and identify mosquitoes that may be carrying the dengue virus.
MEETING: The Hāmākua-Kohala Health Center is hosting a meeting for the Honoka'a community on Friday, Jan. 22 at 6 p.m. at the North Hawai'i Education & Research Center. DOH and Hawai'i County Civil Defense will update the community on the latest in response efforts in Waipi'o Valley.
TRAPS: Over 3,000 mosquito traps have been deployed by Springstar, Inc; 500 of those traps were donated. Civil defense says the traps are being used in selected areas of concern, including Milolii. The traps are being considered as a potential mosquito abatement alternative for organic farmers. Michael Banfield, founder of the SpringStar company that manufactures and markets the Mosquito Trap-N-Kill™ lethal ovitrap, ventured into Waipi'o Valley to assess the mosquito situation on Wednesday. We'll have video from that visit posted soon. (NOTE: It was originally reported that Springstar donated 3,000 mosquito traps but we were told by the company that the number of donated traps is 500)
---

Dengue Fever information update
Wednesday January 20th at 1:10 PM

The response to the ongoing Dengue Fever outbreak continues. As of 1:00PM today the Department of Health reported no additional confirmed cases since yesterday and the total number of confirmed cases since the beginning of the outbreak remains at 224. These cases include 202 residents and 22 visitors.

To be successful in controlling and ending this outbreak, everyone's help is needed to Fight The Bite. Preventing mosquito bites by wearing light colored clothing that minimizes exposed skin, using mosquito repellent, and avoiding activities in areas of high mosquito concentration during the early morning and late afternoon periods when mosquito activity is greatest. If you suspect you may have dengue, contact your health care provider and remain indoors to prevent the possibility of being bitten and infecting mosquitoes.

Help to reduce potential mosquito breeding areas around homes and businesses by:

– Removing or eliminating standing water that provides sources for mosquito breeding such as buckets or puddles.
– Fix leaky faucets and outdoor hoses that are dripping water.
– Treat bromeliads and other plants that hold water with a larvacide or chlorine bleach solution.
– Clean gutters to allow water to drain freely.
– Repair screens and windows to help keep mosquitoes out.
– Dispose of old tires at no charge at county transfer stations islandwide.

The Hamakua-Kohala Health Center will be hosting a meeting with the Department of Health and Civil Defense for the Honokaa community on Friday, January 22 at 6 p.m. at the North Hawaii Education and Research Center.

For additional information on dengue and preventing the spread, go to health.hawaii.gov or call the Department of Health at 974-6001. Everyone's help and assistance with this outbreak is much needed and appreciated.