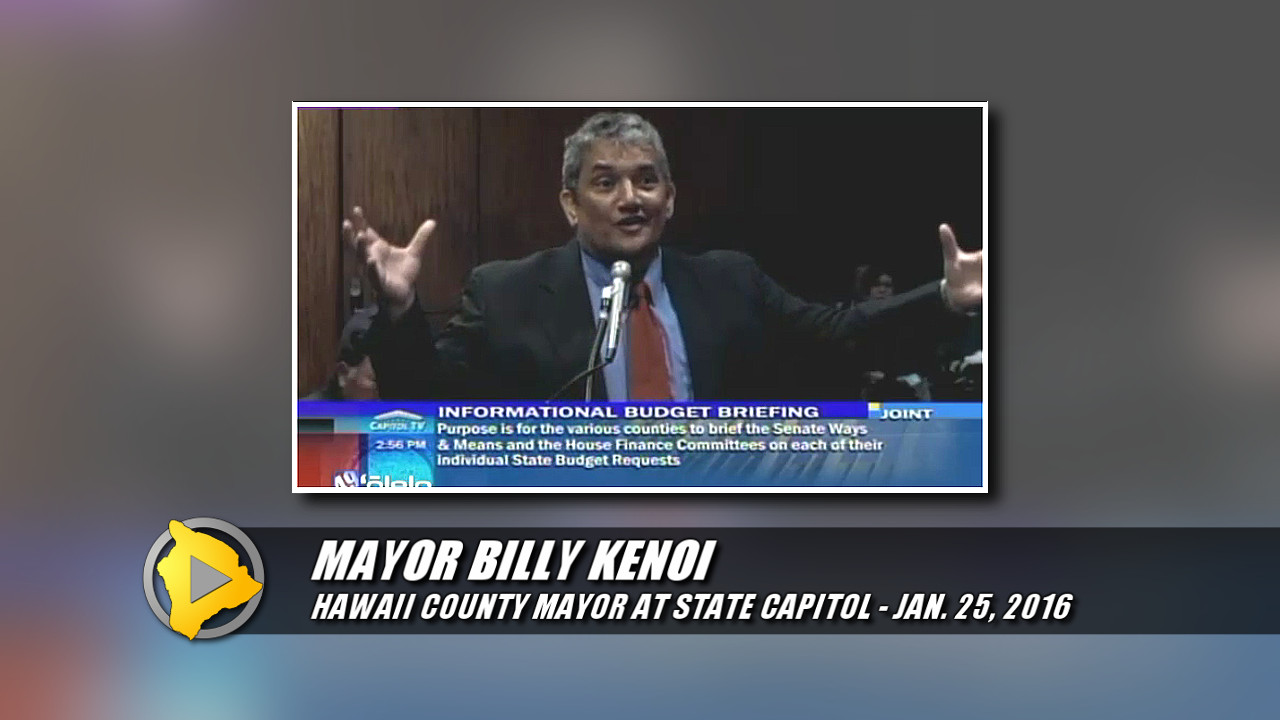 HONOLULU, Hawaii – Hawaii's four county mayors went to the capitol on Monday to present their local needs to state lawmakers.
Hawaii County Mayor Billy Kenoi joined Maui Mayor Alan Arakawa, Kauai Mayor Bernard Carvalho, Jr., and the City and County of Honolulu Mayor Kirk Caldwell for an informational brieing before the Senate Ways and Means and House Finance Committees.
Here is the official testimony of Mayor Kenoi, which focused on transportation, homelessness, dengue fever, Rapid 'Ōhi'a Death, and state-county partnerships like Mauna Kea Recreation Area and Banyan Drive:

Testimony of the County of Hawaii Mayor Billy Kenoi

Aloha, Chair Tokuda, Chair Luke, and distinguished members of the Senate Ways and Means and House Finance Committees. Thank you for this opportunity to appear before you to discuss issues of importance to Hawai'i Island for the 2016 legislative session.

We are thankful for the support of the Hawai'i State Legislature in addressing Hawai'i Island's challenges in the recent years. Through Tropical Storm Iselle, the Puna Lava Flow, and the current dengue outbreak, the county was able to serve our residents by working together with various state and federal partners. This spirit of cooperation, collaboration, and collective effort served our people well in these times of need, and will continue to serve our people as we address the challenges ahead.

We have a great deal more work to do to support our communities. On behalf of the people of Hawai'i Island, we respectfully request that the Legislature focus on fulfilling responsibilities and commitments already made to state projects and programs on Hawai'i Island.

TRANSIENT ACCOMMODATIONS TAX

The hospitality industry is critically important to our state, especially for the thousands of working families that rely on visitors both directly and indirectly for their livelihoods. We thank the Legislature for recognizing the importance of county facilities and services in supporting and enhancing the visitor experience.

When a visitor calls for law enforcement help, a county police officer responds. When a visitor gets into trouble in the ocean, county lifeguards or firefighters respond. When a visitor uses sewer and water service, those are county services. Visitors travel on county roads, and use county parks.

As the visitor count grows, their demands on county resources also grow. We now have more than one million tourists visiting the County of Hawai'i annually, and the cost of delivering services rises each year. This burden should be equitably distributed. In fairness to our residents who shoulder the majority of our operating expenses through property taxes, it is important that transient accommodations tax revenues to the counties increase as the visitor count increases.

The County of Hawai'i spent approximately $31 million on visitor related expenses for fiscal year 2013-14. These expenses include services for public safety, sanitation, the upkeep of county park facilities, and many more. As visitors total approximately 13% of our island's daily population, it is important to support demand and provide a high quality visitor experience.

The State-County Functions Working Group, created by the 2014 Legislature, consisted of representatives from the state, counties, and visitor industry. They evaluated the division of responsibilities between the state and counties relating to the provision of public services, and recommended an appropriate allocation of transient accommodations tax revenue that properly reflects that division.

We thank the working group for their careful, detailed research and consideration of the issues, as well as their work in compiling their report. We defer to the working group's recommendations and urge the Legislature to consider the report's recommended county allocations of transient accommodations tax revenues.

TRANSPORTATION

We recognize the monumental responsibility of the Department of Transportation, maintaining the major highways that connect our Hawai'i Island communities, as well as operating the facilities that connect our island to our neighbor islands and points beyond.

The importance of Hawai'i Island's two major airports and two major harbors cannot be understated. Ground was recently broken on a new interisland cargo terminal at Hilo Harbor to alleviate congestion caused by sharing pier space between cargo and passenger ships. In recent years, Kona International Airport has received a new air traffic control tower and a new rescue and fire fighting facility. Work continues at Hilo International Airport on a new rescue and fire fighting facility and a cargo facility. We thank the state for these improvements.

We strongly urge the Legislature to approve the administration's proposal to construct a new $50 million federal inspection station at Kona International Airport. This facility will comply with the U.S. Department of Homeland Security's requirements for Customs & Border Protection, enabling Kona to once again welcome direct international flights. Without a functioning inspection station at Kona, the steadily increasing number of international tourists must fly into Honolulu and take commuter flights to Hawai'i Island.

Beyond the inconvenience to Hawai'i Island-bound international visitors, Honolulu International Airport operates at its top capacity during busier times of the year. International arrivals to West Hawai'i will allow Kona to function as a reliever airport to ease congestion in Honolulu. Your attention to and support of this investment in Kona International Airport infrastructure will allow our state as a whole to continue to grow as an international visitor destination.

Work on the long-awaited $90 million second phase of improvements to Queen Ka'ahumanu Highway in Kona is progressing, and Kona residents are eagerly anticipating the relief to traffic congestion that the improvements will bring. Commuters along the Hāmākua coast also look forward to a quicker, safer commute once projects to fortify aging bridges and mitigate rockfall hazards are complete.

While recent improvements to Highway 130 between Kea'au and Hawaiian Paradise Park have improved traffic flow on that segment of the roadway, much more work remains to provide adequate capacity to the thousands of working people who commute each day into and out of Lower Puna, the fastest growing region in Hawai'i.

We again ask your committees to press ahead with the larger plan to expand more than nine miles of the Kea'au-Pāhoa Highway to four lanes. State studies show that four intersections along this highway rank among the most dangerous in the state based on the numbers of serious accidents, and improvements to this thoroughfare are an urgent matter of public safety. In addition, we ask the Legislature begin substantive, meaningful exploration of an alternate access route. Growth in Lower Puna is showing no indication of slowing down. For public safety, for economic growth, and for quality of life, our residents deserve this consideration.

HOMELESSNESS

In the past five years the homeless population on Hawai'i Island has more than doubled, increasing from nearly 600 individuals to over 1,200. This growth far outpaces increases in other counties. But more than a statistic, each of those individuals is somebody's brother, sister, cousin, aunty, or uncle that has fallen onto difficult times. We are committed to approaching and treating each person with dignity and aloha, while also holding them to the same standards of community conduct that make our island a great place to live.

We have been working with our community and government partners to address homelessness on our island. Our community policing officers and paramedics partner with health care and outreach workers to connect the homeless with housing and services. The county has built emergency housing, transitional and affordable rental housing, and affordable workforce housing in West Hawai'i, where housing costs are the highest on our island. We are looking at creative ways to expand the inventory of emergency shelter beds, and will soon be building micro-units. Sadly, this is not nearly enough.

To better serve our homeless population we need to expand mental health and substance abuse treatment services. We need to increase funding for programs that get people into housing. Given the size of our island and the scope of the work needed, more outreach workers are needed.

We recognize this is a complex and long-term issue. We accept this challenge and look forward to continuing the collaboration with our state, federal, and community partners.

PUBLIC HEALTH & SAFETY

Mosquito-borne illnesses are on the rise worldwide. As many as 400 million people worldwide are infected with dengue every year, and similar viruses like chikungunya and zika continue to spread around the world. As global travel increases and land use worldwide continues to change, the risk of rare or new vector-borne pathogens to emerge and cross borders increases.

Thankfully, no mosquito-borne illnesses have gained a permanent foothold in the Hawaiian islands despite frequent introductions from infected travelers, and despite the statewide presence of at least one of the most problematic species of mosquitos that spread illnesses such as dengue. A robust vector control capacity is essential to controlling the statewide spread of illnesses through mosquitos and other pests.

In November 2015, the Centers for Disease Control and Prevention assessed the state and county's response to the outbreak. While the assessment recognized the great coordination between state and county agencies, it also found critical deficiencies in the Department of Health's areas of epidemiology, entomology, and communications. County staff has augmented Department of Health staff in the response to this outbreak, from incident command, to public communications and outreach, to on-the-ground vector control. County Public Works and Parks & Recreation workers have joined Department of Health vector control and sanitation. County paramedics have been assigned to multi-disciplinary outreach teams with public health nurses and social service providers to go into hard-to-reach populations to find potential cases and connect them with the care they need. The county has also deployed risk reduction teams to go into communities and address mosquito hazards.

The Department of Health's vector control and entomology capacity has been challenged in recent years. Despite these staffing and resource limitations, the hardworking men and women of the Department of Health have done an extraordinary job responding to the dengue outbreak on Hawai'i Island. We ask for your support of the Department of Health in expanding their personnel and resources to tackle the public health threats facing the people of Hawai'i.

AGRICULTURE & ENVIRONMENT

Hawai'i has been impacted by invasive species and threats to our native flora and fauna time after time. In the past two decades alone, the coqui frog, little fire ant, varroa mite, coffee berry borer, and banana bunchy top virus have all established themselves on Hawai'i Island, impacting agriculture and the quality of life of our residents. Now another threat is emerging that could have catastrophic impacts on the health of our forests. Rapid 'Ōhi'a Death, also known as 'Ōhi'a Wilt, is a fungus that is spreading on Hawai'i Island. It was found on trees spread over 6,000 acres in Hilo and Puna in a 2014 survey. Since then, it has spread to Ka'ū and Kona with no evidence of stopping. The 'ōhi'a tree is fundamental to the Hawaiian forest. It is critical to maintaining a healthy watershed, is a source of food for many endangered Hawaiian forest birds, and is central to many cultural practices.

Scientists from the U.S. Department of Agriculture and the University of Hawai'i have been working with state agencies and private partners to research how the disease is spreading. Initially found in East Hawai'i as early as 2010, the disease has migrated to West Hawai'i and to higher elevations. Early findings indicate that people are a major carrier of the disease from place to place.

The University of Hawai'i, Department of Agriculture, and Department of Land and Natural Resources all have a stake in this effort and all have much to contribute. We encourage you to support efforts and provide resources requested in the fight against Rapid 'Ōhi'a Death.

STATE-COUNTY PARTNERSHIPS

Our administration has long advocated for partnerships with the state to more effectively manage state-owned assets on Hawai'i Island. While the state has a kuleana to care for public trust lands and assets, the county is in a position to provide responsive, locally informed management and oversight of these lands and assets.

We have seen this kind of partnership between the state and county succeed. The former Mauna Kea State Recreation Area, with its years of deferred maintenance, has been improved for the benefit of residents and visitors alike traversing the 50-plus mile Daniel K. Inouye Highway across our island. We are happy to report that since assuming management in July 2014, the county has improved existing facilities, expanded parking, added more restrooms to keep up with demand, and built a playground for energetic young travelers.

While Mauna Kea Recreation Area is a shining example of a revitalized state asset serving residents and visitors, other state assets are critical to the economy of Hawai'i Island and in need of more active management.

The resorts on Waiākea Peninsula have been critical components of East Hawai'i's economy since the rise of tourism in the 1960s and 70s, and through the tough economic times that followed. These resorts sit on Department of Land and Natural Resources-managed parcels along Banyan Drive. Over time, a lack of active oversight of many of these properties have left them underutilized or in disrepair.

East Hawai'i residents are commuting well over 100 miles daily to work at jobs in Kona and the Kohala Coast resort areas while once-proud properties sit empty and deteriorating in Hilo. When properly managed, these properties are an economic engine and a job creator that provides benefits to our working families.

We support the Banyan Drive Working Group's efforts to address the future of Banyan Drive and to bring vibrancy back to the Waiākea Peninsula. The Department of Land and Natural Resources has commissioned various studies that provide a foundation upon which the county and state can initiate a master urban redevelopment plan. The county looks forward to partnering with the state to achieve this much needed revitalization of Banyan Drive.

CONCLUSION

We thank you for your consideration of these issues. We all share a great responsibility and duty to our constituents, and are prepared to work together with our legislators and the administration to address these concerns.

It has been an honor to serve the people of Hawai'i Island alongside you for the past eight years. In my final message to you as mayor of the County of Hawai'i, I would like to thank you for your past support and your continued commitment to Hawai'i Island.