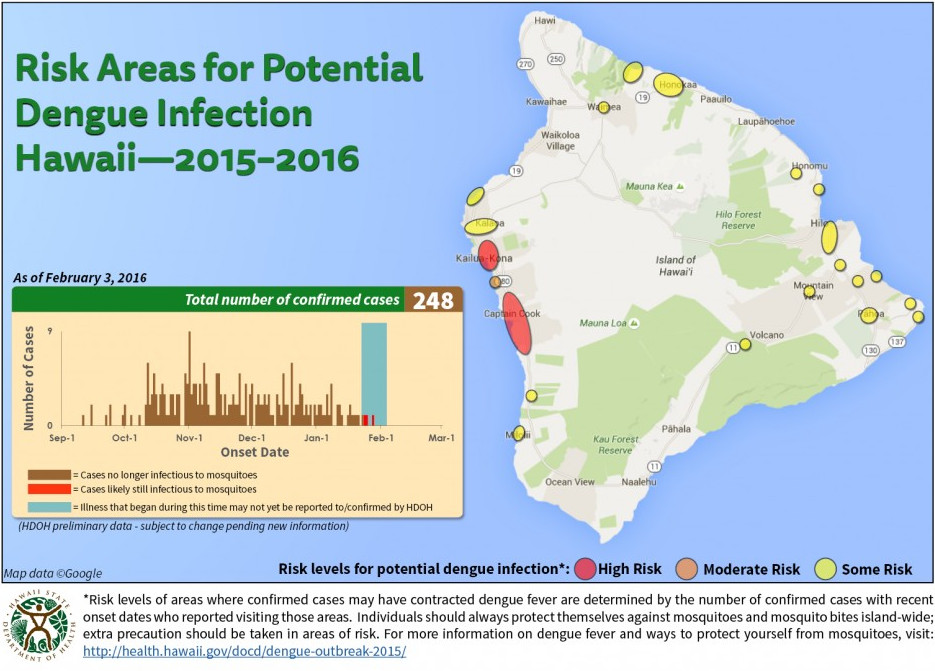 HAWAII ISLAND – The latest dengue fever risk map plotting the potential for infection on Hawaii Island shows the Keauhou area has been separated from Kona's high risk zone and is now an orange, moderate risk.
According to the latest health department visualization, Keauhou is situated between two red, high risk areas: Kailua-Kona and the Captain Cook area of South Kona. Last week, Kailua was designated a "red" area of high risk for the first time since the outbreak of the mosquito-borne disease began in September 2015.
Civil defense reports the health department will be conducting spraying or treatment of the Kealakehe Elementary and Intermediate Schools in Kona this Saturday, February 6th.
The latest map, released by the state on Wednesday February 3, shows yellow -or some risk – near Ho'okena and Milolii, where the popular beach parks remains closed due to the dengue fever outbreak. There are also numerous spots of yellow in Hilo, Puna, Honoka'a, and Waipi'o Valley. The Waipi'o Valley Access Road remains closed as well.
Waimea is now yellow, designated an area of some risk. There are no longer any areas of risk identified in Ocean View or Kawaihae.
Yesterday, Governor David Ige joined Hawaii County Mayor Billy Kenoi and Civil Defense administrator Darryl Oliveira for an Oahu press conference in which the elected officials defended their response to the outbreak, particularly their decision to hold on declaring a state of emergency despite calls from Big Island residents and other Hawaii leaders.
On February 3, the Hawaii Department of Health identified 2 new cases of dengue fever. The total number of cases since the outbreak began in September is now 248.
---