NEWS BRIEFS
On April 6, the Hawaii County Council authorized the issuance of up to $6 million in general obligation bonds for the Kealakehe Scrap Metal Yard Remediation project, which includes excavating lead impacted soil and transporting it to the West Hawaii Sanitary Landfill for final disposal. Bill 157 allows the County to take advantage of the lower interest rates provided by the State Water Pollution Control Revolving Fund Loan for Solid Waste Public Improvement Projects.
During public testimony, Kona dentist Cliff Kopp claimed all the necessary permits and environmental assessments were not obtained for the county to do the work, which would be carried out on state land zoned conservation.
Hawaii County Environmental Management Director Bobby Jean Leithead Todd refuted the claim, and said the County has been in contact with the DLNR's Land Division. The county has also been in touch with the Department of Health on the matter.
On April 8, 2016 a Draft Environmental Assessment and Anticipated Finding Of No Significant Impact was posted for the planned a remediation and closure of the former Kealakehe Metal Salvage Facility.
BACKGROUND – Kealakekehe Scrap Metal Clean-Up
The former Kealakehe Metal Salvage Facility is located in the North Kona industrial area, next to the current Kealakehe Transfer Station. While the facility is no longer in use, debris is still present and fill material extends to the south onto the adjacent Queen Lili'uokalani Trust property.
The County says the soil at the site is contaminated with lead due to past salvage operations. The lead was detected at concentrations above Hawai'i environmental action levels during preliminary environmental sampling performed in 2010.
The County must carry out a full closure and remediation of the Kealakehe site as required by the solid waste permit issued by the State of Hawai'i Department of Health. All lead-contaminated soil and rock will be excavated and disposed of at the West Hawai'i Sanitary Landfill in Puuanahulu, which is the only solid waste landfill on Hawaii Island that is permitted to accept non-hazardous lead-contaminated soil.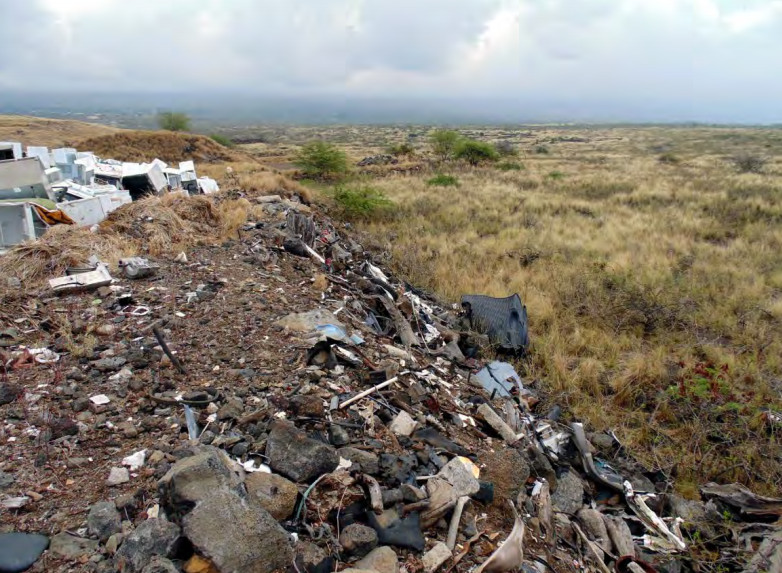 CONTINUING COVERAGE
ONLINE RESOURCES