KA'U, Hawaii – Hawaii Island is mourning the loss of a beloved Ka'u kupuna.
Winifred Pele Hanoa – "Aunty Pele" to many – died in Waiohinu at the age of 92 on April 6, reports the Hawaii Tribune-Herald.
Big Island Video News interviewed Hanoa on the Memorial Day weekend of 2008 during the second Malama Punalu'u festival. Hanoa was representing Ka'u Preservation, the organization she co-founded with her late daughter Keolalani. Her words at the time summarized her life's work and passion.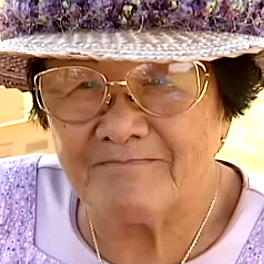 Ka'u is what it is, and I hope we can keep it that way… We cant afford to have it destroyed by developers. They been doing that in Kona, I can see that. But not in Ka'u. We are farmers in Ka'u. We have history of Ka'u. We can't be losing what kupunas – our ancestors – left for us. So I like to keep it that way. I hope to get all the developers that come here and get (them) out of here. So we can keep our island the way it is. Hawai'i."Pele Hanoa, August 2008
The Ka'u Calendar reports services for Hanoa are at Dodo Mortuary in Hilo at 11 a.m. this Saturday, May 7.