HAWAII ISLAND – The latest extended forecast for Tropical Storm Darby shows the storm coming very close to the Big Island by the weekend before possibly veering off to the north.
Darby is now being tracked by the Central Pacific Hurricane Center in Honolulu. The storm is less than 895 miles east of Hilo, and is moving west towards Hawaii at 13 mph. This general motion is expected to continue over the next 48 hours, forecasters say.
"The forecast philosophy with respect to track has changed little from the previous advisory," forecasters say. "Through the first 48 to 72 hours of the forecast, Darby's motion is expected to be increasingly influenced by the ridge building southeastward from north of the Hawaiian Islands. This is expected to impart a motion slightly south of due west until early Saturday."
On Saturday, Darby could make a close approach to the Big Island.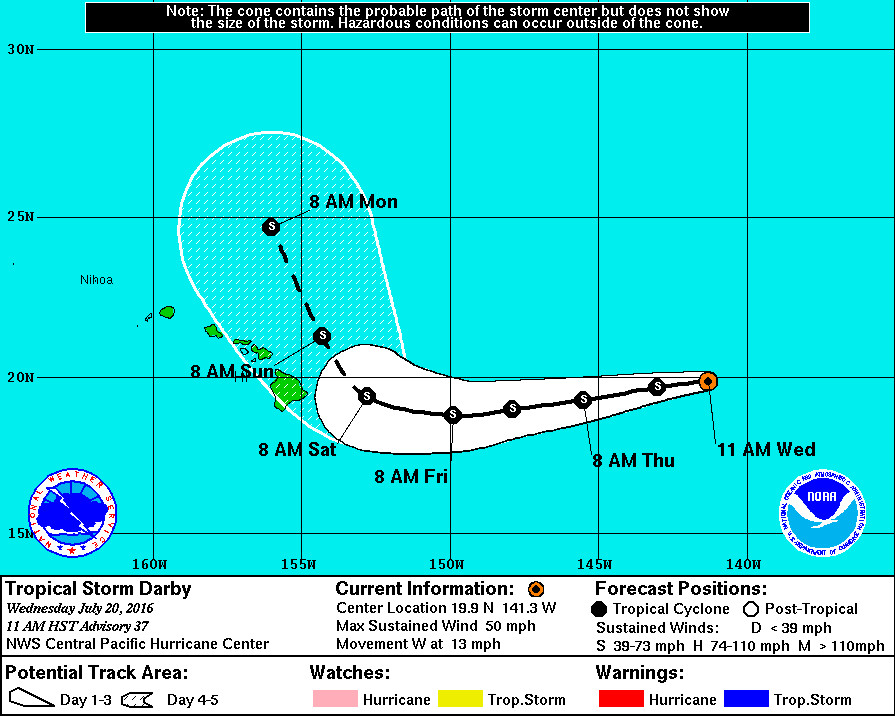 Weather officials predict a break in the ridge – expected in response to a southward-digging low aloft – will alter the direction of the storm just as it nears the Big Island. "This is expected to cause Darby to turn sharply toward the northwest and north on days 4 and 5," the National Weather Service reports, "as it becomes embedded within deep southerly flow between the low aloft and a ridge extending westward from the eastern Pacific…. This forecast slightly delays the turn toward the northwest, bringing the center a little closer to the Big Island of Hawaii, influenced by the latest ECMWF guidance."
Right now, Darby's maximum sustained winds are near 50 mph with higher gusts. But the intensity forecast "continues to be complicated by competing environmental factors", weather officials say.
"Darby will be moving over slightly warmer waters during the next couple of days, but this is still expected to be counteracted by moderate southwesterly shear and a generally dry environment," NWS reports. "Some models are showing some restrengthening in the 36 to 60 hour time frame, primarily due to a brief reduction in vertical wind shear. Given this, the official forecast shows little change in intensity during the first 36 hours, with a slight strengthening on days 2 and 3 before increasing shear at the end of the period leads to steady weakening. "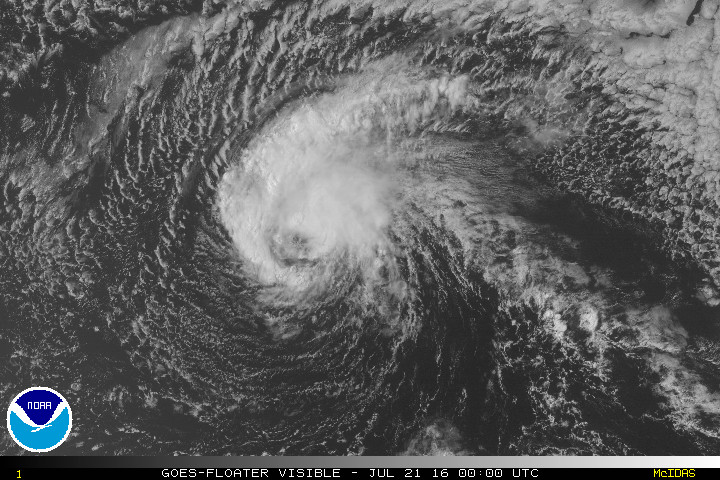 Tropical-storm-force winds extend outward up to 90 miles from the center. There are currently no coastal watches or warnings in effect.
"Eastern islands should pay close attention to Darby," the National Weather Service stated on its Facebook page. "Slight shifts in track and intensity forecasts can greatly alter impacts. Take time now to prepare yourself."