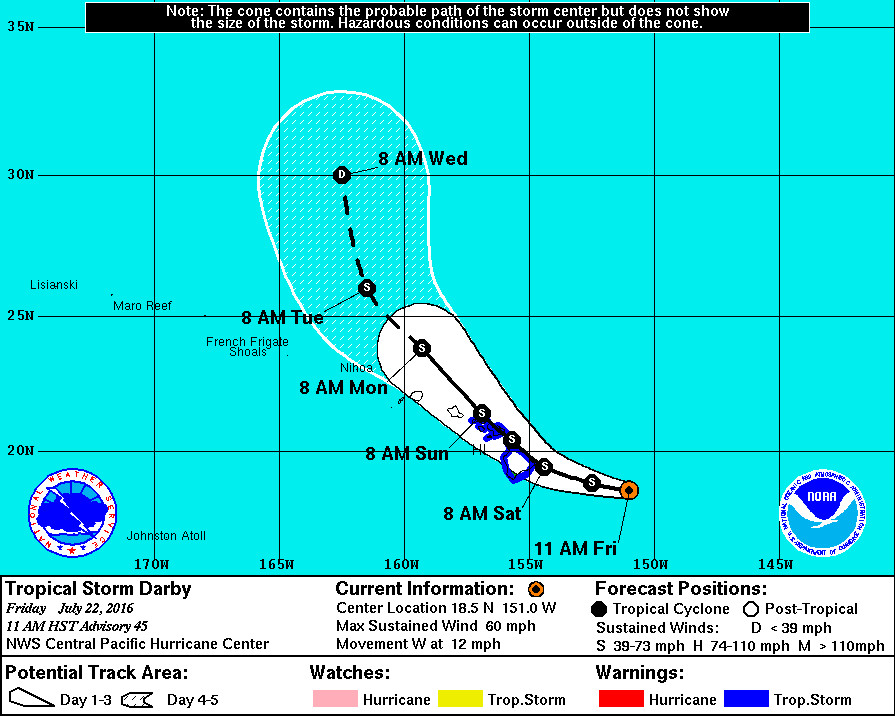 HAWAII ISLAND – Tropical Storm Darby has not weakened and its forecasted track now takes the storm directly over Hawaii Island on Saturday.
A tropical storm warning is in effect, with Darby 150 miles east southeast of Hilo. Darby is moving toward the west near 10 mph. Darby's forward motion is expected to slow slightly on Saturday followed by a turn toward the northwest Saturday night, predicts the National Weather Service. Darby is forecast to pass over the Big Island on
Saturday, and Maui on Saturday night.
Maximum sustained winds remain near 60 mph with higher gusts. Some weakening is forecast during the next 48 hours.
Tropical-storm-force winds extend outward up to 125 miles from the center.
Emergency officials warn tropical storm force winds and heavy rains could start as early as midnight tonight for East Hawaii.
Both Hawaii Governor David Ige and Hawaii County Mayor Billy Kenoi have signed emergency proclamations.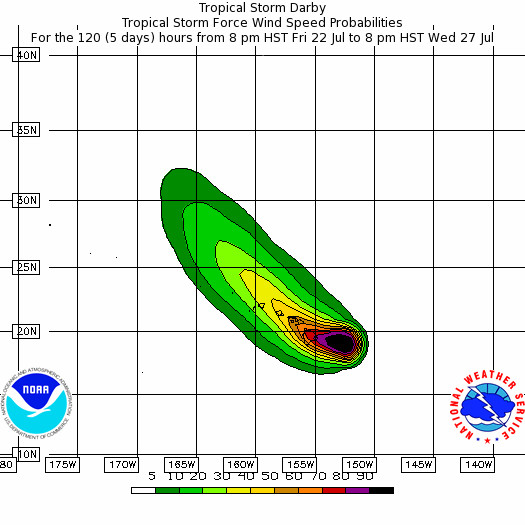 HAWAII COUNTY CLOSURES
Hawaii County officials say the Hele-On Bus service will be suspended Saturday until further notice. Resumption of service will depend on road and weather conditions. Solid Waste Transfer Stations and Landfills will also be closed Saturday.
Hawaii County Civil Defense says Umauma Bridge on Highway 19 along the Hamakua Coast will be closed starting at midnight with a detour through Old Mamalahoa Highway.
All camping and pavilion reservations at County and State parks have been cancelled today through Sunday.
All backcountry areas and certain roads in Hawai'i Volcanoes National Park, are closed effective 5 p.m. today.
County lava viewing and swimming pools are closed effective noon today.
Beginning Saturday, all State and County park facilities are closed until further notice.
EMERGENCY SHELTERS
"If possible and safe, shelter in place or with family and friends," civil defense says. "However, the following pet friendly emergency shelters open today at 4 pm: Waiakea High, Kalanianaole Elementary, Keaau High, Pahoa High, Honokaa High and Intermediate, Kealakehe High, Konawaena High and Ka'u High. Requirements for pets that need shelter are listed at hawaiicounty.gov. Bring bedding, food, water and any personal items you may need."
Hilo High, Laupahoehoe Community Charter School, Mountain View Elementary, Waikoloa Elementary, and Kohala High and Elementary open today at 4 pm but are unable to accommodate pets. Again, bring bedding, food, water and any personal items you may need.
HAZARDS: HIGH WINDS
Forecasters say tropical storm force winds over 39 mph are expected to begin overspreading the area early this morning. In some areas, winds will be as high as 40 to 50 mph with gusts to 65 mph. Even higher gusts will be possible over mountainous terrain, through passes, and where winds blow downslope.
Poorly constructed homes may sustain minor wall damage and partial roof removal. Other homes may have minor roof and siding damage, officials say.
"Some loose outdoor items will be tossed around," forecasters state. "Many power lines may be knocked down, possibly resulting in extended power outages in some areas. Many weaker trees such as albizia will be snapped or uprooted. Some large branches of healthy trees will be snapped. Most newly planted trees and shrubs will be damaged or uprooted."
HAZARDS: HIGH SURF
A high surf warning is in effect for east facing shores of the Big Island and Maui. On east facing shores, surf of 15 to 25 feet is expected to continue. This may cause significant wave runup and damage on some windward coastal roads, officials say.
HAZARDS: HEAVY RAIN
A flash flood watch is in effect. "Showers will increase on the Big Island tonight, followed by heavy rain and squalls with embedded thunderstorms Saturday into Sunday," weather forecasters say. "These conditions will spread to Maui county on Saturday as well. Refer to the flash flood watch for more details on the flood threat from Darby."
Total rainfall in the amount of 10 to 15 inches is expected, with locally higher amounts. The rain could cause life-threatening flash floods as well as landslides.
"In addition to flood prone areas," the National Weather Service warned, "heavy rain events of this size may cause flooding in areas outside designated flood zones. On the forecast track, storm total rainfall amounts could be between 6 and 10 inches. Low spots in roads can become dangerous and impassable due to severe runoff. High amounts of debris in streams and gulches may clog bridges and culverts resulting in dangerous flooding which could occur outside the normal channels, and could also lead to significant property damage."
DARBY DISCUSSION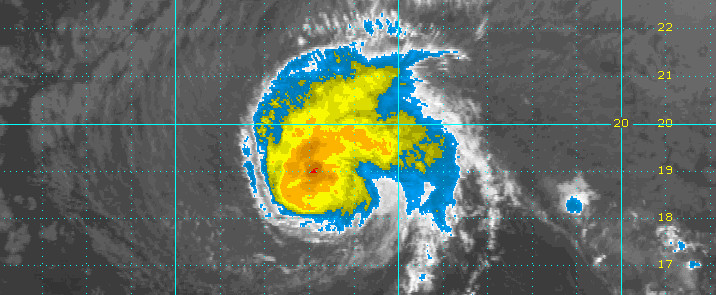 Darby's satellite presentation continues to be messy, with deep convection now on the decline and beginning to wrap around the south and southwest quadrants. Cloud tops have warmed over the past six hours and the best outflow continues to be toward the northeast, consistent with southwesterly shear near 10 kt depicted by SHIPS. The 53rd Weather Reconnaissance Squadron's WC-130J aircraft did a fine job this evening finding the center of this system, so we are confident we know where Darby is and how it is moving. Based on aircraft SFMR data from the first pass through the center, we will keep an initial intensity of 50 kt for this advisory. Like before, this is higher than the objective Dvorak satellite intensity estimates from the three satellite analysis centers (HFO, JTWC and SAB). These range from 30 kt to 45 kt. Interestingly, an 0630 UTC ASCAT pass only found 35 kt within the northeast quadrant. The next aircraft reconnaissance mission into Darby will be Saturday morning.

Initial motion is 280/09 kt as Darby slowly gains latitude along the southern flank of a subtropical ridge. Low pressure farther to the north is expected to dig southward, weakening the ridge. This will simultaneously slow Darby's forward motion and deflect it to a more northwesterly track. Vertical wind shear will also increase, especially after 18 hours according to SHIPS, likely leading to gradual weakening from 24 hours and beyond. Track guidance has changed very little over the past 6 to 12 hours, depicting a gently curving path across the main Hawaiian Island chain. The forecast for this advisory track has changed very little and remains well within the tightening guidance envelope and close to TVCN consensus. This track takes Darby directly across the Big Island of Hawaii between 12 and 24 hours.

The intensity forecast is based on the gradual toll that increasing vertical shear will take on Darby, overtaking any sustaining effects from marginal sea surface temperatures. However, this shear is not expected to become strong until day 2. The forecast calls for slow weakening with Darby maintaining tropical storm strength through the weekend. This is consistent with the previous package and represents a compromise between SHIPS, which weakens DARBY quickly, and GHMI, which keeps Darby as a strong tropical storm through day 5. It is important to note that weakening due to land interaction has so far been ignored for that portion of the track beyond the Big Island.

Interests outside of the watch and warning areas in the Hawaiian Islands should continue to monitor the progress of Darby. Remember, it is important not to focus too closely on the exact track and intensity forecasts because the average track error 72 hours out is near 100 miles, while the average intensity error is about 15 kt. In addition, the hazards of a tropical cyclone can extend over a broad area well away from the center.NWS CENTRAL PACIFIC HURRICANE CENTER HONOLULU at 11 pm HST