HAWAII ISLAND – Tropical Storm Darby is about to slam into the south side of Hawaii Island.
On the forecast track, the National Weather Service says the center of Darby is forecast to move ashore in the Ka'u District in the next couple of hours. After emerging from the Big Island, the center of Darby is expected to pass just south of Maui County later tonight or early Sunday.
UPDATE (2:40 p.m.) – Flash Flood Warning in effect until 5 p.m. for southern half of Hawaii Island's windward side. At 2:02 pm HST, radar indicated heavy rain moving onshore from the east and southeast. Rainfall will spread across the Puna and Ka'u districts over the next several hours as the center of Darby approaches the Big Island. Locations in the warning include but are not limited to: Hilo, Pahoa, Mountain View, Glenwood, Hawaii Volcanoes National Park, Wood valley, Pahala, Naalehu and Kawa Flats.
Darby appears to have started to make it predicted turn to the northwest, and is now moving west by northwest 45 miles south of Hilo.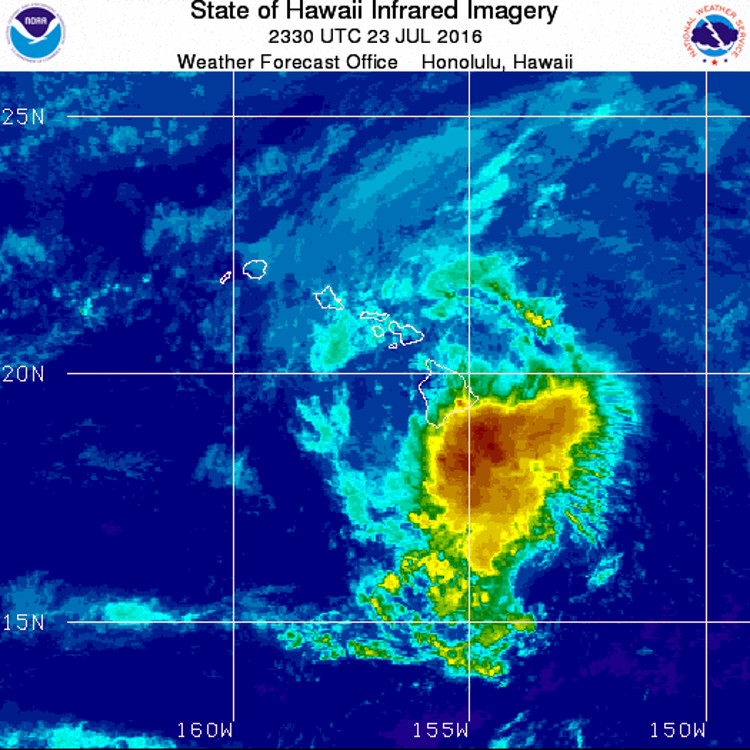 Maximum sustained winds are near 40 mph with higher gusts. Sustained winds of 43 mph and wind gusts to 61 mph have been reported in Kohala Ranch on the Big Island in the last couple of hours. Waimea had a wind gust of 53 mph and Kawaihae had a wind gust of 48 mph.
Darby is forecast to weaken during the next 48 hours.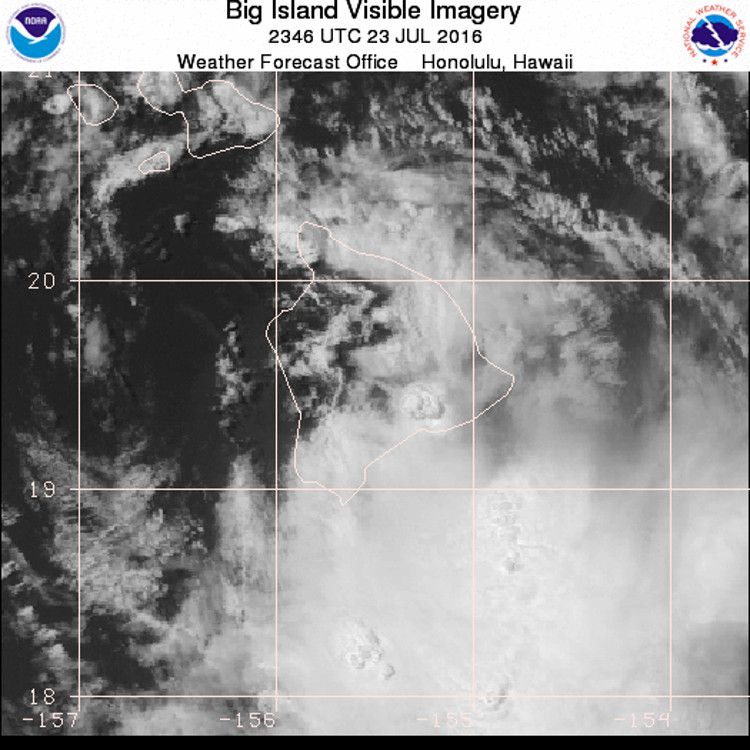 forecasters say passing rainbands will bring periods of showers late this afternoon. "These rains have saturated the ground in some areas already," the National Weather Service says. "There is a chance for intense downpours or thunderstorms to develop late this afternoon or tonight, and this could cause significant flash flooding. Storm total rainfall amounts of 10 to 15 inches are possible."
HAWAII COUNTY CLOSURES
Hawaii County officials say the Hele-On Bus service will be suspended today until further notice. Resumption of service will depend on road and weather conditions. Solid Waste Transfer Stations and Landfills are also be closed.
Hawaii County Civil Defense says Umauma Bridge on Highway 19 along the Hamakua Coast is closed with a detour through Old Mamalahoa Highway.
All camping and pavilion reservations at County and State parks have been cancelled today through Sunday.
All backcountry areas and certain roads in Hawai'i Volcanoes National Park, are closed.
County lava viewing and swimming pools are closed.
All State and County park facilities are closed until further notice.
EMERGENCY SHELTERS
"If possible and safe, shelter in place or with family and friends," civil defense says. "However, the following pet friendly emergency shelters open today at 4 pm: Waiakea High, Kalanianaole Elementary, Keaau High, Pahoa High, Honokaa High and Intermediate, Kealakehe High, Konawaena High and Ka'u High. Requirements for pets that need shelter are listed at hawaiicounty.gov. Bring bedding, food, water and any personal items you may need."
Hilo High, Laupahoehoe Community Charter School, Mountain View Elementary, Waikoloa Elementary, and Kohala High and Elementary open today but are unable to accommodate pets. Again, bring bedding, food, water and any personal items you may need.
DARBY DISCUSSION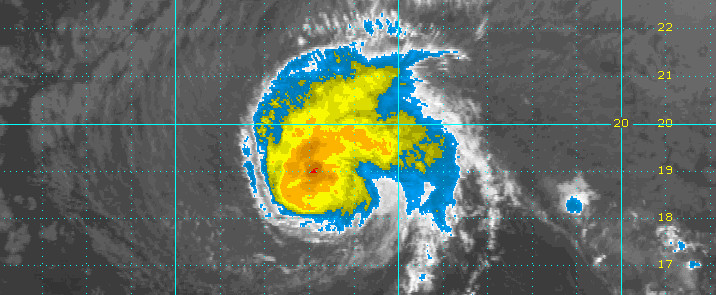 The 53rd Weather Reconnaissance Squadron has been flying through Darby all morning, providing valuable data as to Darby's strength and size. Maximum flight level winds near 50 kt indicate that Darby has weakened slightly since their visit last night, and the initial intensity for this advisory has been reduced to 40 kt.

The initial motion is estimated to be 280/09 kt, with the poorly-defined center of Darby located on the north side of the deep convection. Track guidance is fairly well clustered this time around, and continues to indicate that the center of Darby will move over the Big Island later today as it moves toward the west. Darby is expected to move into a weakness in the mid-level ridge to its north over the next day or so, due to a deep-layer low centered well to the north of the Hawaiian Islands. This will result in a gradual turn toward the northwest, as well as a gradual increase in forward speed. The official track forecast is close to the previous and a tightly clustered guidance suite, and offers no significant changes.

As seen in water vapor imagery, Darby is embedded in an environment characterized by dry mid- and upper-levels, well captured by special soundings from Lihue and Hilo this morning. Additionally, vertical wind shear on the order of 10 to 15 kt is taking its toll on the system, and deep convection has been struggling to organize over the center. The updated intensity forecast indicates that Darby will remain a tropical storm through 24 hours, after which time increasing shear and gradually cooling water temperatures will lead to a slow but steady weakening, with Darby becoming a remnant low at the end of the forecast period, close to guidance provided by SHIPS/LGEM. The intensity forecast assumes that Darby will be able to maintain some organization as it interacts with the terrain of the Big Island but no longer considers an alternative track scenario. NWS CENTRAL PACIFIC HURRICANE CENTER HONOLULU at 11 am HST