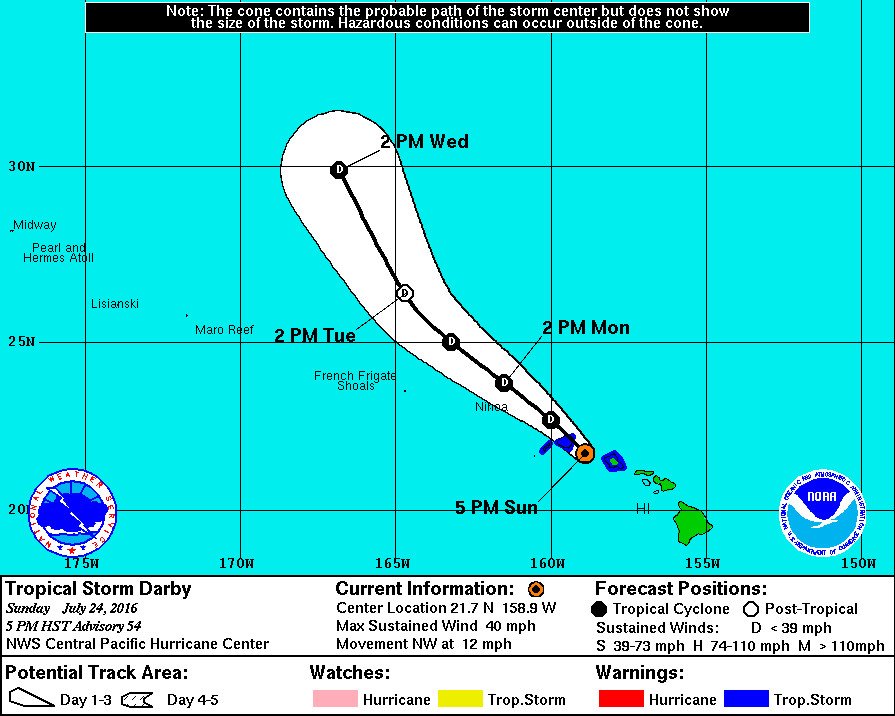 HAWAII ISLAND – All warnings and watches related to Tropical Storm Darby are cancelled for Hawaii Island, although the rest of the state remains under a Tropical Storm Warning. However, a Brown Water Advisory has been issued for Hawaii County due to yesterday's heavy rains.
"The public is advised to stay out of flood waters and storm water runoff due to possible contamination," warns Hawaii County Civil Defense. "If the water is brown, stay out."
All roads are open, the county reports, while emergency shelters are closed.
All County offices will be open for normal business hours tomorrow.
Most East Hawaii state parks have been reopened today, the state Department of Land and Natural Resources says. Hapuna Beach State Recreation Area will be re-opened. State Parks staff are still checking other Kona parks, as well as Mackenzie in Puna and Manuka in Ka'u.
State forest reserves and trails remain closed until further notice.
POWER OUTAGES
Hawaii Electric Light crews continue to work to restore isolated power outages on the island.
Overnight, HELCO restored electric service to 900 customers in various parts of Hāmākua, upper Puna, and Kona. As of 12:45 p.m. today, about 100 customers in Hawaiian Paradise Park, Leilani Estates, Kapoho, Orchidland Estates, Honoka'a, and Kailua-Kona remain without power. Their service should be restored today, the company says.
"Many of our employees have been working around the clock since Friday to prepare for the storm and to then safely restore electric service as quickly as possible," said Rhea Lee-Moku, HELCO public information officer. "We know how difficult it is to be without electricity for a long period of time, and we thank our customers for their patience and understanding."
SPIRIT OF KONA RUNS AGROUND
A 65-foot commercial vessel has run aground and sunk along the Kona shoreline.
The "Spirit of Kona" reportedly broke free of its mooring in Kailua Bay as Tropical Storm Darby passed over the region early Sunday. No one was aboard the vessel at the time of the incident, the U.S. Coast Guard reports.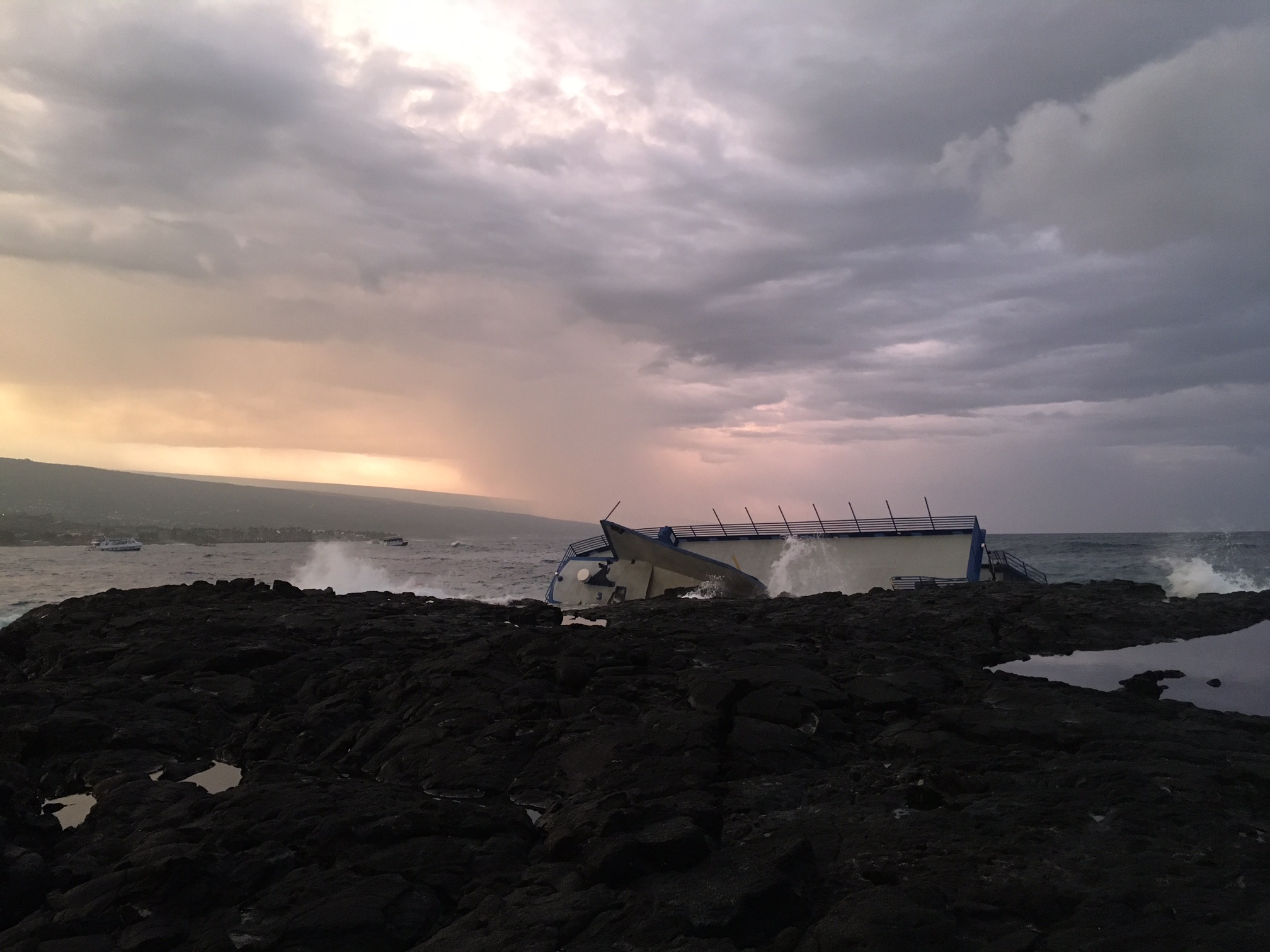 The vessel – operated by Blue Sea Cruises – reportedly had about 300 gallons of diesel fuel on board, commercial batteries and 19.5 gallons of hydraulic and lube oils. No wildlife was seen in the area or reportedly affected.
"The public is advised to stay out of the public shoreline access trails fronting Kona Bay Estates subdivision," Civil Defense says. "Salvage operations are being coordinated with the responsible private party. We ask for the public's patience and understanding as clean up efforts continue."
DLNR is requesting the public stay away from the shoreline extending from the King Kamehameha Hotel to the Kukailimoku lighthouse due to the possible hazards from the sunken ship. With debris in the water and on the shore, and the odor of fuel in the area, the area is being closed. DOCARE officers, the Hawaii District DOBOR manager and USCG representatives are on scene. The vessel owner has arranged for salvage of the vessel which has sunk in near shore waters, DLNR says.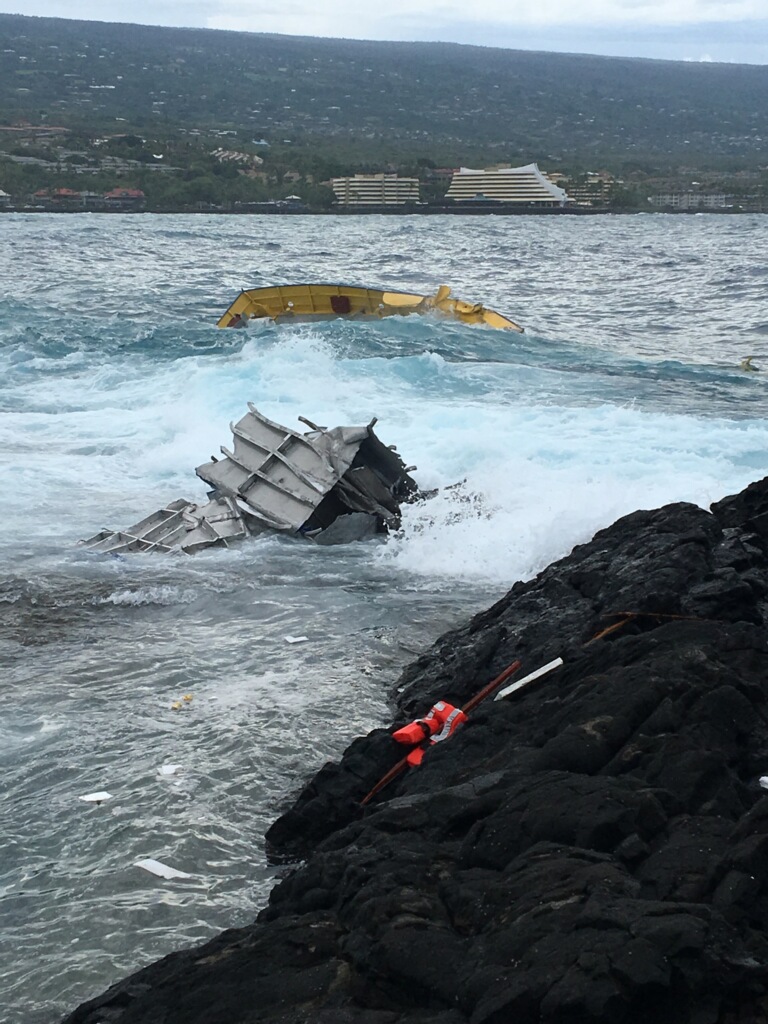 FALLEN TREES
Although it does not appear to match the impacts of Tropical Storm Iselle in 2014, there are some cases of fallen trees blocking roads; most of them in Puna.
For example, Kamaili Rd. in Opihikao was blocked by a fallen tree about 200 yards above Highway 137. This morning, a local resident attempted to drag the tree aside with her small tractor but was unsuccessful. Police were called, and a Hawaii County Public Works crew went to work clearing a path.