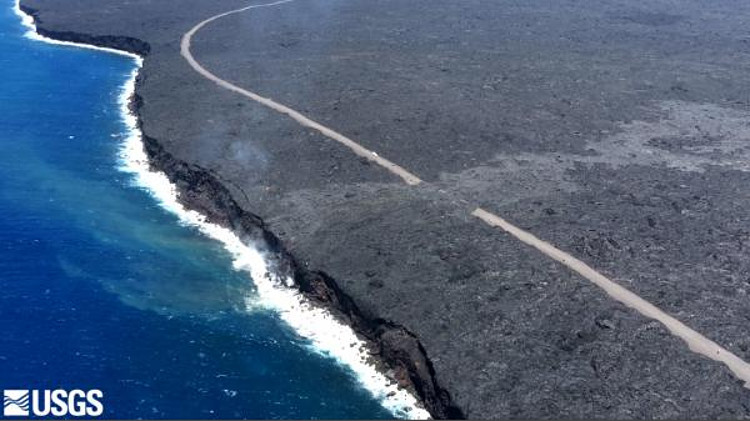 HAWAII VOLCANOES NATIONAL PARK – Hawaii Island's new lava ocean entry enters its second day, and the remarkable video is going viral on social media.
Tour groups like Epic Lava Tours and Lava Ocean Tours shared footage taken on Tuesday morning – the day the 61g lava flow first touched the sea. Using cameras deployed by land, by sea, and by drone flying over the ocean, the fantastic images were gobbled up by enthusiasts worldwide over the internet.
The lava flow is currently 66 feet wide where it spills over the sea cliff, reports the USGS Hawaiian Volcano Observatory. Meanwhile, another narrow lobe of the flow has advanced along the west margin of the main flow.
The lava extends southeast from the flank of Puʻu ʻŌʻō on Kilauea volcano's East Rift Zone and now connects to the Pacific Ocean, miles away. The terminus of the lava flow (on land) is inside Hawaii Volcanoes National Park.
"The ocean entry flows are within park boundaries," the National Park posted to its Facebook page Tuesday, "and are accessible via a long, 10-mile roundtrip hike on the gravel road from the park side at the end of Chain of Craters Road, as well as from the Kalapana side of the park boundary (about the same distance)."
"Hikers MUST be prepared," the park stressed. "Carry about a gallon of water per person, bring snacks, wear sturdy closed-toe hiking shoes or boots, gloves to protect the hands from sharp lava rock. Wear sunblock, sunglasses and a hat. Plan to stay after dark? Bring a flashlight/headlamp with extra batteries. There is little or no cell phone reception in this area."
Park officials also urged strong caution to visitors viewing the new ocean entry, saying "there are additional significant hazards besides walking on uneven surfaces and around unstable, extremely steep sea cliffs. Venturing too close to an ocean entry exposes you to flying debris created by the explosive interaction between lava and water. Also, the new land created is unstable because it is built on unconsolidated lava fragments and sand. This loose material can easily be eroded away by surf causing the new land to become unsupported and slide into the sea. Finally, the interaction of lava with the ocean creates an acidic plume laden with fine volcanic particles that can irritate the skin, eyes, and lungs."
There are also cultural considerations. "Please be pono," the NPS asks visitors, "and respect Hawaiian culture. Do not poke or prod the flowing lava, or throw rubbish and other items into flowing lava. Not only is it offensive, it's illegal."