HAWAII ISLAND – Two storms in the Eastern North Pacific are moving west towards the Central Pacific the early forecast tracks leave the possibility that they could approach Hawaii.
Tropical Storm Howard is blowing 60 mph winds but is expected to gradually weaken during the next few days as it moves west into cooler waters.
The 5 day forecast track currently shows Howard moving past Hawaii to the north as a weak post-tropical storm or tropical depression. But at this early stage, the prediction is somewhat uncertain.
"Howard is now moving over sea surface temperatures around 25C and is forecast to move over even colder waters for the next 2 to 3 days," the National Hurricane Center reported at 11 a.m. HST. "Vertical shear, on the other hand, is expected to be less than 20 kt through 72 hours. Possibly due to these conflicting conditions, the intensity forecast is somewhat uncertain. The SHIPS and LGEM models indicate that the cyclone will steadily weaken to a remnant low through day 5, while the HWRF and GFDL models show a more gradual weakening rate, with even some re-intensification around days 3 and 4."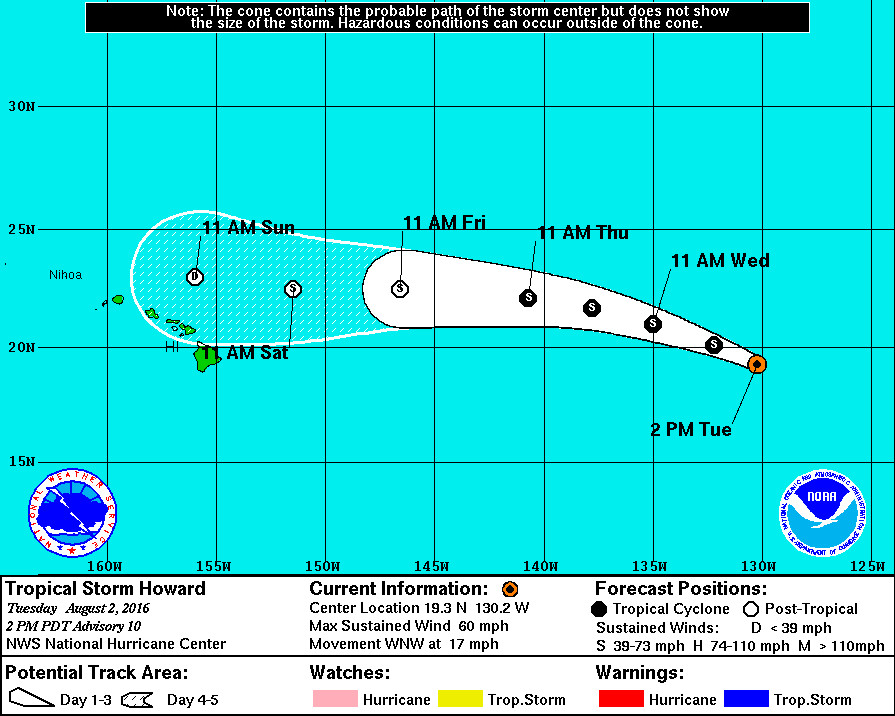 "These models showed similar scenarios for Hurricane Darby," forecasters added, "which moved through a similar region, and the SHIPS and LGEM models ended up having a significant low bias for that storm."
Simulated infrared satellite imagery from certain models shows the cyclone maintaining deep convection through 5 days. Still, the National Hurricane Center official forecast "continues to depict the system becoming post-tropical in 72 hours once the vertical shear increases above 20 kt, but there is low confidence in the time of this transition."
Behind Tropical Storm Howard follows Tropical Depression Ten-E, which formed today and is now moving west northwest at 17 mph. This storm is forecast to become a hurricane.
"Gradual strengthening is forecast for the next few days while the cyclone remains over warm water, with weak-to-moderate shear and high mid-level humidity," the National Hurricane Center reports. "The official forecast is a bit higher than the model consensus, since most of the guidance has had a low bias this season."
"A strong subtropical ridge over the eastern Pacific is expected to steer the cyclone relatively quickly to the west over the next few days," weather forecasters say. "The ridge is forecast to weaken on days 4 and 5, which should cause a decrease in forward speed while the system approaches the central Pacific."