HAWAII ISLAND – Two storms are currently organizing in the Eastern North Pacific Ocean and heading towards the Central Pacific.
Tropical Storm Lester, presently 530 miles southwest of the southern tip of Baja California, is expected to become a hurricane tonight or tomorrow as it moves west northwest.
A closer system, Tropical Depression FOURTEEN-E, is 1,305 miles east southeast of Hilo and is expected to move into the Central Pacific this weekend.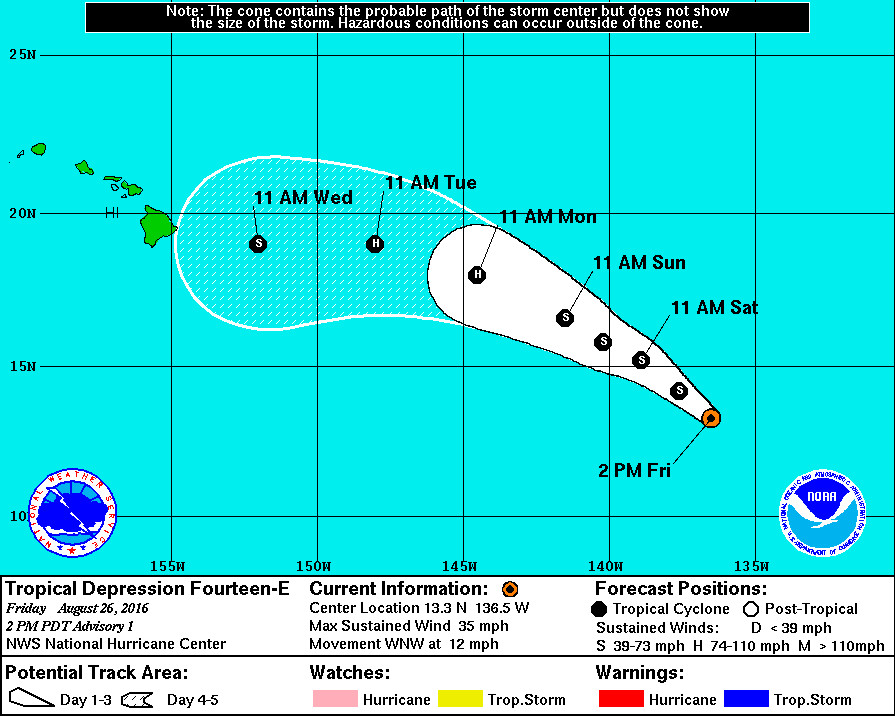 FOURTEEN-E is also expected to strengthen into a hurricane, and the early forecast track puts it near Hawaii by next week Wednesday.
"It is too early to determine what, if any, impacts this cyclone could have on the Hawaiian Islands near the end of the forecast period," the National Weather Service wrote in a 2 p.m. PDT discussion. "It is important to remind users that the average 5-day track forecast error for eastern Pacific tropical cyclones is about 170 miles."
The National Hurricane Center in Miami, Florida is currently tracking FOURTEEN-E.
The initial motion estimate is a somewhat uncertain 295/10 given the recent formation of the center. The depression is currently situated on the southwestern flank of a subtropical ridge centered near 125W. A west-northwestward motion is expected during the first couple of days of the forecast period as the cyclone moves around the edge of the ridge. Late in the period a new ridge builds north of the Hawaiian Islands, which should result in a westward motion at days 3 through 5. The track model guidance is in generally good agreement on this scenario, however there is some spread, with the GFS slower and farther south by day 5, while the ECMWF is faster and farther north. The NHC forecast is near the center of the guidance envelope and is a little south of the TVCN consensus and is north of a blend of the GFS and ECMWF.
Meanwhile, closer to North American, Tropical Storm Lester is forecast "to move over warm water and within a low shear environment during the next 2 to 3 days, which should result in steady strengthening. Late in the forecast period, slightly cooler waters and less favorable thermodynamic conditions are likely to induce some weakening."