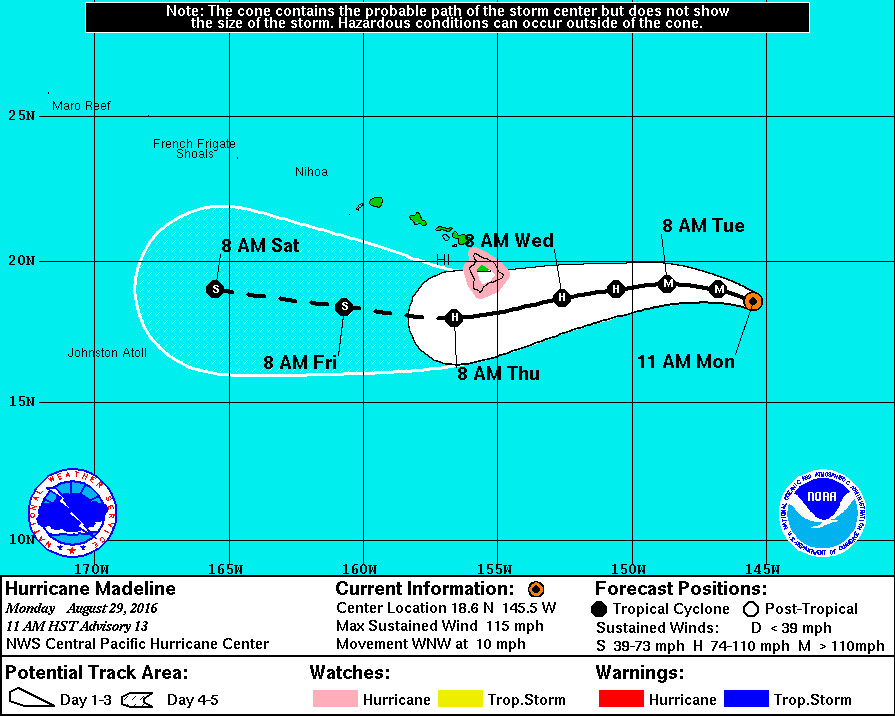 HAWAII ISLAND – A Hurricane Watch is now in effect for Hawaii County as Hurricane Madeline – now a Category Three storm – continues to move closer to the Big Island.
A Hurricane Watch means that hurricane conditions are possible in Hawaii County within the next 48 hours. A Hurricane Watch is typically issued 48 hours before the anticipated first occurrence of tropical storm force winds; conditions that make outside preparations difficult or dangerous.
Effects of the storm are expected to be felt as early as Wednesday, including heavy rains, high surf, and high wind.
Hurricane Madeline is 630 miles east of Hilo and moving west northwest at 10 mph. Madeline strengthened overnight and maximum sustained winds are now 115 mph with higher gusts. Hurricane hunters from the 53rd Weather Reconnaissance Squadron are slated to begin flying investigative flights into Madeline tomorrow morning, which will give us valuable information as to Madeline's actual intensity and size, forecasters say.
Hawaii County Civil Defense issued this alert, urging residents to be "StormReady":
Build or restock your emergency preparedness kit.

Include a flashlight with fresh batteries, cash, first aid supplies, and any medication or supplies specific to you or your family members.

Plan how to communicate with family members.

Create an evacuation plan for your household.

Bring in or secure outdoor furniture and other items that could blow away.

Keep your vehicle fueled and cell phone charged.
The County says you can find more StormReady tips and sign up for notifications at hawaiicounty.gov.