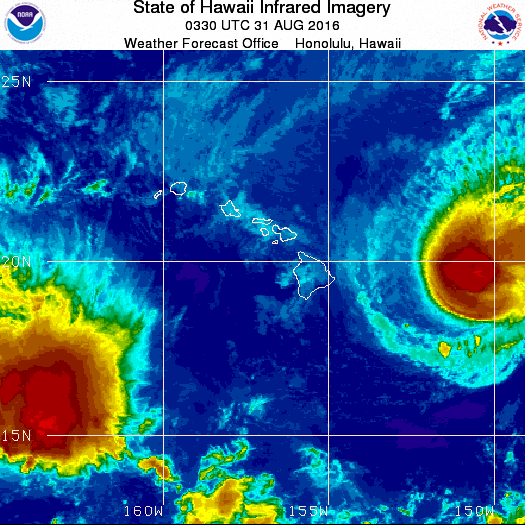 HAWAII ISLAND – Hurricane Madeline is 235 miles east of Hilo and is still heading west at 12 mph. A Hurricane Warning remains in effect as the forecasted storm track inches closer to the Big Island.
Madeline has weakened to a category one hurricane, with maximum sustained winds near 90 mph with higher gusts.
Latest satellite imagery shows that Madeline is weakening in the presence of increasing shear, with conventional and microwave imagery no longer detecting an eye. Hurricane hunters with the 53rd Weather Reconnaissance Squadron spent a good portion of the evening flying through the cyclone, and found that it was weaker than anticipated, and tilted with height. The aircraft was also unable to find an eye, with maximum flight level winds near 80 kt. Satellite-based subjective Dvorak current intensity estimates were 5.0/90 kt, while data-T values ranged from 4.0/65 kt to 5.0/90 kt. The initial intensity for this advisory has been lowered to 80 kt, and this is likely generous based on the majority of the aircraft data.
Steady weakening is forecast during the next 48 hours, perhaps even rapid weakening.
Madeline has rapidly weakened over the past 24 hours, and a steady weakening trend dominates the forecast, even as Madeline moves over warmer water. Vertical wind shear provided by a high-level trough to the north and northwest of the cyclone is expected to cause steady weakening as it imparts a debilitating northerly flow aloft and severely hampers outflow. While the updated intensity forecast is more aggressive in weakening Madeline than the previous forecast, it lies on the higher end of the intensity guidance. If current trends continue, then subsequent forecast packages may need to accelerate the weakening trend, especially given that the latest ECMWF guidance indicates dissipation by day 3 while the GFS and HWRF indicate degeneration to a remnant low on days 4 and 5.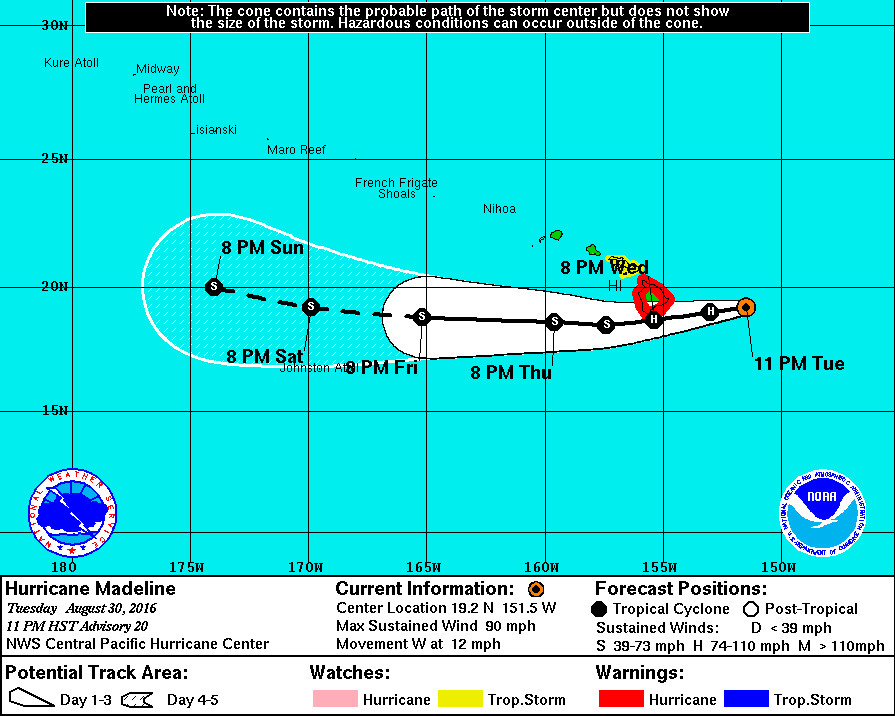 Everyone is still waiting to see Hurricane Madeline make the predicted turn to the southwest, passing the big Island to the south. However the storm is still moving west. The updated track forecast, which puts Madeline closer to the southern Ka'u district on Hawaii Island, "is very close to the previous as the bulk of the guidance suite continues to show run-to-run consistency, and lies close to the TVCN multi-model consensus."
Some areas could see winds as high as 60 to 80 mph with stronger gusts possible, forecasters say. South Point has the greatest chance of seeing the strongest winds.
"Winds this strong would be very dangerous and airborne debris could produce widespread damage,' the National Weather Service stated. "Any loose outdoor items would become projectiles, causing possible injury. Other possible wind damage would include, downed large trees and power lines, and significant roof and structure damage, especially to weaker structures. Extensive damage to power lines and poles could result in widespread power outages that could last from several days to weeks."
Large and damaging surf is expected along east facing shores, building to a peak at 15 to 25 feet tonight through Wednesday night. Depending on the exact track of Madeline, forecasters say storm surge will range from 1 to 3 feet. "The combination of storm surge and wave runup may cause significant coastal flooding and damage to coastal properties and infrastructure, including roadways," National Weather Service reported. "Powerful longshore and rip currents will be present at most beaches. Large breaking waves and strong currents may impact harbor entrances and channels causing challenging boat handling."
Heavy rain is expected. A flash flood watch is in effect. "Deep tropical moisture associated with the Madeline will begin to impact the Big Island Wednesday morning," forecasters say, "bringing the threat of heavy rainfall and flooding through late Thursday. Total rain accumulations of 5 to 10 inches are possible, with isolated maximum amounts near 15 inches, especially over windward portions of the Big Island. This rainfall may lead to dangerous flash floods and mudslides."