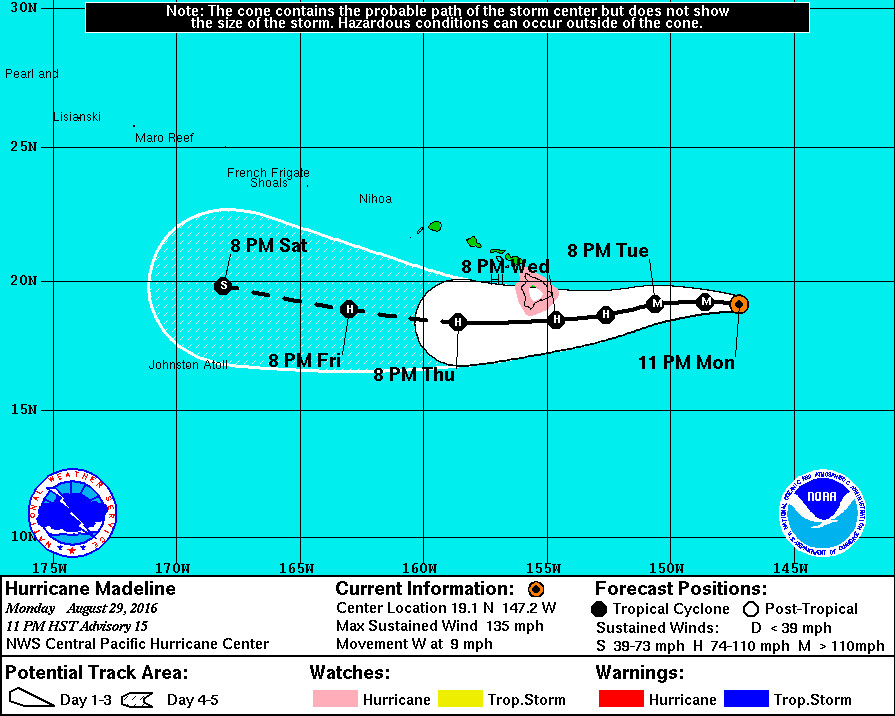 HAWAII ISLAND – Hurricane Madeline has strengthened to a category 4 hurricane on the Saffir-Simpson Hurricane Wind Scale, 515 miles east of Hilo, as of 11 p.m. Monday night.
Madeline's maximum sustained winds have been measured near 130 mph with higher gusts.
"Madeline remains very well organized this evening," the National Weather Service discussed, "with an earlier 13 nm diameter eye now beginning to shrink. There is little or no shear deformation present, with excellent outflow noted to the north. Deep convection continues to completely encircle the eye, with eyewall cloud top temperatures cooling a bit more to near -72 degrees Celsius."
Madeline has likely reached peak intensity, forecasters believe, and all guidance shows weakening from this point on.
Hurricane hunters from the 53rd Weather Reconnaissance Squadron will begin flying investigative flights into Madeline Tuesday morning, providing valuable information as to Madeline's actual intensity and size.
Madeline appears to be tracking a little closer to the south side of Hawaii Island on Wednesday, according to the 11 p.m. 5-day track. The National Weather Service explained:
Initial motion is 280/08 kt as the anticipated trend toward a more westerly track appears to be taking hold. Track guidance remains tightly packed through 36 hours, but begins to diverge noticeably after that. Madeline is tracking along the southern flank of the subtropical ridge, but an upper trough northwest of the main Hawaiian Islands allowed this system to gain latitude over the past few days. Global models show this upper trough will lift northward through 48 hours, giving the ridge a larger steering role by nudging Madeline westward and west southwestward through day 2. Beyond 72 hours, the upper trough is forecast to begin digging southward again, causing another track bend to the west northwest on day 3 and beyond. Track guidance diverges beyond 36 hours as the models handle the redigging upper trough differently. There are a few models that take Madeline over southern portions of the Big Island, notably GFDL and ECMWF. However other models, notably GFS and FSSE, take Madeline noticeably farther south of the Big Island. The forecast track for this advisory closely resembles the last one, following TVCN consensus down the middle of the guidance envelope.
Forecasters reminded us not to focus too closely on the deterministic forecast track; hazards associated with hurricanes can extend well away from the center.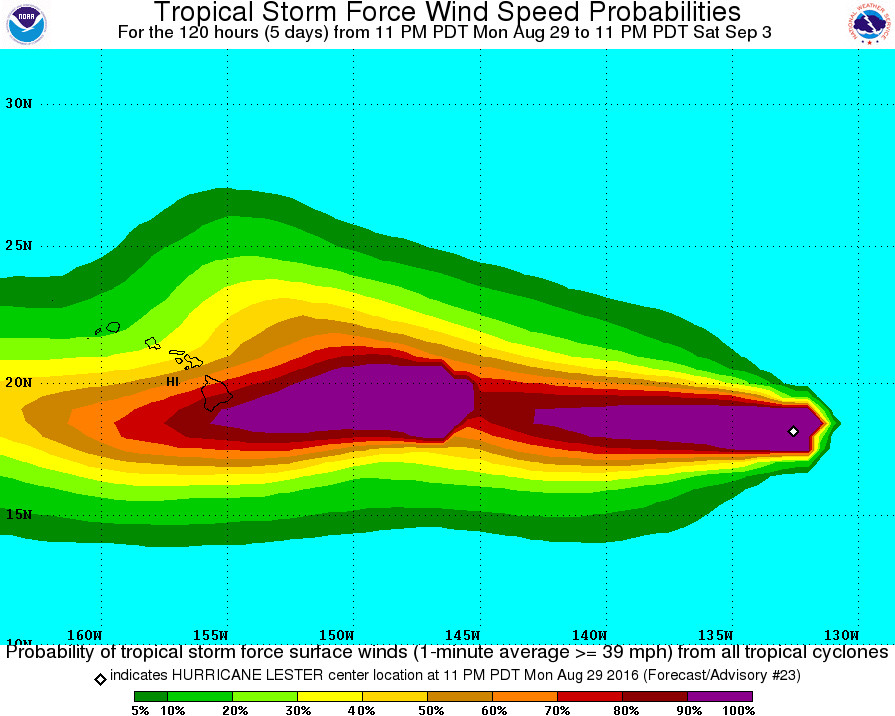 A Hurricane Watch is in effect for Hawaii Island, which means that hurricane conditions are possible within the watch area. A Hurricane Watch is typically issued 48 hours before the anticipated first occurrence of tropical storm force winds, conditions that make outside preparations difficult or dangerous, officials say.
Hawaii Island could begin to see the wind and rain effects starting on Wednesday, although high surf will arrive before that.
Behind Madeline, Hurricane Lester has lost some steam tonight.
"Lester has begun to weaken," the National Hurricane Center wrote at 11 p.m. HST. "The areal extent of deep convection within the hurricane's central dense overcast (CDO) has decreased substantially, and the CDO has lost much of its axisymmetry since late yesterday. In addition, the eye has warmed and become a little less defined. The recent weakening could be associated with an increase in easterly shear over the cyclone…"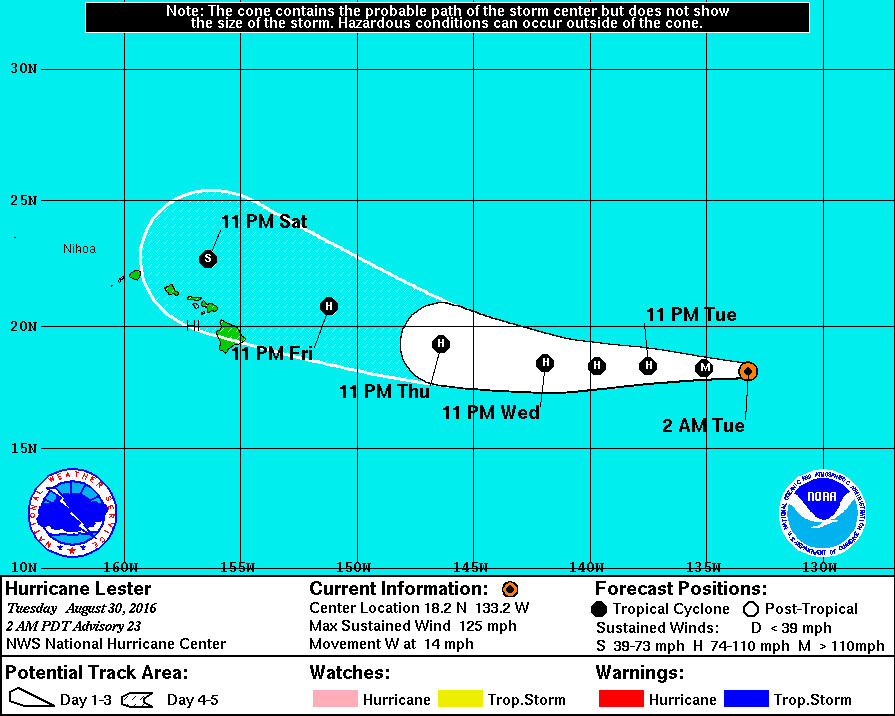 A weakened Lester might have a "binary interaction with Madeline" that should cause Lester's heading to turn west-northwestward as the hurricane approaches the Hawaiian Islands in 3-5 days. But how weak will Lester be when it draws near?
The intensity forecast is, again, quite challenging. The delicate balance of environmental factors leading to Lester's annular structure yesterday may have been disrupted by the recent uptick in easterly shear. With the shear forecast to diminish over the next day or so while the cyclone continues to move over nearly constant SSTs, Lester could regain its annular characteristics. This would allow Lester to sustain a higher intensity during the next 2-3 days than what the intensity guidance indicates. After that time, the ECMWF shows a less conducive environment than the GFS, which could result in a more decided weakening. Given the greater than normal uncertainty, the NHC forecast stays close to the multi-model consensus throughout the period.