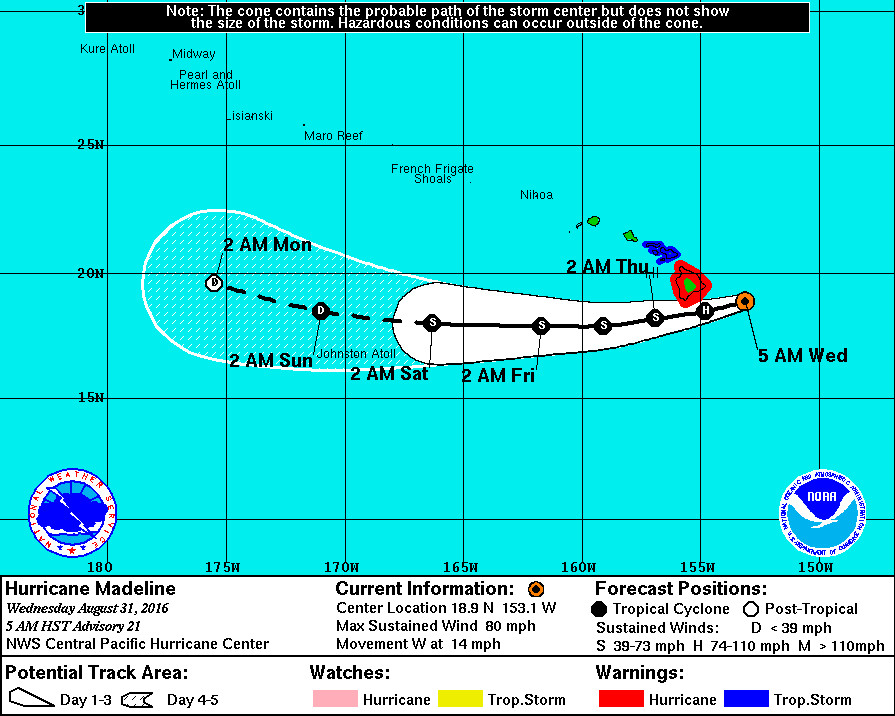 HAWAII ISLAND – Hurricane Madeline is just hours away from passing "dangerously close" to the Big Island, forecasters say.
Madeline is 140 miles away to the east southeast, and is heading west at 14 mph. The storm "has been rapidly weakening since Tuesday afternoon, primarily due to increased vertical wind shear," the National Weather Service reports. Maximum sustained winds are near 80 mph with higher gusts. Steady weakening is forecast during the next 48 hours, and Madeline is forecast to weaken to a tropical storm tonight or Thursday.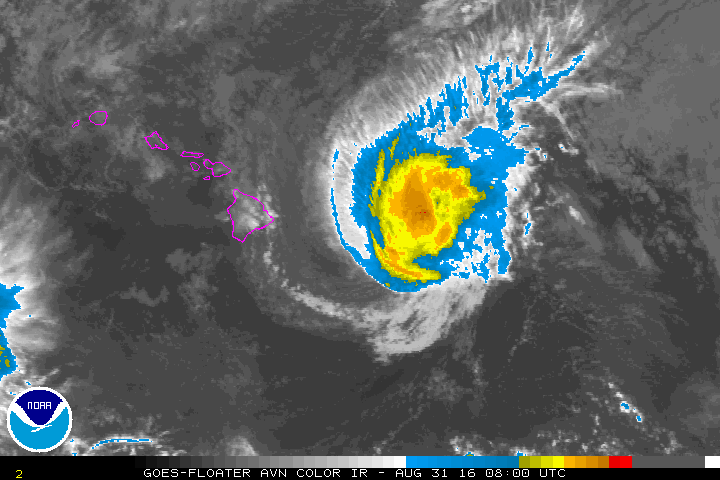 The Hurricane Warning issued by the National Weather Service remains in effect for Hawaii County.
The National Weather Service says we can expect the following effects:
WINDS:
Based on the latest forecast track, tropical storm force winds over 39 mph, 34 knots, are expected to begin spreading over the area late this morning followed by the arrival of hurricane force winds of 74 mph, 64 knots, or higher this evening. Hurricane force winds could last for a few hours in some areas. In some areas, winds will be as high as 50 to 75 mph with gusts to 100 mph.

Gusts will be strongest over mountainous terrain, through passes, and where winds blow downslope. Winds affecting the upper floors of high rise buildings will be significantly stronger than those near ground level.

Winds this strong would be very dangerous and airborne debris could produce widespread damage. Any loose outdoor items would become projectiles, causing possible injury. Other possible wind damage would include, downed large trees and power lines, and significant roof and structure damage, especially to weaker structures.

Extensive damage to power lines and poles could result in widespread power outages that could last from several days to weeks.

STORM SURGE & STORM TIDE:
Large and damaging surf is expected along east facing shores. Surf will build today, and peak at 15 to 25 feet late this afternoon through tonight. Depending on the exact track of madeline, storm surge will range from 1 to 3 feet. The combination of storm surge and wave runup may cause significant coastal flooding and damage to coastal properties and infrastructure, including roadways. Powerful longshore and rip currents will be present at most beaches. Large breaking waves and strong currents may impact harbor entrances and channels causing challenging boat handling.

INLAND FLOODING:
A flash flood watch is in effect. Deep tropical moisture associated with the madeline will begin to impact the Big Island this morning, bringing the threat of heavy rainfall and flooding through late Thursday. Total rain accumulations of 5 to 10 inches are possible, with isolated maximum amounts near 15 inches, especially over windward portions of the Big Island. This rainfall may lead to dangerous flash floods and mudslides. Refer to the watch for more details.
All Hawaii Island public and private schools islandwide, including charter schools, UH-Hilo, and Hawaii Community College, will be closed today.
Hawaii County Civil Defense says if possible and safe, shelter in place or with family and friends. Otherwise, the following emergency shelters are open:
Waiakea High
Hilo High
Laupahoehoe School
Kalaniana'ole Elementary
Honoka'a High and Intermediate
Waimea Intermediate
Waikoloa Elementary
Kohala High and Elementary
Kealakehe High
Konawaena High
Ka'u High
Mountain View Elementary
Kea'au High
Pahoa High
Bring your own bedding, food, water, medicines and any personal items you may need, officials say.
All County of Hawaii facilities, offices and services will be closed today including Hele-On Bus service, solid waste transfer stations and landfills.
All State and County park facilities including lava viewing, and some camping and remote areas of Hawai'i Volcanoes National Park will also be closed today.
"Stay off the roads if at all possible to avoid hazardous conditions and leave roads open for emergency responders to take necessary action with as much ease and safety as possible," officials ask.