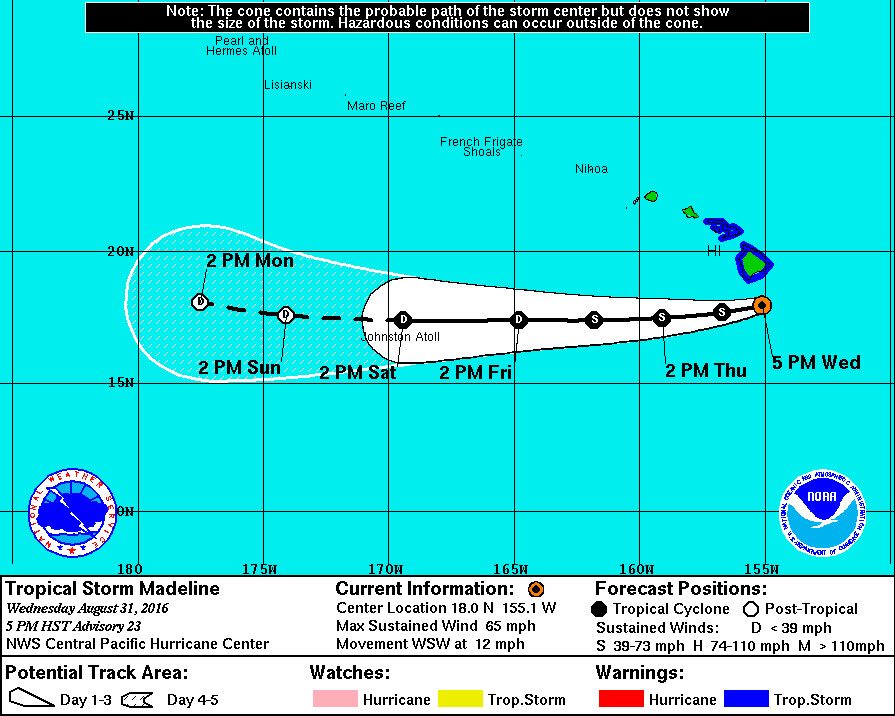 HAWAII ISLAND – A Tropical Storm Warning remains in effect for Hawaii County as Madeline is 115 miles south of Hilo and moving toward the west-southwest near 12 mph.
With maximum sustained winds near 65 mph, Madeline has primarily become a rain and surf event.
East Hawaii has seen lots of rain throughout the day, and at this hour Hawaii County Police report closures due to flooding.
Kamehameha Avenue is closed between Pauahi and Ponahawai. Also, Lihiwai Street, Liliuokalani Gardens is closed.
Police also urge motorists to avoid E. Kawailani Street below Kanoelehua due to heavy flooding.
High surf and storm surge have been an issue today as well.
Large and damaging surf 15 to 25 feet will continue along east facing shores late this afternoon through tonight. 12 to 15 foot surf is being reported along the Hamakua coast and 18 to 25 foot surf is being reported in Pahoa and Kapoho, the National Weather Service says.
"Wave runup may cause significant coastal flooding and damage to coastal properties and infrastructure, including roadways," forecasters said. "Of particular concern is the the kalapana-kapoho highway between pohoiki and Kapoho. Impassable roads due to high water have been reported in the Kapoho subdivision. Powerful longshore and rip currents will be present at most beaches. Large breaking waves and strong currents may impact harbor entrances and channels causing challenging boat handling."
Strong winds also continue to be a possibility. "Gusts to 60 mph have already been measured near the Kohala mountains upslope from Kawaihae," the NWS reports. "Wind gusts in excess of 55 mph have also been reported near Kamuela, Kawaihae, waikoloa, and South Point. In some areas, sustained winds of 35 to 50 mph with gusts to 70 mph will occur through tonight. The areas most likely to have the strongest winds will be over mountainous terrain, through passes, and where winds blow downslope. Winds are forecast to fall below 39 mph for all areas by early Thursday morning."
As of 1:30 p.m. Wednesday, the Hawaii Electric Light Company says approximately 235 customers in Honoka'a, Kohala, South Hilo, Mountain View, Kurtistown, and Hawaiian Paradise Park are without power. During the course of the day, HELCO says an estimated 3,600 customers experienced power interruptions due to the effects of Madeline, but utility crews were able to respond and make repairs to restore power to all but the 235 that remain out.
HELCO says power restoration for those remaining customers will be delayed until daylight to ensure the safety of repair crews.
"We won't send employees into areas where trees are falling or when lightning, wind, heavy rain or darkness make it unsafe to work," said Hawai'i Electric Light spokesperson Rhea Lee-Moku. "The large albizia trees, which are prone to breaking and falling especially during storm conditions, pose a serious threat to our personnel. It is much safer to manage this hazard during daylight hours especially during inclement weather."
Meanwhile, Lester has barreled into the Central Pacific as a major hurricane, moving west towards Hawaii. It could threaten the islands this weekend, depending on how the hurricane tracks. We will be following that storm in the coming days.