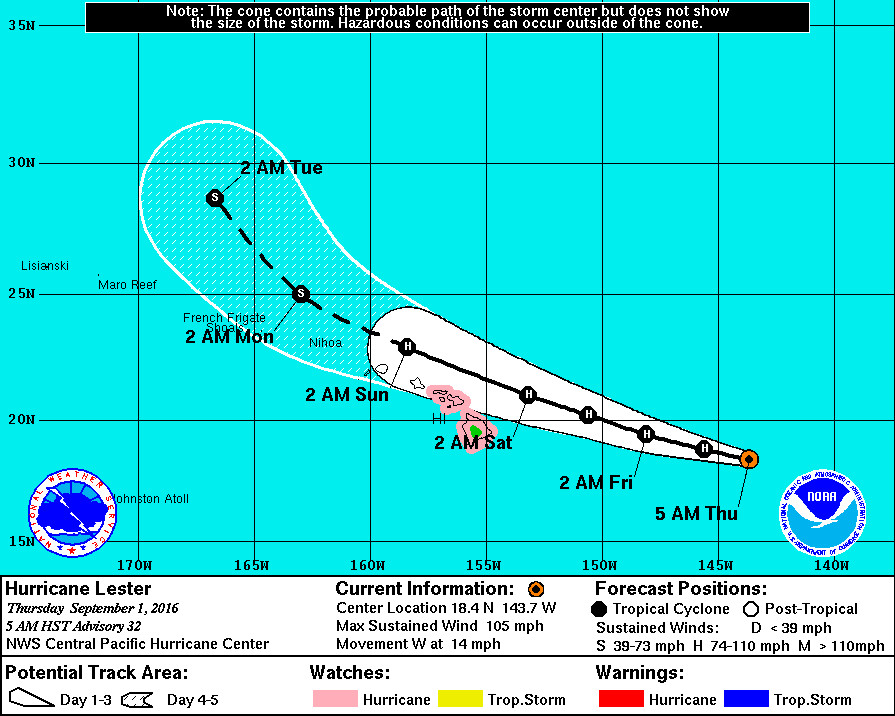 HAWAII ISLAND – As one storm passes, another one nears.
No sooner is the Tropical Storm Warning for the Big Island discontinued as Madeline moves off to the west, then another Hurricane Watch is issued for Hawaii County and Maui County.
This time the threat is from Hurricane Lester, currently 750 miles east of Hilo and moving west at 14 mph. Lester is sustaining 105 mph winds.
The National Weather Service says hurricane conditions are possible over Hawaii and Maui counties Saturday.
Swells generated by Lester will start to build over east facing shores today and Friday. Surf will peak this weekend, becoming very large and damaging along east facing shores.
Heavy rains associated with Lester may reach Hawaii and Maui counties on Saturday, and may affect other Hawaiian Islands later Saturday and Sunday.
Forecasters believe Lester will veer to the northeast before hitting Hawaii Island, but its going to be a close call.
Upper troughing expected to persist over and northwest of the main Hawaiian Islands should allow Lester to gradually gain latitude through the 5 day forecast period. Track guidance remains tightly packed, depicting a gradual turn toward the west northwest through day 2, then toward the northwest afterwards. UKMET and GFDL take Lester over the main Hawaiian Islands, but all other commonly-used guidance take Lester northeast of the Islands. HWRF is the right outlier, while ECMWF and GFS lie within the right half of the envelope. The forecast track closely follows the last one through 96 hours. The 120 hour point was adjusted to the northeast to keep the total forecast track aligned with TVCN consensus. Like most of the guidance, this track takes Lester northeast of the main Hawaiian Islands. That said, it would take only a small leftward shift in the track to directly and profoundly affect the Islands. This possibility must be considered when making preparation plans over the next couple of days.
Meanwhile, all County and State facilities, offices and services will resume today after the warnings associated with Madeline. That includes the Hele-On Bus service and solid waste transfer stations.
Parks will reopen pending damage assessments. All roads have reopened.
Damage Assessment teams will be out in targeted areas today. If your home or business has been damaged, call Civil Defense at 935-0031.