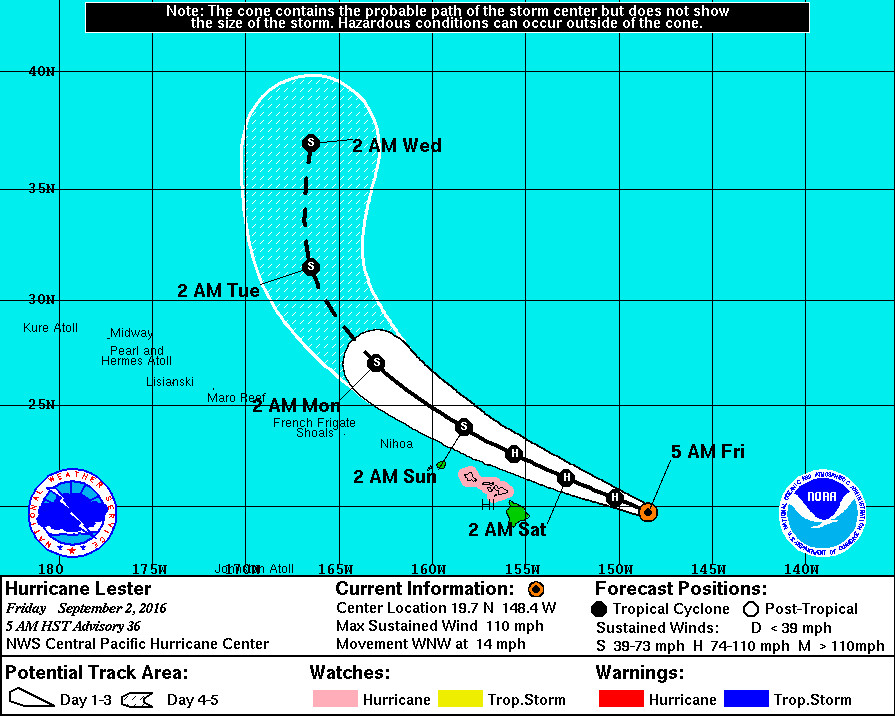 HAWAII ISLAND – Hawaii County is no longer on Hurricane Watch, as Lester is taking a definitive path to the north of the Big Island.
Hurricane Lester is 435 miles east of Hilo and moving west northwest at 14 mph.
Lester is also weaker this morning, with maximum sustained winds near 110 mph with higher gusts. Gradual weakening is forecast over the next couple of days.
Latest satellite images show that Lester remains a strong and well- organized hurricane, with a solid ring of cold cloud tops surrounding the eye. However, the eye has been shrinking, and eye temperatures have cooled somewhat since the previous advisory, while the outflow has diminished in the southern semicircle. These observations indicate that Lester has weakened somewhat overnight.
The updated forecast track has Lester passing the latitude of the Big Island this morning, allowing the hurricane watch to be discontinued.
Lester is expected to track toward the west-northwest on the southern flank of a low-to mid-level ridge over the next couple of days. A turn toward the northwest and north at the end of the forecast is expected as Lester nears the southwestern and western periphery of the ridge. On day 5, Lester will be close to a mid- latitude trough approaching from the west. While the spread in the guidance suite increases at that time, the earlier periods of the forecast feature tightly clustered guidance.
A Hurricane Watch is still in effect for Maui and Oahu.
A Hurricane Watch remains in place for portions of the main Hawaiian Islands as the official forecast still brings the system close to portions of the chain. Although forecast model guidance has been stable for the past couple of days, and the official forecast keeps the center of Lester northeast of the islands, a westward deviation from the official forecast track could bring profound impacts to Hawaii. In addition, users are also reminded that impacts from hurricanes can occur well away from the center.
Hawaii Island will be under a High Surf Warning this evening.
Waves heights of 6 to 10 feet will rise to 10 to 18 feet late this afternoon. Surf will rise to 15 to 25 feet tonight along east facing shores of the Big Island. This warning level surf will continue through Saturday.