HAWAII ISLAND – A Flash Flood Warning has been extended for a large portion of Hawaii Island as numerous closures due to heavy rain and flooding have been reported.
Heavy rain is falling across the districts of North and South Hilo, Puna and Ka'u. The area under the warning now includes parts of West Hawaii.
Radar indicated heavy rain falling at a rate of 2 to 3 inches per hour on already saturated grounds, the National Weather Service says. Flash flooding is expected to begin shortly.
UPDATE – The entrance to the Eden Roc subdivision is closed due to flooding. Use Uahi Road in the Kapua Farm Lots subdivision, police say.
UPDATE (1:20 p.m.) – The Pāhoa-bound emergency shoulder lane on Highway 130 (between the Humane Society and Shower Avenue) will be closed from 3-6 p.m. due to heavy runoff. Image below taken at 1:20 p.m. from Hawaii County's Puna Traffic website.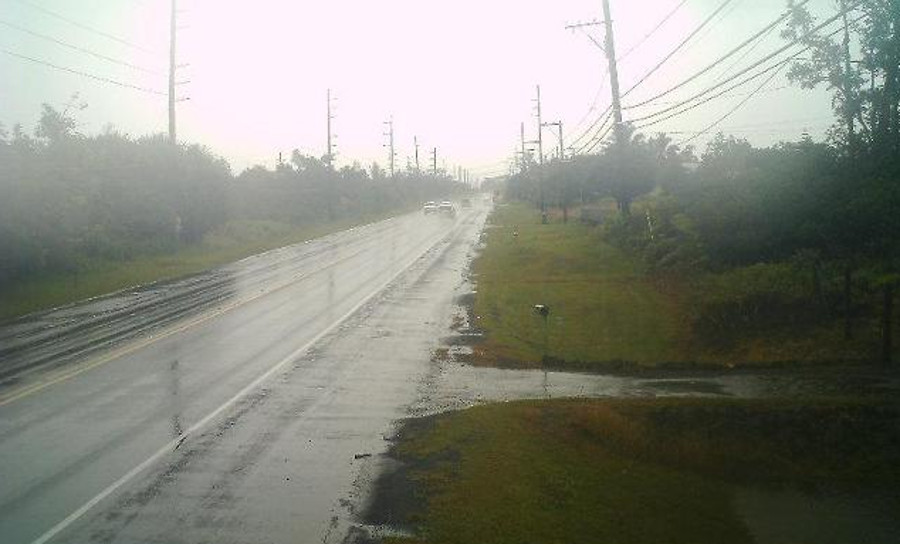 In Hilo, Kamehameha Avenue is closed in both directions between Manono Street and Ponahawai Street. Hilo Bayfront Highway is also closed in both directions between Waianuenue Avenue and Wailoa Bridge.
In Ka'u, Highway 11 is closed in both directions near Kawa Flats between mile markers 58 to 59.
Hawaii Police Department reports multiple landslides and intermittent lane closures along the Hamakua coast. The Hawaii County Planning Department says the Hamakua CDP Steering Committee meeting that was scheduled to take place this evening in Laupahoeoe has been postponed.
The Flash Flood Warning is in effect until 2:15 p.m. HST and may be extended again if conditions warrant. A Flash Flood Watch is in effect for the rest of the Big Island, and a Winter Storm Warning continues for the summits of Mauna Kea and Mauna Loa.