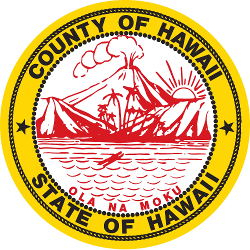 Hawaii County Office of Mayor Harry Kim
on March 24, 2017
NEWS RELEASE
Contractor for Aeration, Sludge Removal at Kealakehe Defaults
The contractor in charge of a project to provide aeration pump upgrades and sludge removal at the Kealakehe Wastewater Treatment Plant has defaulted, and dredging of the facility's sludge ponds has come to a temporary halt, according to the Department of Environmental Management (DEM).
The facility upgrades will ensure that the facility can treat the designed capacity of wastewater of up to five million gallons per day. Currently, the facility treats about 1.8 million gallons of wastewater per day.
"We are taking mitigation measures and will resume the upgrades as soon as possible," said DEM Director Bill Kucharski. "This situation will not put the R-1 project at risk."
The long-awaited R-1 project is aimed at meeting demand for recycled water to irrigate crops and landscaping in the relatively dry climate of West Hawai'i.
Meanwhile, DEM is also working with the insurance company that bonded the contractor, so that the sub-contractors may continue the upgrade work.
"The situation was incurred due to the financial status of the contractor we were dealing with," Kucharski said. "While we are sorry for the contracting company, we are protected by a performance bond, and are mitigating the situation."
For further information, please contact Bill Kucharski, Director of Environmental Management at 961-8083 or after hours at (808) 217-2750.