KEAAU, Hawaii – Three people were rescued by the Hawaii County Fire Department on Saturday afternoon after they were caught in the ocean currents off Shipman Beach in Kea'au.
A rescue chopper pulled two females and one male from the waters approximately 100-150 yards off shore, a fire dispatch reports.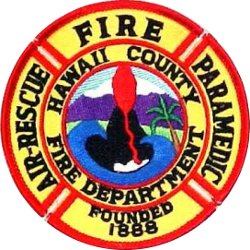 Hawaii County Fire Department
on March 25, 2017
DISPATCH REMARKS
Upon arrival found Two (2) minor females who were swept out due to current, with One (1) adult male who entered the ocean to assist. All parties were rescued utilizing C-1 which deployed Two (2) rescue personnel. Parties were brought to shore with no injuries, denied any medical assistance. The Two (2) minor females were turned over to HPD who got approval from their parents to leave them with the responsible adult who brought them there.