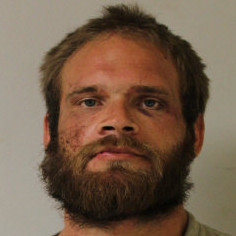 PUNA, Hawaii – A hitchhiker wanted for questioning in connection with numerous "carjacking" robberies in the Puna area has been arrested by police.
Hawaii County Police reported on Wednesday morning that they received a tip that 29-year-old Mason Beck was on foot in Pāhoa Village. Patrol officers responded and took Beck into custody without incident for an outstanding Contempt of Court warrant, police say.
Beck was allegedly involved in multiple hitchhiker-related carjackings in mid-to-late March. Police detailed the incidents in a media release.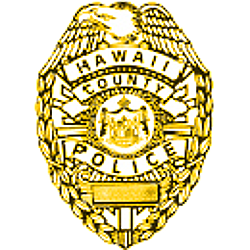 Hawaii County Police Department
on March 29, 2017
On March 13, 2017, a 37-year-old man visiting from Germany reported to police that he was operating a local friend's vehicle when he stopped to pick up a male hitchhiker on the Pāhoa-Kalapana Road (Route 130) near Pāhoa. After getting into the vehicle, the suspect threatened the victim with a carpenter's nail gun and instructed him to continue driving. Approximately 5-6 miles past Pāhoa Village, the suspect ordered the victim to pull to the side of the road at which time he ordered the victim out of the car. The suspect then left with the vehicle and was last seen headed in the Kalapana direction.
Then, on March 24, 2017, a 66-year-old local man reported that he was driving his 1991 blue colored Ford F-150 truck with Hawaii license plate ZAY202, when he picked up a male hitch hiker within the Hawaiian Paradise Park subdivision. While in the Keaʻau town area, the hitchhiker pulled out a knife and ordered the victim to drive to Stainback highway. When they reached the area of the old quarry, the suspect ordered the victim to stop the vehicle. He then took some of the victim's personal belongings, ordered him out of the vehicle, then left with the victim's truck heading back toward Highway 11.
In the most recent case, on March 25, 2017, a 25-year-old male visitor from California reported that he picked up a male hitchhiker on the Pāhoa-Kalapana road (Highway 130) near Pāhoa Village. After getting into the victim's car, the hitchhiker brandished a knife and instructed the man to drive toward the lava viewing area in Kalapana. The victim drove his vehicle to a populated area, stopped the car and sounded the horn. This caused the suspect to exit the vehicle and flee on foot. A subsequent search of the area for the suspect proved unsuccessful.
Last night, just after 10:00 p.m., Beck was charged with three counts of first degree robbery, kidnapping, and two counts of unauthorized control of a propelled vehicle. He is being held at the Hilo cellblock in lieu of $220,000 bail pending his initial court appearance scheduled for this afternoon (March 29) in Hilo District Court.
Again, police strongly urge motorist to make wise decisions about picking up hitchhikers.
Detectives with the Criminal Investigation Section continue to investigate this matter.
Police ask anyone with information about any of these incidents to contact Detective Wendall Carter of the Area I Criminal Investigation Section at 961-2383 or wendall.carter@hawaiicounty.gov. Tipsters who prefer to remain anonymous may call the island wide Crime Stoppers number at 961-8300 and may be eligible for a reward of up to $1,000.00. Crime Stoppers is a volunteer program run by ordinary citizens who want to keep their community safe. Crime Stoppers does not record calls or subscribe to any Caller ID service. All Crime Stoppers information is kept confidential.
Detectives with the Criminal Investigation Section have been assigned to continue this investigation.