WASHINGTON D.C. – Hawaii Congresswoman Tulsi Gabbard released the following statement today after the U.S. launched military strikes on Syrian government targets.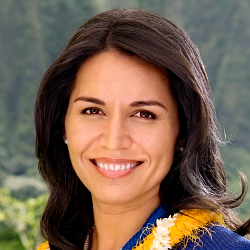 Congresswoman Tulsi Gabbard (D-Hawaii)
on April 6, 2017
"It angers and saddens me that President Trump has taken the advice of war hawks and escalated our illegal regime change war to overthrow the Syrian government. This escalation is short-sighted and will lead to more dead civilians, more refugees, the strengthening of al-Qaeda and other terrorists, and a possible nuclear war between the United States and Russia.
"This Administration has acted recklessly without care or consideration of the dire consequences of the United States attack on Syria without waiting for the collection of evidence from the scene of the chemical poisoning. If President Assad is indeed guilty of this horrible chemical attack on innocent civilians, I will be the first to call for his prosecution and execution by the International Criminal Court. However, because of our attack on Syria, this investigation may now not even be possible. And without such evidence, a successful prosecution will be much harder."
Gabbard has a unique perspective on the Syrian crisis. The Congresswoman took a week-long visit to Damascus, Aleppo, and Beirut to "see and hear firsthand the impact of the war in Syria directly from the Syrian people" in January.
The trip received a mixed response from the public. Some applauded her efforts, while others criticized the secret nature of the trip and her meeting with Syrian President Bashar al-Assad.
During President Obama's term in office, Gabbard consistently warned against the implementation and enforcement of a "no fly zone" over Syria, saying it could provoke war not only with Syria but with Russia, as well.