NOTE: Big Island Video news will have video shortly…
(BIVN) – Kamehameha Schools is moving forward with the "soft demolition" of the former Keauhou Beach Hotel.
A blessing ceremony was held as area kūpuna and lineal descendants gathered at Kahalu'u Ma Kai.
"With the hotel coming down, this will be good for the education of our children and the future of our families," said Uncle Mitchell Fujisaka.
Crews began interior alteration construction, which entails removing all wood, plaster, glass, drywall and other interior materials, and leaving only the building's exterior walls and structural framework.
"The windows and exterior openings will be sealed, and the interiors will be removed floor by floor," a Kamehameha media release states. "Debris will be deposited in an enclosed chute directly discharging into construction trash bins to protect the surrounding environment."
Kiewit Building Group is the general contractor.
"With this major step forward, Kamehameha Schools is making significant progress toward transforming Kahalu'u Ma Kai into an innovative, 21st-century educational complex that will serve as the piko (hub) for Native Hawaiian ʻāina-based, science, technology, engineering, arts & math education in West Hawai'i," said Kaimana Barcarse, West Hawai'i Regional Director, in a media release. "While the walls of this hotel are filled with cherished and warm memories of days gone by for many people, this project will create an environment to reinvigorate the 'āina as the foundation for a thriving lāhui. We look forward to creating new memories here."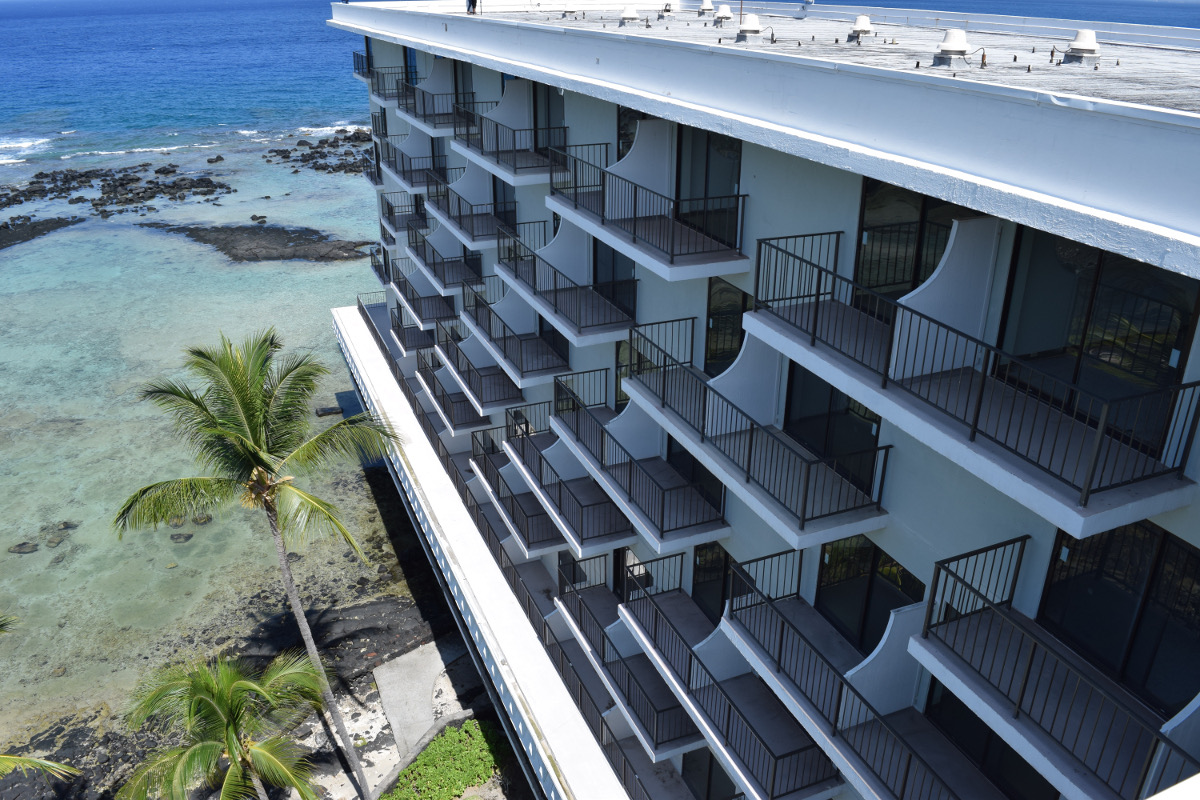 According to Kamehameha Schools, the project requires all sorts of permits and approvals, including:
The County of Hawai'i Planning Department approving the project's final environmental assessment and issuing a finding of no significant impact (FEA-FONSI) for the project.
The Hawai'i County Leeward Planning Commission approving a Special Management Area Use Permit (SMA) application with conditions.
Approval by the County of Hawai'i of the project's interim public access plan, which governs shoreline access during construction.
Submitting to the County of Hawai'i a Comprehensive Public Access Plan which covers shoreline access post construction.
Submitting to the State Historic Preservation Division (SHPD) for review and approval the project's Archaeological Preservation Plan, Archaeological Monitoring Plan and Burial Treatment. On Feb. 8, 2017, SHPD accepted the Burial Treatment Plan.
"Construction to remove the hotel is awaiting review and approval of the Archaeological Preservation Plan and Archaeological Monitoring Plan by SHPD, which along with the Burial Treatment Plan are required to submit an application to Hawai'i County for a demolition permit," the school media release states.
"We appreciate SHPD accepting the Burial Treatment Plan and we look forward to the agency completing the review and approval of the Archaeological Preservation Plan and Archaeological Monitoring Plan soon so we may continue with the progress we have made so far," Barcarse said. "Known historically as an intellectual training ground for Hawai'i's leaders, Kahalu'u Ma Kai supports our desire to bring together Ke Ali'i Pauahi's land legacy and assets in West Hawai'i, our educational mission and the community."