UPDATE (May 15) – Police issued a media release at 9 a.m. on Monday morning.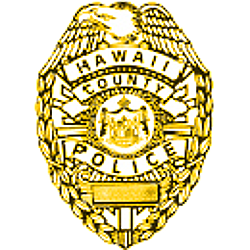 Hawaii County Police Department
on May 15, 2017
A 36-year-old Oʻahu man died following a single vehicle collision that occurred at the intersection of the Daniel Inouye Highway (Route 200) and Māmalahoa Highway (Route 190), on Sunday (May 14) in Puʻuanahulu, North Kona. The name of the male party is being withheld pending notification of his family.
Responding to a 7:28 a.m. call, police determined that a military tractor trailer transport vehicle operated by a 20-year-old Oʻahu man had been towing heavy machinery on a trailer and had been traveling westbound on Daniel Inouye Highway (Route 200). The operator lost control of the vehicle and then attempted to negotiate a left turn onto Route 190 when the tractor trailer then struck the southbound lane guardrail and overturned into a culvert.
The front seat passenger within the tractor trailer was taken to the Kona Community Hospital where he was pronounced dead on Sunday (May 14) at 12:35 p.m. The operator was taken to the North Hawaiʻi Community Hospital for treatment of his injuries.
An autopsy has been order to determine the exact cause of death.
The Traffic Enforcement Unit has initiated a Negligent Homicide investigation and is asking for anyone who witnessed the crash to call Officer Christopher Kapua-Allison at 326-4646, ext. 229. Tipsters who prefer to remain anonymous may call Crime Stoppers at 961-8300 in Hilo.
This is the 11th traffic related fatality this year compared with 10 at this time last year.
(BIVN) – Hawaii Island's communications infrastructure has again been compromised following a second traffic accident in the area of the Highway 190 / Saddle Road intersection on Sunday.
According to the Hawaii County Civil Defense, Hawaiian Telcom reports a possible fiber optic break in the area of the Highway 190 and Daniel K. Inouye Highway junction. "Communications may be affected along the western portion of the island from Kau through Kona," Civil Defense says. "If you are unable to access the County 911 system and require medical, fire or police, please go directly to your nearest police or fire station for assistance."
At 8:27 a.m. this morning, the Hawai'i Police Department issued an alert, reporting that the North Kona intersection was closed due to a traffic accident. "Motorist are being asked to take alternate routes, such as Kaiminani Drive in North Kona and Waikoloa Road," police stated. "The expected road closure time is approximately five hours."
A similar situation unfolded on May 10, when a fiber optic break in the same area affected communications along the western portion of the island from Ka'u through Kona.
And just four days before that incident, the Department of Information Technology reported overhead lines were damaged at Kawaihae Harbor severing power and fiber optic cables. As a result, the County Offices of Vehicle Registration and Real Property in West Hawaii were unable to process filings until the lines were repaired.