(BIVN) – Hawaii emergency officials have issued an alert as a record high tide – in conjunction with a southern swell – threatens to bring coastal flooding to all shores along the Big Island this weekend.
The observable phenomenon is expected to occur on shorelines and low-lying areas across Hawaii. The event heralds the arrival of the highest 'king tides' of the year, state officials say.
Scientists have been tracking unusual high tide levels and are advising that the state will likely continue to experience unusually high tide levels throughout the summer.
Experts say the tides are further elevated by a few unusual compounding factors that include ocean eddies with high centers moving through the islands, global sea-level rise due to climate change, and wave action, including potential summer swells or storm surge. It so happens that a large summer south swell is expected to build on Friday and continue through the Memorial Day weekend, before steadily easing next week, the National Weather Service says.
"Surf generated from this south swell will likely be advisory-level heights, but will be exacerbated by the high tides resulting in additional beach run up, flooding and erosion," forecasters said in a special weather statement issued today.
The National Weather Service statement prompted an alert from Hawaii County Civil Defense, issued Wednesday before noon.
"Beach flooding and standing water on roadways and low-lying coastal areas are possible, especially during the afternoon high tides each day," Civil Defense stated. "Oceanfront residents and beachgoers are advised to be on the alert for possible high and dangerous surf. As a precaution, boat owners and oceanfront residents should take actions to secure their property from possible tidal inundation and coastal flooding."
"Precautionary actions should be done before tomorrow afternoon," Civil Defense said.
The National Weather Service says the following are the daily high tide times for Honolulu which will correspond to the maximum coastal impact, which will be similar to daily high tide times on all islands:
5/24 Wednesday – 3:36 p.m.
5/25 Thursday – 4:20 p.m.
5/26 Friday – 5:07 p.m. (peak)
5/27 Saturday – 5:55 p.m. (peak)
5/28 Sunday – 6:46 p.m.
5/29 Monday – 7:40 p.m.
To help the community prepare and respond, the Hawaii Department of Land and Natural Resources joins with Hawaii Sea Grant Center for Coastal and Climate Science and Resilience "to recommend that landowners in low-lying shoreline areas or near waterways consider moving to higher ground any electronics, vehicles or other valuable from basements or yards."
Shoreline fishponds could possibly experience damage from high tides combined with unusual ocean swells, DLNR says.
The Pacific Islands Ocean Observing System has produced a "Six-Day High Sea Level Forecast" for Hilo: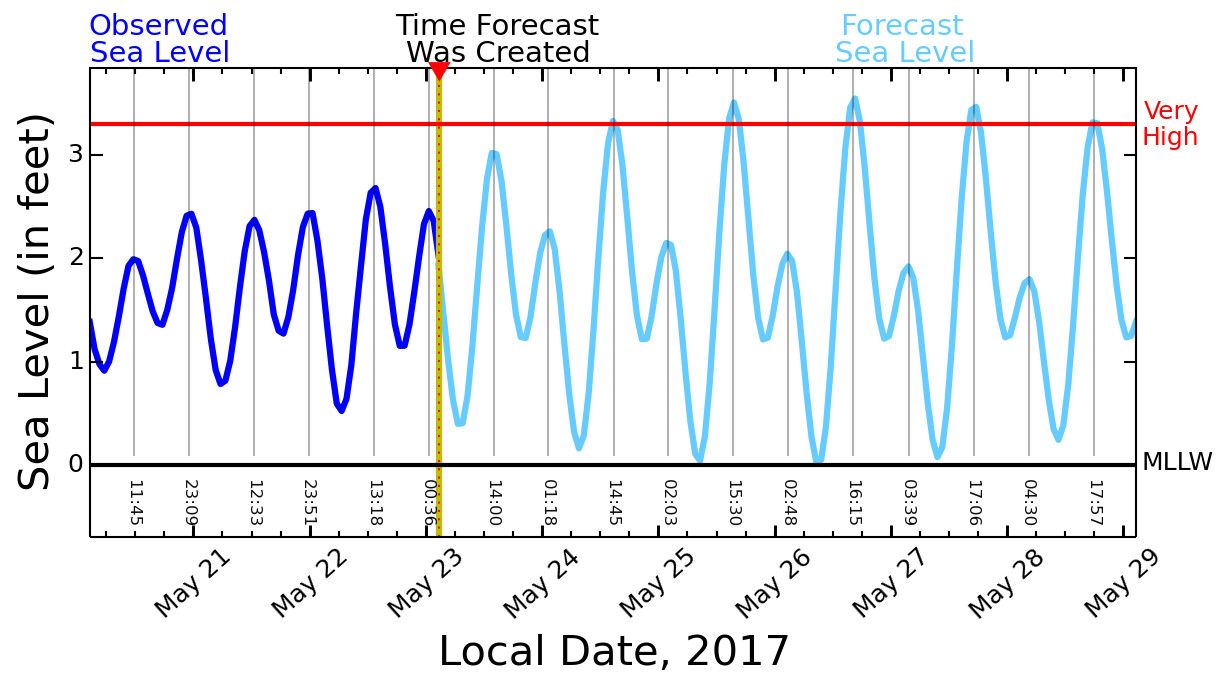 In the above graph, the Dark Blue Curve displays "the Observed Sea Level at Hilo Harbor for the previous 3 days. The measurement is relative to Mean Lower Low Water (MLLW, a typical NOAA datum)."
The Cyan Curve displays "the Forecast Sea Level at Hilo Harbor for the next 6 days. The forecast is also relative to MLLW, and includes tides plus multi-day sea level variations. The forecast is updated every 4 hours."
The Red Line indicates "the sea level height (3.3 ft.) that is exceeded by 2 percent of the observed daily Higher High Waters (HHW) based on a 19-year historical record (excluding tsunamis). When this sea level height is exceeded, flooding of the lowest lying lands begins."
"The oceanic and atmospheric processes that contribute to this prolonged period of high water levels in the Hawaiʻi region occur naturally in cycles. But as sea levels continue to rise with global warming, we will see more and more instances when not just king tides but ordinary high tides combine with high water levels to reach flood stage, with adverse impacts to our beaches, coastal infrastructure, wetlands and low-lying areas of the islands," said Mark Merrifield, a UH Mānoa oceanography professor, who also serves as director of Hawaiʻi Sea Grant CCSR and UH Sea Level Center.
The effects could even be felt "upstream", DLNR reports. "Under typical conditions, high tides hold back stream flow to the coast, then at low tides this wall of ocean water recedes and streams flood out into the ocean," said Dr. Kim Peyton, estuaries and coastal habitat research scientist in the DLNR Division of Aquatic Resources. "King tides create a bigger wall of ocean water, meaning these tides can hold back streams to a greater degree and potentially cause streams to flood their banks even without rain in the mountains. Local current patterns in streams and bays may change temporally as the sharp shoulders of the King tides raise and lower water levels."
The Hawaii Sea Grant Center for Coastal and Climate Science and Resilience is asking island residents to help document high water levels and related impacts through the Hawaii and Pacific Islands King Tides "Citizen Science" project by submitting photos online through the program's smartphone app or website. For information and tide prediction charts, go to: ccsr.seagrant.soest.hawaii.edu