UPDATE (5 p.m.) – The sewage spill in Kailua Bay has been stopped, as the Department of Environmental Management has replaced sections of pipe have stopped further releases of sewage into the Bay, the county reports.
The State Department of Health is mandating that warning signs remain in until the Department determines that the waters are safe for swimming and fishing. "Confirmatory samples are being collected and it is expected that clearance will be given effective Friday, June 16, 2017," the county says.
"The public will be kept informed on when it is safe to go back into the water," said DEM Director William Kucharski. "We really appreciate everyone's patience as things get back to normal."
(BIVN) – As of Wednesday morning, Kailua Bay remains closed due to a sewage spill, Hawaii County Civil Defense reports, from Kamakahonu Beach to Hulihee Palace out to sea 1,000 ft.
"Additional water samples had to be taken yesterday and results are expected later today," a civil defense message stated. "Please stay out of the water and do not fish in this area until tests indicate bacteria levels are normal."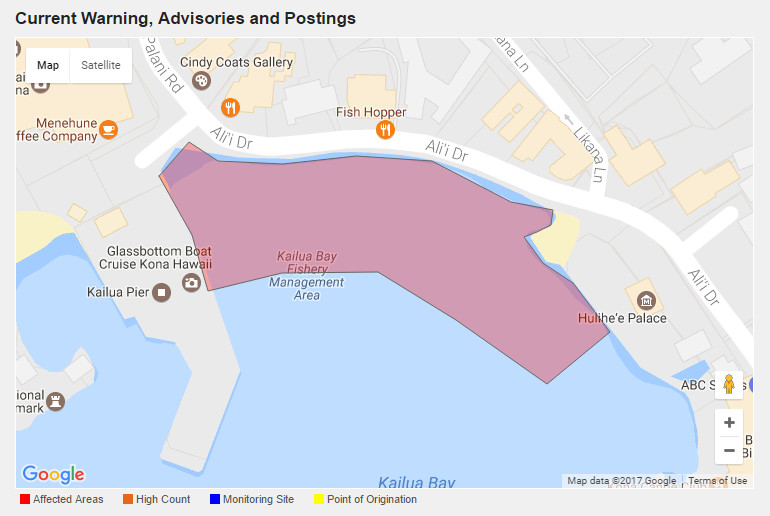 According to the State Department of Health, the wastewater – which is estimated at >1,000 gallons – discharged from beneath the road and flowed into nearby stormdrains, which empty into Kailua Bay. Warning signs have been posted and water samples are being collected, health officials say.
The Department of Environmental Management reports that work continues on repairs to the ruptured main at Alii Drive and Palani Road. "Traffic delays are expected in this area during repairs," county officials say. "Please use alternate routes."
The county says it will notify the public as the situation changes.