UPDATE (5 p.m. HST) – Fernanda is now a Tropical Depression, 675 miles east of Hilo.
ORIGINAL STORY – Tropical Storm Fernanda is expected to weaken into a tropical depression by tonight, forecasters say, as the storm system continues its approach towards Hawaiian waters.
At 11 a.m. HST, the center of Tropical Storm Fernanda was located near latitude 18.7 North, longitude 144.3 West, 705 miles east of Hilo. Fernanda is moving toward the west near 8 mph and the National Weather Service in Honolulu says this motion is expected to continue through Sunday.
Maximum sustained winds are near 40 mph with higher gusts, however continued weakening is forecast during the next 48 hours. Fernanda is expected to dissipate Monday.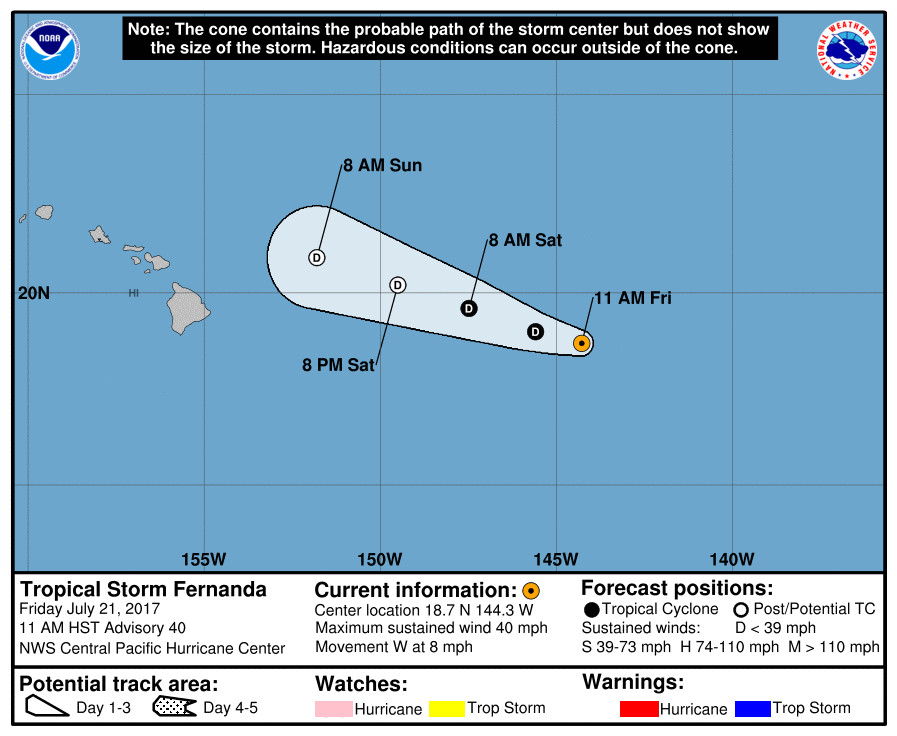 Although there appears to be little threat of a wind event impacting Hawaii Island, large storm swells and unusually high tides may cause dangerous surf and flooding conditions along east facing shores of the Big Island through the weekend, officials warn.
"A High Surf Advisory remains in effect for the east facing shores of the Big Island and Maui through early Saturday morning due to a mid- to long-period east swell associated with a captured fetch from when Fernanda was a major hurricane," National Weather Service in Honolulu says. "Wave model guidance indicates reinforcing east swell energy from Fernanda arriving along the east facing shores later today and tonight. Note that as this reinforcing swell continues to spread westward to the remainder of the smaller islands, a High Surf Advisory will likely be needed for east facing shores of Molokai, Oahu and Kauai over the weekend."
"The largest high tides of the month (King Tides) will occur each afternoon during the next few days," forecasters say. "Note that these abnormally high tides combined with wave run up due to the east swells produced by Fernanda may result in coastal flooding in some areas, through Monday."
Hawaii County Civil Defense says the following precautions should be taken:
Ocean front residents, beachgoers, and boat owners along east facing shores are advised to be on the alert for high surf, strong currents and flooding.
As a precaution, consider postponing ocean activities until these hazards are over.
Special caution to the coastal areas of Kapoho during the high tide periods of mid to late afternoon hours.
Following behind Fernanda is Tropical Storm Greg, which will not threaten Hawaii any time soon. It may cross into the Central North Pacific sometime next week, forecasters predict.