UPDATE (12 p.m.) – Fernanda has become a post-tropical remnant low. "Due to strong southwesterly vertical wind shear, only limited and sporadic convection has been noted in the northern semicircle of the poorly-defined low-level circulation center of Fernanda over the past several hours," the National Weather Service reported at 11 a.m. "This convection has not been sufficiently persistent for the system to continue to be deemed a tropical cyclone, and Fernanda is now post-tropical."
ORIGINAL POST – Fernanda is still a Tropical Storm, 570 miles east of Hilo, with maximum sustained winds are near 40 mph with higher gusts.
The National Weather Service classified Fernanda as a tropical depression yesterday, but gave a second opinion later in the evening after a "late arriving ASCAT pass from 22/0640Z, indicated that a small area of 35 knot winds remain present to the north of the LLCC," which led to the conclusion that "Fernanda is a minimal Tropical Storm."
"This does not mean that the system has intensified since the previous advisory," forecasters reported, "but that the storm was slightly stronger than previously thought."
This morning islanders awoke to find Fernanda was still a tropical storm as of the 5 a.m. HST National Weather Service update.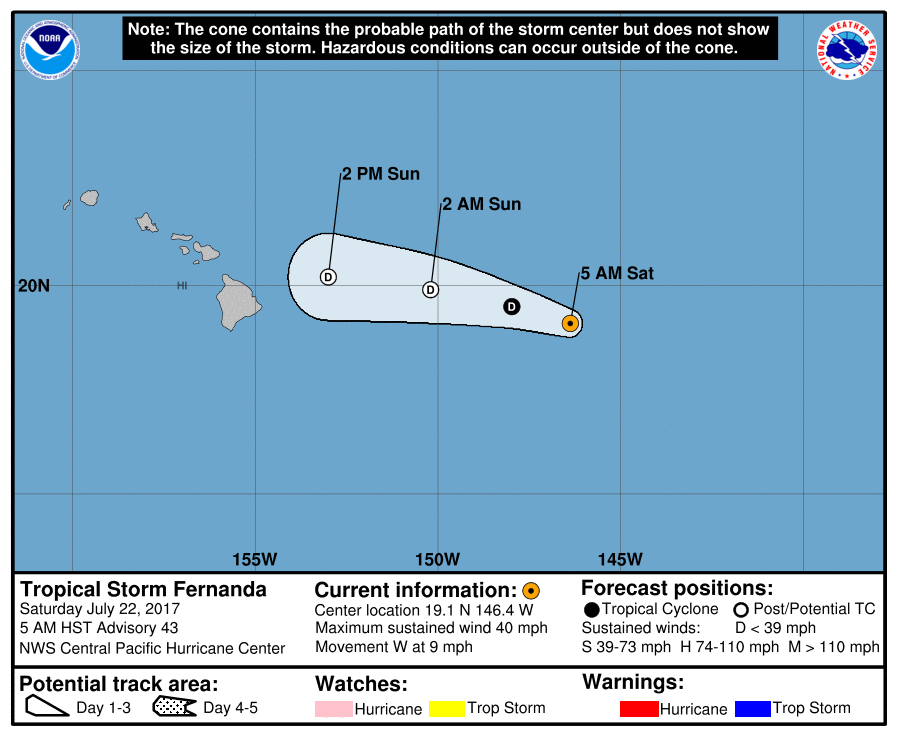 The center of Tropical Storm Fernanda is located near latitude 19.1 North, longitude 146.4 West, and the storm is moving toward the west near 9 mph. This general motion is expected for the next couple days with an increase in forward speed and some weakening. Fernanda is expected to become a remnant low tonight.
A High Surf Advisory is currently in effect for east facing shores of Hawaii.
"Large swells generated by Fernanda will continue to build through the weekend along east facing shores of the main Hawaiian islands," the NWS reported. "The resultant surf will be large and potentially dangerous."
From the 5 a.m. HST discussion:
The satellite presentation of Fernanda continues to indicate a strongly sheared system, with the low level circulation center (LLCC) devoid of deep convection for nearly 6 hours prior to a recent small burst of convective development to the north of the storm. The latest subjective Dvorak intensity estimates came in at 25 knots from PHFO, too weak to classify from SAB, with the ADT intensity from UW-CIMSS also coming in at 25 knots. Despite the lack of any significant convection overnight, we have kept Fernanda, perhaps conservatively as a minimal Tropical Storm for this advisory based on the 22/0640Z ASCAT pass which showed a small area of 35 knot winds to the north of the LLCC.

The initial motion for this advisory is 280/8 kt, representing an increase in the west-northwestward motion since the previous advisory. The GFS continues to be the northern outlier solution, with the ECMWF solution the farthest to the south. Very hostile environmental conditions will remain over Fernanda over the next couple of days, keeping the system shallow with the track influenced primarily by the low level trade wind flow. As a result, the forecast track for this advisory will remain very close to that of the previous advisory, keeping it to the south of the GFEX and TVCN consensus aids that are likely too far north due to the influence from the outlier GFS solution. A general motion toward the west-northwest with an increase in forward speed is expected through system dissipation.

Fernanda remains in an unfavorable environment with sea surface temperatures between 25 and 26C, very dry air aloft as evident in water vapor imagery, as well as strong southwesterly shear of around 30 knots. Strong shear of 30 to 40 knots, very dry air aloft, and unfavorable sea surface temperatures hovering between 25 and 26C are expected to persist through the forecast period, and will eventually lead to the dissipation of Fernanda. As a result, the forecast will continue to show slow and steady weakening, with Fernanda expected to become a Tropical Depression later today and a remnant low tonight, with dissipation forecast after 36 hours.

FORECAST POSITIONS AND MAX WINDS

INIT 22/1500Z 19.1N 146.4W 35 KT 40 MPH
12H 23/0000Z 19.5N 148.0W 30 KT 35 MPH
24H 23/1200Z 19.9N 150.2W 30 KT 35 MPH…POST-TROP/REMNT LOW
36H 24/0000Z 20.2N 153.0W 25 KT 30 MPH…POST-TROP/REMNT LOW
48H 24/1200Z…DISSIPATED
Tropical Storm Greg, following behind Fernanda, is also expected to weaken to a tropical depression before it even crosses into the Central Pacific, far east of Hawaii Island.
Two more systems have developed in the Eastern Pacific: TD Nine-E and TD Ten-E, the fifth and sixth tropical cyclone of July.