(BIVN) – The Hawai'i County Council Committee on Public Works and Parks and Recreation voted on Monday to give a positive recommendation to a bill renaming the Pahoa Skate Park after a long-time community advocate.
The skate park at the Pāhoa Neighborhood Facility in Pāhoa will soon be known as the "Ginny Aste Skate Park" in honor of Virginia Brautigan Aste.
According to Bill 81: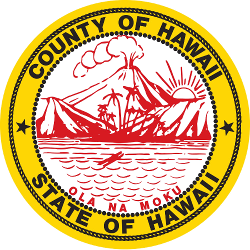 Hawaii County Council
Bill 81
AN ORDINANCE AMENDING THE PARKS AND RECREATIONAL FACILITY SCHEDULE, CHAPTER 15, ARTICLE 8, SECTION 15-68.1 OF THE HAWAI'I COUNTY CODE 1983 (201_6 EDITION, AS AMENDED), RELATING TO NAMING THE SKATE PARK AT THE PAHOA NEIGHBORHOOD FACILITY IN PAHOA, THE "GINNY ASTE SKATE PARK."
BE IT ORDAINED BY THE COUNCIL OF THE COUNTY OF HAWAI'I:
SECTION 1. Purpose. The purpose of this ordinance is to name the skate park at the Pahoa Neighborhood Facility in honor of long-time community advocate, Virginia Brautigan Aste, affectionately known as "Aunty Ginny."
Ginny Aste was born on July 11, 1934. She resides at 15-1800 Akeakamai Loop, Pahoa, Hawai'i, in the District of Puna. She is a single parent of four grown children whom she raised on the island of Hawai'i, on limited financial means. Her concern for others is demonstrated by her decades long involvement in programs committed to reducing hunger in her community, advancing the well-being of women, and assuring that children and families in Puna have access to basic facilities such as public libraries and parks.
Her achievements are many. She worked with other community leaders to initiate and coordinate a popular "Dinner in the Park" program at Hawaiian Beaches Park that fed local families in need. She co-founded a monthly food distribution program, the Orchidland Neighbors Food Basket that today feeds over 100 families per month.
In addition to striving to reduce hunger in her community, Ginny Aste has worked tirelessly to advance the well-being of women. She was the director of the YWCA Women's Center from 1979 to 1982. She also co-founded the YWCA Sexual Assault Support Service, a 24/7 crisis line, that was initially staffed by volunteers. Today this effort lives on in the form of the YWCA Sexual Assault Support Service and the Hawai'i County Prosecutor's Office's Victim Witness Assistance program.
Ginny Aste has demonstrated leadership on women's issues on the policy level as well.
She has served on the Hawai'i County Committee on the Status of Women, as president of the local National Organization for Women chapter, and as president of both the local and state chapters of the American Association of University Women.
Further, Ginny Aste has fought tirelessly to assure that Puna families have access to vital public facilities such as libraries and parks. When the Department of Education cut the Pahoa school librarian position, it reduced the library's hours of Operation and consequently curtailed library access for those in the community. In response, Ginny helped to draft and circulate a petition that ultimately contributed to the release of state funds for a Puna regional library study.
Finally, Ginny Aste worked with the Puna Friends of the Parks to conceive an idea for a skate board park in Pahoa, organize support for this proposal, collaborate with the youth of the community to design the facility, and write grants to finance this effort. The result of these endeavors was realized in 2009 when a new skate park was built within the Pahoa Neighborhood Facility. The skate park is now regularly used by residents and visitors alike.
Ginny Aste has worked for much of her life to improve civil and human rights in Hawai'i as a community organizer and activist. This homegrown skate park, that now provides a much-needed recreational option in Pahoa, is a suitable symbol of the many contributions she has made towards improving the quality of life in her community.
Therefore, pursuant to chapter 15, article 8, section 15-67 of the Hawai'i County Code 1983 (2016 Edition, as amended), that establishes requirements for naming County parks and recreation facilities, in recognition of Ginny Aste's significant achievements in developing and contributing to programs that have improved the quality of life for persons residing in the community of Pahoa, the skate park at the Pahoa Neighborhood Facility is hereby named, the "Ginny Aste Skate Park," in her honor.