(BIVN) – Spirits were not dampened by the weather Saturday. Instead, holiday cheer was shared in Waimea as the 57th Annual Christmas Twilight Parade made its way through town.
This year's theme was Truckers Light The Town, honoring the beloved truckers who have been a featured part of the parade for 20 years.
The Grand Marshall was 80 year old Waimea trucker Keoki Pahio Liana. Also, there were units honoring 24 fallen truckers with their names on lighted display.
This article provide by the Waimea Community Association in the days before the event tells the story best: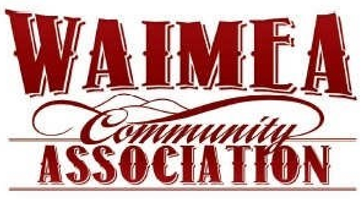 Waimea Community Association
on Nov. 26, 2017
Waimea Trucker Keoki Pahio Liana To Be Our Parade Grand Marshall!
'Truckers Light The Town!" is the theme for the 57TH Annual Waimea Christmas Twilight Parade at 5:30 p.m., Sat., Dec. 2, 2017. And it couldn't be more appropriate as this year's parade celebrates the 20th anniversary of welcoming truckers to join the fun and to recognize that they are a significant part of the "lifeline" of our island community. More than 60 festively lighted trucks will participate this year and the Grand Marshall is Waimea's own Keoki Pahio Liana, a beloved trucker with 46 years behind the wheel of a big rig hauling everything from cattle and aggregate to water, chicken manure and keawe fence posts.
A brigade of lighted trucks – along with a visit by Santa – are the "signatures" of the Waimea Twilight Parade, which this year will include close to 100 units with about 1,000 participants representing schools, scouts, churches, clubs, organizations, ranches, farms and businesses. And this year more than 12,000 spectators are expected – some coming the night before to secure a premium spot along the parade route between Historic Church Row Park and Waimea Park through the heart of this upcountry ranch town.
But the parade wasn't always such a big deal. Started in 1960, the parade has waxed and waned over the years, volunteer leadership came and "retired," and it shifted from night to day and back to night. Also, the route changed as Waimea grew. It went thru some particularly challenging years in the mid-'90s during major widening of Mamalahoa Highway through town center.
Trucker Sonny Miranda, who volunteers to coordinate the parade's truck entries, recalls first coming to the Waimea parade when his now 24-year-old son was three. The year was 1996 and he and wife Ronette and son zipped into Waimea town, easily found parking at the edge of the road and excitedly awaited the parade. It started and ended in what seemed like five minutes! They were shocked.
"What is this? Not only was the parade short, there were only 700-800 spectators!
"My wife and I thought: These guys need help! We met with Lani Olsen-Chong and Patti Cook and suggested that truckers join the parade. They were thrilled and the first year we rounded up 13 trucks," said Miranda.
WHY TRUCKERS?
"Truckers are the 'lifeline' of our Island – just about everything we buy, eat, drive, live in and wear is trucked to or from ports, quarries, businesses, farms and ranches," says Waimea's long-time Christmas parade volunteer co-chair Lani Olsen Chong.
"In the beginning, we didn't plan on lighting the trucks," said Miranda, "but my wife Ronette and I decided to add lights to ours and we didn't tell anyone. His good friend, the late Jeff Cypriano, was one of the first to agree to participate and Jeff told Sonny 'Don't come to my shop.' It turned out that Jeff had also decided to decorate his truck with lights and wanted to surprise everyone."
"So both Jeff and I showed up with lights the first year. From then on, everyone went all out!"
The number of truck entries has steadily grown but there have been notable spurts, such as the year beloved trucker Cypriano suddenly passed away. Jeff was widely known and respected as both a reliable trucker and a generous community friend who, for example, often was one of the first on the scene when a wildfire broke out. Voluntarily he'd show up, unload a tractor and head out into rugged fire-prone terrain to create firebreaks. It was dangerous work for many reasons, not the least of which is that open lands around Waimea-Waikoloa-Kawaihae are still peppered with unexploded ordinance from WWII training by the US military. Jeff understood how firebreaks would make a difference for firefighters and he also was an expert dozer operator. His sudden death inspired 64 truckers to turn out that Christmas to salute him in the Waimea parade.
Over the years, two more fallen truckers spiked participation – the late Ernest Kinney and Kurt Okada – and this year, a total of 24 fallen truckers will be honored by family members and co-workers with lighted entries, said Miranda (see list below).
Clearly, this level of participation says something about truckers: while independent trucking is very competitive and there are well over a hundred of them around the island, they're also a close-knit group that's quick to step up and help each other and their community.
"It's all for the kids," says Miranda, explaining the truckers dedication to the annual Waimea parade.
THIS YEAR'S GRAND MARSHALL – KEOKI PAHIO LIANA
So why did truckers choose 80-year-old Keoki Pahio Liana to represent them as this year's Grand Marshall?
"Keoki was a natural. Though retired, he drove trucks for 46 years, including 25 years for Parker Ranch. He's good hearted and nice to be around," said Miranda.
He's also a man of diverse skills, many self-taught and some mandated by his employer. When with Parker Ranch, veterinarian Dr. Billy Bergin organized many trainings for most everyone on the ranch. One Keoki remembers well was on how to pregnancy check cattle. Keoki still proudly has a certificate that he successfully completed that training.
And there's more to why Keoki was chosen. A tall, slim Hawaiian with a quick broad smile, Keoki is highly regarded in the trucking community for his reliability and impeccable safety record. He never had a single accident or got a speeding ticket in all of his 46 years driving big rigs or his own personal car. He was so well known and regarded around Hawai'i island that, after leaving Parker Ranch in 2000, he worked non-stop until 2014 driving for many different independent trucking companies and the military.
But life changed in 2014 when Keoki and his second wife Na'alei got into a horrible automobile accident on the Hamakua Coast. He was driving and saw that an approaching car was swerving into his lane heading right towards them. With only moments to respond, he swerved to protect his wife, thereby taking the brunt of the hit himself. He was severely injured – extremely fortunate to even survive the crash. It turned out the driver of the other car was diabetic and had fallen asleep at the wheel. Recovery for Keoki was slow and painful, and he doesn't ride horseback much anymore and gave up playing senior baseball. But now fully recovered, he's often on the sidelines cheering for his baseball buddies, and still loves bird hunting which involves long hikes in the mountains.
"There aren't as many birds out there anymore; when we do catch one, it's good eating." For Keoki, when preparing one of his bird catches to eat, it's most likely to be as hekka using recipes shared with him years ago by good friends — the late Elmer Lim and Hisa Kimura. Pelts from the birds go to Na'alei for feather hat bands.
"If we don't catch a bird, it's fine – it's so beautiful out there."
Extremely unassuming, when Keoki was asked to serve as Grand Marshall by fellow truckers, he admits to getting teary-eyed. He's also very appreciative that Parker Ranch, for whom he drove trucks for more than two decades, has offered to prepare a float for him for the parade. Unlike past years, Keoki as Grand Marshall will lead off the truckers brigade rather than be at the head of the parade in order to be close to his trucking friends. Immediately behind him will be trucks honoring 24 fallen truckers, then Sonny Miranda and his wife and children, and then about 40 other lighted trucks.
Keoki and Na'alei have between them 10 children and many many grand- and great-grand children, one or two of whom will likely ride in the parade with them. He's a proud member of Imiola Church and the Royal Order of Kamehameha.
REMEMBERING 'FALLEN TRUCKERS'
Grand Marshal Keoki Pahio Liana on a Parker Ranch float, followed by trucks honoring:
Jeffrey Cypriano, the late owner of Cypriano Trucking, who helped start the truckers parade 20 years ago with Sonny Miranda Driven by Jeff's past driver Peterson with Kai's Trucking
Gene Aguiar with A&A Trucking with son Shawn driving
Henry Alameida with son Brock with KNI Trucking and Services driving
Herbert Alapai and Raymond "Blue" Branco – truck driven by West Hawai'i Concrete
Joe Dart with grandson Randy with ABC Cesspool and Pumping driving
Edwin Deluz with Deluz Trucking and Gravel
Roger Gaspar driven by Miranda Trucking
David Haleamau, Sr., with son David, Jr. with RIVCO driving
Francis Hao with son Kawika with Oye Inc. driving
John Kainoa with son Brian with S&R Trucking driving
Jerry Kaleikini with ACR Water
Ernest Kinney with son Jamie with West Hawai'i Concrete driving
Donald La'a driven by Shoki Trucking
Donny Loando driven by Kahanakoa Construction
Bryson Lorenzo with son BJ with BJ's Excavation driving
Stanley Mendes, Sr. with grandson Mark Mendes driving
George Oye driven by Oye Inc.
Margaret Pahio with son Shawn Pahio with Business Services Hawai'i driving
Big John Peck, Sr. with son Sam with Goodfellow Bros. driving
Buddy Roberts driven by S&J's Trucking
Charley Santos driven by D&D Trucking
Wilson Sullivan driven by ACR Water
Kurt Okada – this was Kurt's original truck that he drove 20 years ago in the first truck parade; the rest of the Okada 'ohana will follow with three trucks.
The rest of the trucks will follow; the first truck thereafter will be S&R Trucking with Sonny and Ronette Miranda leading the way.
Coinciding with the parade, the Canada France Hawaii Telescope held its annual Star Party at its Waimea headquarters. Attendees could warm themselves by the fire before enjoying the free, family-friendly event.