(BIVN) – A 70-year-old bicyclist died on Wednesday morning after a crash involving another vehicle on Highway 19 just north of the Singing Bridge.
The Hawaii Fire Department arrived on the scene just before 6 a.m. and saw that the bicyclist was an "obvious" dead on arrival.
The 26-year-old male driver of vehicle complained of neck pain and was taken to Hilo Medical Center.
The Hamakua-bound lanes of Highway 19 were blocked. Traffic was detoured to Hau Lane and Wainaku Street.
The scene has been turned over to the Hawaii police Department, and the cause of the crash is under investigation.
UPDATE (5:45 p.m.) – Hawaii County Police issued this media release on Wednesday afternoon: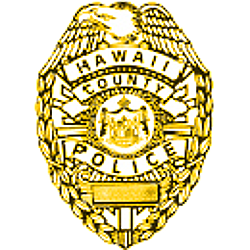 Hawaii County Police Department
on Dec. 6, 2017
An unidentified adult male died following a vehicle and bicycle crash on Wednesday morning (December 6) in Hilo.
His name is being withheld pending positive identification and notification of his family.
Responding to a 5:54 a.m. call, police determined that a 2018 Nissan sedan was traveling north bound on Highway 19 near Hau Lane when it struck a bicyclist who was traveling north bound on the shoulder of the road.
The bicyclist was taken to the Hilo Medical Center where he was pronounced dead at 8:32 a.m.
The driver of the Nissan sedan, 26 year-old Dylen Benevides of Hilo, was transported by medics to the Hilo Medical Center in stable condition for treatment of his injuries and was later released from the Hilo Medical Center. He was then arrested on suspicion of Negligent Homicide while the Area I Traffic Enforcement Unit continues this investigation.
An autopsy has been ordered to determine the exact cause of death.
Police believe that speed was a factor in this crash and it is unknown if intoxication was a factor.
Police ask anyone who witnessed the crash to call Officer Keith Nacis at 961-2339. Tipsters who prefer to remain anonymous may call the islandwide Crime Stoppers at 961-8300.
This is the 32nd traffic fatality this year compared with 30 at this time last year.