UPDATE (4:35 p.m.) – With the hostage situation in Leilani Estates finished and the suspect arrested, police have released some of the startling details abut the incident, including the identity of the suspect.
From Hawaii County Police: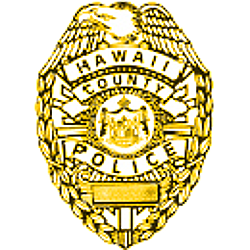 Hawaii County Police Department
on Dec. 19, 2017
A hostage standoff in Leilani Estates ended just after 2:00 p.m. after the suspect emerged from the residence he barricaded himself in since early this morning. After coming out of the home, the suspect shot himself in the facial area with a rifle. Medics were on scene and he was immediately transported to the Hilo Medical Center for treatment. The suspect has been identified as Jovin Chang of Leilani Estates.
After an early morning shooting that injured a 25-year-old male party Chang was located at an address on Leilani Boulevard. Chang barricaded himself in the residence with five individuals. The hostages were five females ages nine, fourteen, eleven, sixteen and thirty. They were all unharmed in this incident.
Leilani Boulevard remains closed as police continue this investigation, police say.
UPDATE (2:45 p.m.) – The hostage situation has ended in Puna with the arrest of a 33-year-old suspect, police say.
Leilani Boulevard between Highway 130 and Hapuu Street is still closed.
(BIVN) – A hostage incident in the Leilani Estates is ongoing as of 1 p.m. Tuesday, police say, following an earlier shooting in the Puna subdivision.
This morning at about 5:40 a.m., Puna District Patrol Officers responded to a call of a shooting on Nohea Street. Police say a 25-year-old male victim was located, "shot several times about his body", and was then transported to Hilo Medical Center where he remains in stable condition.
Police say the suspect in the shooting was then located at a residence on Leilani Boulevard, "where he barricaded himself inside."
Police believe the barricaded suspect is armed with a firearm.
The incident is currently being investigated as a hostage situation, and the Hawaiʻi Police Department Special Response Team and Crisis Negotiators are on the scene.
Leilani Boulevard between Highway 130 and Hapuu Street remains closed and neighboring residents have been asked to evacuate.
Police ask that members of the public avoid the area for their safety as well as that of the first responders in the area.