(BIVN) – Hawaiʻi Island police are investigating a suspicious death after a body, burnt beyond recognition, was found within a truck in a Puna's Orchidland subdivision on Christmas Day.
According to a police media release: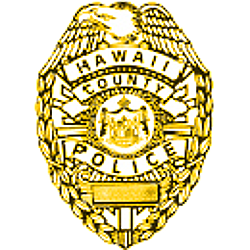 Hawai'i County Police Department
on Dec. 25, 2017
At approximately 10:00 a.m. Monday morning (December 25), police and fire units responded to a side road off 39th Avenue near Pōhaku Drive in the Orchidland subdivision to a reported vehicle engulfed in flames. After dousing the flames, firefighters observed burnt human remains within the vehicle. Investigators were unable to immediately identify if the remains are that of male or female.
Police have reason to suspect that this incident is related to evidence located at another property, also on 39th avenue, but near Auliʻi Drive.
Detectives with the Area I Criminal Investigation Section are continuing this investigation, which has been classified as a murder.
Anyone who may have information about this incident is asked to call the Police Department's non-emergency line at (808) 935-3311 or Detective Kayne Keliʻi at (808) 961-2378 or Kayne.kelii@hawaiicounty.gov.