(BIVN) – During a January 3 meeting of the Hawaii County Council Committee on Planning, councilmembers and planners delved deep into the issue of determining pre-existing lots.
Bill 88, which would amend the county's Subdivision Code, was given a positive recommendation by the council committee, as well as the Windward and Leeward Planning Commissions.
A communication from the Planning Department provided background: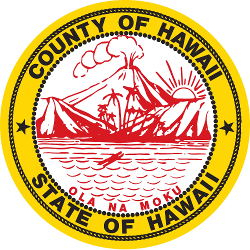 Hawai'i County Planning Department
in November 2017
Hawai`i County Code (HCC) Chapter 23, Subdivision, Article 11, Section 23-118, Criteria to determine a pre- existing lot ofrecord within Hawai`i County needs to be expanded to reflect how real property ownership has historically been conveyed within the County and the State ofHawai`i. The past practices of the State Department of Land and Natural Resources' Bureau of Conveyances ( BOC) and the Registrar of the Land Court with regard to the methods of recording land ownership documents has not always been consistent with HCC Chapter 23, Subdivision and its predecessor ordinances. Prior to the mid to late 1990′ s, it was a simple matter of presenting properly prepared deed documents and/or survey maps to the appropriate recording agency for recordation and subsequent inclusion on the tax map plats with individual parcel numbers, without confirmation that such recorded instruments were based on subdivisions approved by the County ofHawai`i. This practice ended when the County of Hawai`i became the custodian of the tax map plats about April, 1999 and subsequently, the issuer of tax map parcel numbers for newly created lots.
Through historical documents from the State Surveyor' s Office, County Real Property Tax Office and the Department of Taxation Property Assessment Division, it is found that these lands so recorded have been platted, assigned respective TMK parcel numbers, documented in the tax maps, and individually assessed for real property tax purposes since said recordation, even though an unknown number of these lots were never a part of a County approved subdivision.
Additionally, these lots have, in good faith, changed ownership one or more times; undergone consolidation and/or subdivision actions; and building permits for dwellings and other structures have been issued for many of them.
Under these circumstances, the Planning Director has determined that it may be in the best interest of the innocent, grantee property owners, including successor interests, that these lots so recorded, but never approved by the County through subdivision, also be recognized as " pre-existing lots" ofrecord. The current Subdivision Code recognizes pre-existing lots" where, through certain, defined criteria, documentation of its existence as a legal lot ofrecord can be provided. However, the department has encountered many existing lots" noted on tax maps that never secured Hawai`i County subdivision approval, but have been taxed and inadvertently recognized as buildable lots until it is discovered that no subdivision approval or other " pre-existing" criteria was secured.
PROPOSED AMENDMENTS
This bill is initiated by the Planning Director to add an additional criteria to determine a pre- existing lot of record as follows:
Section 23- 118. Criteria to determine a pre-existing lot.
c) The lot was created through evidence of a properly prepared deed and/ or subdivision plat for fee simple ownership of such lot to a grantee other than the grantor or a grantor' s trust which deed was recorded at the State of Hawai`i Bureau of Conveyances or with the Registrar of the Land Court prior to May 1, 1999, and was subsequently depicted on a County of Hawai`i Tax Map, was issued a tax map parcel number therefor, and was individually assessed for real property taxation purposes."