(BIVN) – On Tuesday morning, members of the Hawaiʻi Police Department, the Honolulu Police Department, the US Coast Guard, and Special Olympics Hawaiʻi, made a 7-hour hike into Kalapana to find actively flowing lava, in order to light a special flame that will "help light the journey for Special Olympics Hawai'i athletes participating in this year's State Summer Games."
The special flame honors Special Olympics Hawai'i's 50th anniversary which kicks off in July. Since 1968, police say Special Olympics has "helped change attitudes about the talents of people with intellectual disabilities, creating a more inclusive, welcoming world for all."
A police media release described the journey onto the 61g lava flow field:
Following an offering to Madame Pele, the Hawaiian Goddess of Fire, and a blessing by Kahu ­­Daniel "Kaniela" Kahikina Akaka, Jr., the Flame of Hope was then lit off of the active lava flow. This flame was then transferred into four miners lamps which will be used to light the torches for the annual Law Enforcement Torch Runs of our respective counties; Hawaiʻi, Honolulu, Maui, and Kauai. The Hawai'i Island flame was presented to Hawaii Police Department Chief Paul Ferreira and Deputy Chief Kenneth Bugado Jr. earlier this morning by Sergeant Jason Grouns and Officer Paul Mangus who were amongst the group that made the trek to the lava. A similar presentation was later made to Lieutenant Kenneth Franklin, Commanding Officer of the United States Coast Guard Cutter Oliver Berry.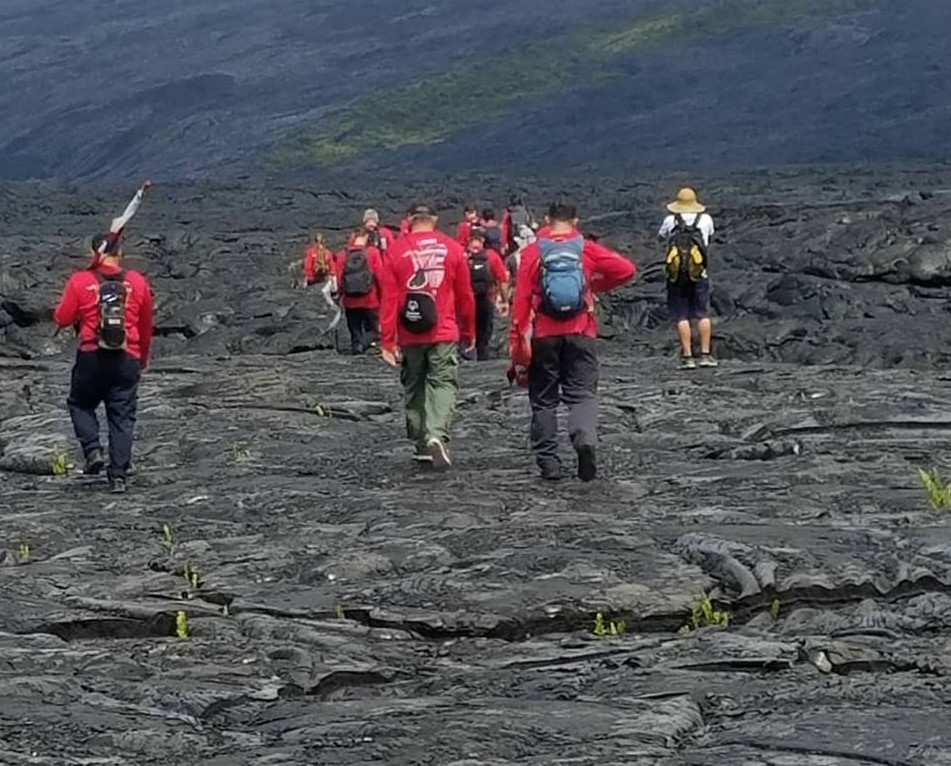 "This torch lighting is a special way for us to honor the 50 years Special Olympics has helped bring intellectual disabilities out of the darkness and into the light, creating a community of understanding and respect," said Cindy Ujimori, Special Olympics Hawai'i vice president of community outreach, in the media release.
Police say the flame will be transported to the outer islands by the crew of the USCG Cutter Oliver Berry and the USCG Cutter Ahi as they conduct their normal operational duties and ongoing training.
According to police:
Statewide law enforcement officers from federal, state and county agencies will run to raise awareness, funds, and hope for people with intellectual disabilities. On O'ahu, the First Hawaiian Bank Troy Barboza Law Enforcement Torch Run is named after Troy Barboza, a Honolulu Police Department officer who spent his off-duty time coaching Special Olympics athletes. This is the only Torch Run program in the world named after a fallen officer. Since it was first established, the Torch Run has raised over $7,297,442 for Special Olympics Hawai'i.
The Flame of Hope will make an appearance on each island as follows:
Saturday, April 14: East Hawai'i Law Enforcement Torch Run
Saturday, April 14: Maui Law Enforcement Torch Run
Saturday, April 21: Kauai Law Enforcement Torch Run
Saturday, April 21: West Hawai'i Law Enforcement Torch Run
Saturday, April 21: Moloka'i Law Enforcement Torch Run
Friday, May 25: First Hawaiian Bank Troy Barboza Law Enforcement Torch Run (O'ahu)