(BIVN) – The overflows of the lava lake on the summit of Kīlauea continued into Tuesday, as deformation now seems to be fluctuating at a faster pace.
"Summit tiltmeters recorded a sequence of deflationary and inflationary tilt in the past 24 hours with the lava lake spilling over the Overlook crater rim during the inflationary tilt periods," the USGS Hawaiian Volcano Observatory wrote in Tuesday's activity update. "An overflight yesterday afternoon showed that the overflows covered about 30 percent of the Halema'uma'u crater foor, approximately 16 ha (40 acres)."
Scientists confirmed that the lava lake again spilled over the south crater rim earlier this morning between about 6:30 a.m. and 8:00 a.m. HST.
"The summit area remains in an overall inflated state," USGS said. "Seismicity in the summit area has not changed significantly, with tremor amplitude fluctuations associated with lava lake spattering and a few small earthquakes in the upper East Rift Zone and south part of the caldera. Elevated summit sulfur dioxide emission rates persist."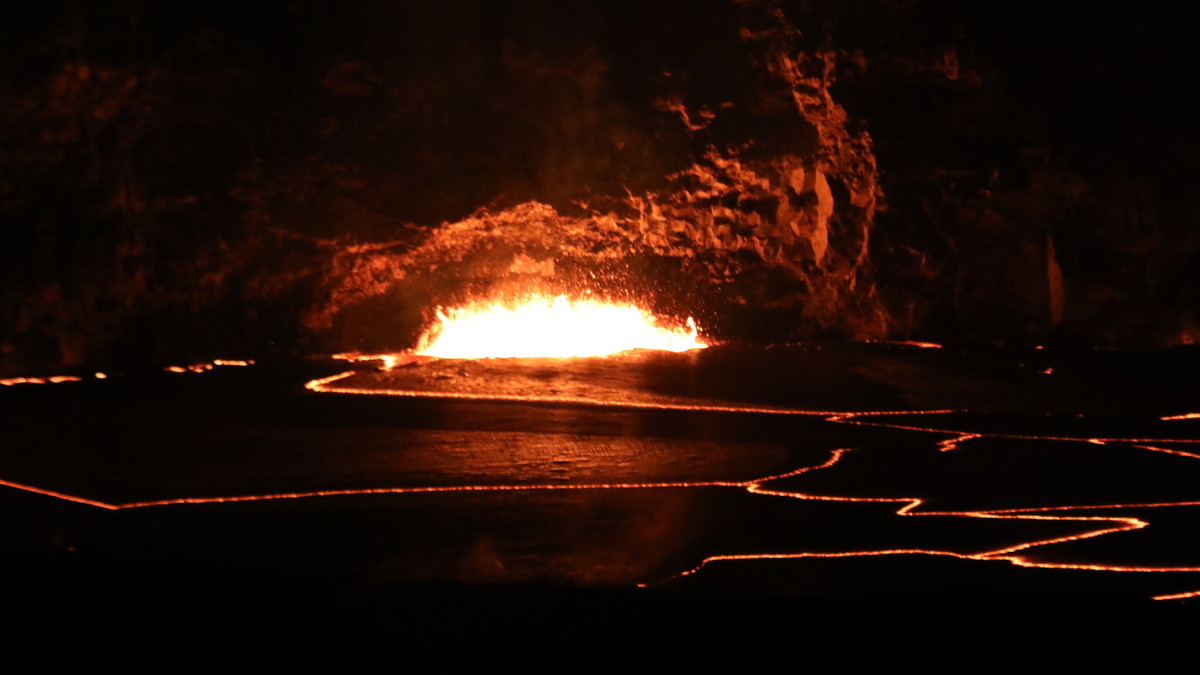 Meanwhile, on the active Puʻu ʻŌʻō crater on Kīlauea's East Rift Zone, inflationary tilt continues to be recorded, continuing the inflationary trend of the past several weeks.
The USGS issued a Volcanic Activity Notice about the inflation, saying that is the activity continues, "a new vent could form at any time, either on the Puʻu ʻŌʻō cone or along adjacent areas of the East Rift Zone."
A Monday afternoon overflight "showed evidence of continued uplift of the crater floor, including significant cracks on the northeast part of the crater," scientists wrote in Tuesday's update.
Webcam views showed no new flows in Puʻu ʻŌʻō crater in the past 24 hours. "Lava flow activity continues on the upper flow field, above the pali and closer to Puʻu ʻŌʻō, and does not pose a threat to nearby communities at this time," scientists stated. "Areas of the upper flow field with active lava flows are located within the Kahaualeʻa Natural Area Reserve, which has been closed to the public by DLNR since 2007 due to volcanic hazards."