(BIVN) – As of May 6, at least 10 fissures have erupted in the Leilani Estates subdivision. The USGS Hawaiian Volcano Observatory is calling the latest phase of the Kīlauea volcano eruption "Episode 62", having commenced on May 3. Already, at least 9 homes have been destroyed.
UPDATE: At 12:53 p.m. on Sunday, USGS reported:
The eruption in the lower East Rift Zone within Leilani Estates continues with continuous activity from one or two fissure segments since late last evening. A lava flow advanced northward from fissure 8 beginning about 5 a.m. HST; the flow advanced north-northeast about 0.9 km (0.6 miles) by 10 a.m., HST.

In the past 12 hours, deformation of the ground in the area suggests a pause in magma accumulation in the distal part of the intrusion.

Overall seismicity has not changed significantly overnight. Earthquakes continue at a diminished rate compared to the past couple of days, and the stations nearest to the erupting fissures record fluctuating amplitude levels that correspond to fissure eruptive activity.
Leilani Estates and Lanipuna Gardens residents were placed on evacuation notice due to the unpredictability of volcanic hazards, however on Sunday, Leilani Estates residents with property between Highway 130 and Maile Street were be allowed to begin entering the subdivision "to complete evacuation of pets, medicine, and vital documents left behind between the hours of 8 AM to 6 PM," civil defense reported.
Residents are being required to provide identification and proof of residency in Leilani Subdivision. "A Primary Police checkpoint is established at Highway 130 and 132. A secondary checkpoint is at Highway 130 and Leilani Street," civil defense said this morning.
Hawaii Police put out an alert message at 11:52 a.m. reporting a long traffic backup at the Highway 130 / Highway 132 intersection due to the resident screening process. "Use Kahakai Blvd and Hwy 137 (Beach) to Bypass," police said.
Hawai'i Electric Light continues to remind the community that the "continued lava activity in the Leilani Estates subdivision has caused electric lines and other utility equipment to fall," according to company spokesperson Rhea Lee-Moku. "Everyone should treat lines, transformers, and other utility equipment as energized even if the equipment is on the ground."
Meanwhile, miles away from Leilani Estates at the Kīlauea summit, the level of the lava lake is dropping.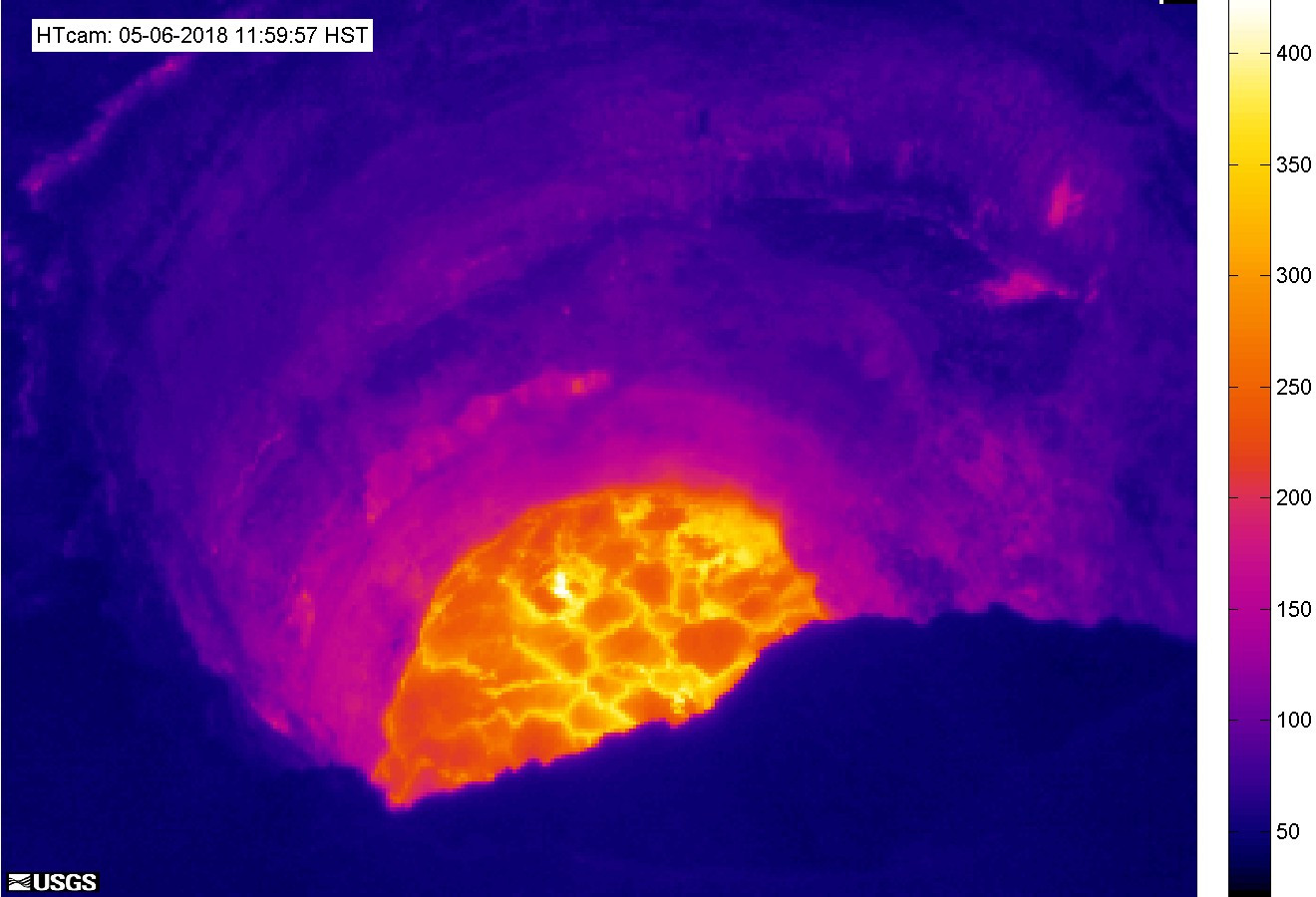 This past week, Kīlauea Volcano's summit lava lake level dropped with summit deflation, and was about 160 m (525 ft) below the vent rim as of May 5 at 9:30 p.m. HST, USGS says. On the East Rift Zone, the 61g lava flow is no longer active.
On Sunday at 12:53 p.m., USGS said:
The lake level has dropped about 35 m (115 ft) during the past 24 hours based on a continuously recording laser range-finder instrument on the crater rim. Elevated summit sulfur dioxide emission rates persist.