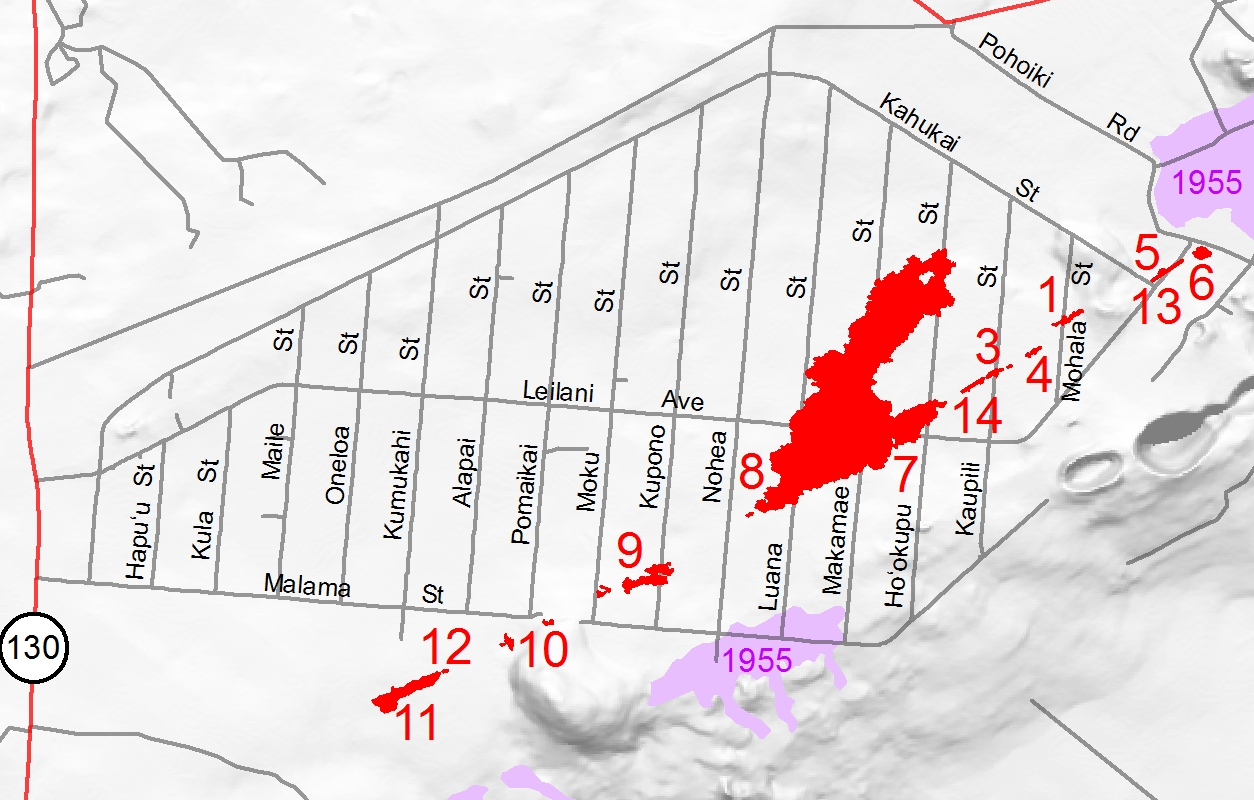 (BIVN) – The intermittent eruption of lava in Leilani Estates continues.
Activity on Tuesday was focused on the northeast portion of the fissure area, USGS Hawaiian Volcano Observatory says. "Two new fissure segments (13 and 14) broke ground between fissures 7 and 6," scientists wrote late last night. "Fissure 13 cut across Leilani Street. By 5:00 pm, fissures 13 and 14 were inactive; late this evening geologists reported loud jetting and booming sounds, and some spattering, at fissure 13. At about 6:00 p.m. reports of booming sounds were reported in the vicinity of Black Sands Beach Subdivision. When HVO geologists arrived soon after, no such sounds were occurring."
Earlier this morning, geologists reported the widening of cracks on Highway 130 and Ali'ili road.
"Rates of seismicity changed little throughout the day, but increased during the fissure activity in the afternoon," USGS said. "Gas emissions remain elevated in the vicinity of fissures."
USGS also stated:
HVO field crews successfully completed the installation of two new co-located seismometers and GPS receivers on the north and south sides of the East Rift Zone. Mahalo to landowners for allowing access and use of their property. HVO geologists will be in the area overnight to track and report to Hawaii County Civil Defense on the activity, and other scientists are tracking the volcano's overall activity 24/7 using various monitoring data streams.
Hawaii County Civil Defense issued this message on Wednesday morning:
Hawaiian Volcano Observatory confirms 2 new vents. Vent number 13 has opened near the intersection of Leilani Avenue and Kahukai Road and Vent number 14 near Kaupili St. and Leilani Avenue. Both have paused but continue to release hazardous gases. Since the onset of this eruption, a total of 14 fissures have emerged. The lava has covered 104 acres and 36 structures have been destroyed.

Evacuation Update:

Conditions permitting, Leilani Estates residents will be allowed to check on their property from 7 AM to 6 PM each day until further notice. Follow the instructions of the authorities on scene. Be prepared to evacuate at a moment's notice.

Civil Defense has established the Recovery Information and Assistance Center (RIAC) at the Sacred Hearts Church in Pāhoa, Monday to Friday from 9 AM to 3 PM.

Entry placard registration for residents wishing to retrieve personal items will be issued at RIAC throughout the week.

The County is taking care of all animals whose evacuated owners reported them left behind.

The County of Hawaii and Civil Defense are not associated with the website www.punalavaflow2018.com.

Road Status Update:

Highway 130 is closed between Malama Street and Kamaili Road.

Pohoiki Road is closed from Highway 132 to Hinalo Street.

No access is allowed at this time for residents of Lanipuna Gardens due to dangerous volcanic gases.

Service/Utilities/Agency Update:

Hawai'i Electric Light reminds residents to treat all downed lines as live. Under no circumstances are you to approach or touch downed lines.

Water spigots installed near the entrance of Lava Tree State Park and a water tanker in Vacationland are still available for the public to access.

Temporary Flight Restriction (TFR) is in effect. All aviation request are administered by the Fire Department.
United States Postal Service announced that evacuated residents can pick up their mail at the Pahoa Post Office.

The Hawai'i County Police Department and the Prosecutor's Office have established a policy of zero tolerance towards looting or vandalism. Under Emergency Provisions, any looting or vandalism will be treated as a felony.

DOH is working on updating SO2 data reporting online. Hawaii Interagency Vog Information Dashboard http:/ivhhn.org/vog.

Puna Geothermal Venture reports no activity at this time and the facility is secured. Precautionary measures are being taken to remove flammable materials offsite.

Contact the Humane Society for animal information

Community Message/Alerts:

The residents of Leilani Estates are going through a very difficult time. We ask for your understanding. We ask for your help.

County, State and Federal partners continue to monitor the situation. You will be informed of any conditions that affect your safety.