Lower East Rift Zone Eruption
The eruption of lava continues from the lower East Rift Zone in Leilani Estates with little change relative to the past few days, the USGS Hawaiian Volcano Observatory reported last night.
At 10:27 p.m. HST:
Fissure 8 lava fountains reached heights of 200 ft in the afternoon, and the cinder and spatter cone that is building around the fissure is now about 160 ft at its highest point. Lava is flowing through the well-established channel from fissure 8 to the ocean at Kapoho. Occasionally, lava spills over the channel levees. The ocean entry remained fairly broad with laze blown onshore. Fissures 16 and 18 continue to ooze lava.Pele's hair and other lightweight volcanic glass fragments from the lava fountain at Fissure 8 continue to fall downwind of the fissure, dusting the ground within a few hundred meters (yards) of the vent. High winds may waft lighter particles to greater distances. Residents are urged to minimize exposure to these volcanic particles, which can cause skin and eye irritation similar to volcanic ash.
Magma continues to be supplied to the lower East Rift Zone, USGS says. "Seismicity remains relatively low in the area with numerous small magnitude earthquakes and low amplitude background tremor. Higher amplitude tremor is occasionally being recorded on seismic stations close to the ocean entry," scientists say.
Summit Eruption
At 10:27 p.m. HST:
After this morning's small explosion at Kīlauea's summit, seismicity levels immediately dropped but gradually increased over the course of the day climbing to about 30 events per hour by nightfall. Inward slumping of the rim and walls of Halema`uma`u continues in response to ongoing subsidence at the summit. Sulfur dioxide emissions from the volcano's summit have dropped to levels that are about half those measured prior to the onset of the current episode of eruptive activity. This gas and minor amounts of ash are being transported downwind, with small bursts of ash and gas accompanying intermittent explosive activity.
The most recent explosion occurred at 3:19 a.m. on Thursday morning.
Individual Assistance Request Approved
The President of the United States approved Governor David Ige's request for individual assistance for Hawai'i County residents who have lost their homes and property in the Kīlauea volcanic eruption.
"Over the past six weeks, thousands of people on Hawaiʻi Island have seen their homes, livelihoods, farms, and businesses devoured by lava," stated Rep. Tulsi Gabbard. "For those impacted by this crisis, day-to-day life remains uncertain, with their future unknown. Help and support for basic needs are sorely and urgently needed. This funding will help assist with things like temporary housing, home repairs and replacements, medical needs, child care, transportation, and more."
"I want to thank FEMA and President Trump for their quick action. This is an extraordinary ongoing disaster, and the federal response has been robust and seamlessly integrated into state, county, and community efforts. This is a challenging time for Hawai'i Island, and this is welcome news," said Sen. Brian Schatz.
"The swift approval of the State's application for Individual Assistance unlocks much needed resources for residents and households affected by the ongoing Kilauea eruption," Senator Mazie Hirono said. "We have a lot of hard work ahead as we continue to respond to and begin to recover from this disaster and I want to thank President Trump and FEMA for their quick action today."
Hawaii County Civil Defense incorporated the news into their morning message on Friday, saying "residents of Hawai'i County who suffered damage or losses from the recent Kilauea volcanic eruption and earthquakes, can now register for disaster assistance with the Federal Emergency Management Agency (FEMA)."
Civil Defense added:
A Disaster Recovery Center (DRC), jointly operated by Hawaii County, the State of Hawaii, and FEMA will open today, at 8 a.m.
The DRC is located at Kea'au High School Gymnasium and will be open daily from 8:00 am to 8:00 pm.
People can register for assistance at the DRC, as well as having many of their questions answered.
FEMA, the U.S. Small Business Administration, and state and county government agencies will be present at the center.
For a list of the information you need to bring with you, or if you want to register online, go to DisasterAssistance.gov.
Shuttle buses will run on the following schedules:
Route 1 – Keaau Armory and Keaau High School Parking Lot to Keaau High School Gym
Continuous shuttle every 20 mins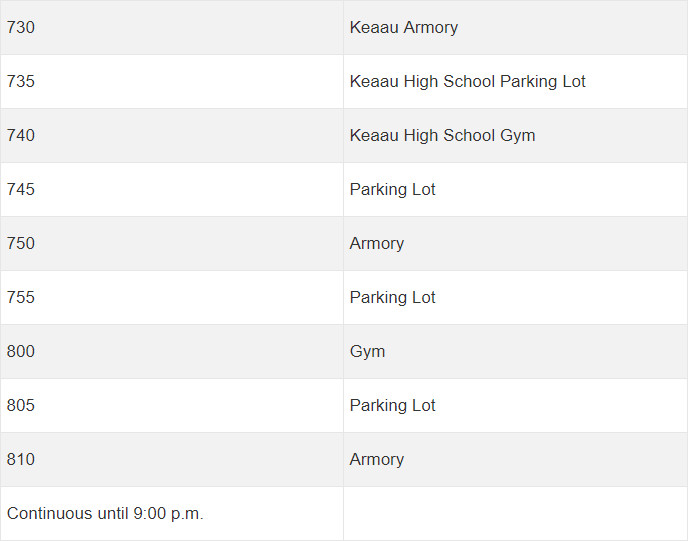 Route 2 – Pahoa Community Center to Keaau High School Gym
Continuous shuttle every hour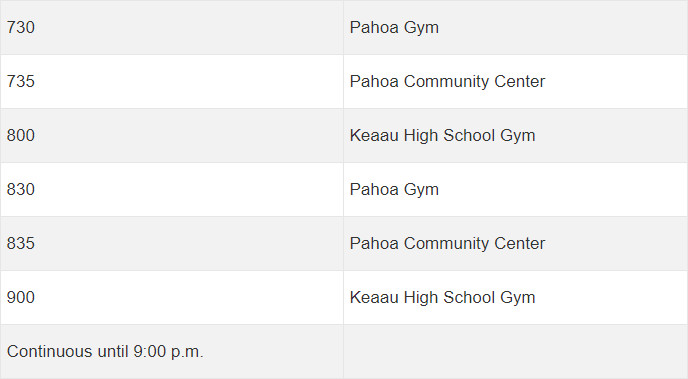 Animals Rescued
On Thursday, the Hawaii National Guard happened upon a group with the Hawaii Island Humane Society, conducting a mission to rescue animals stranded by the lava flow.
New Air Quality Monitors Coming
The Hawaii Department of Health is working to establish 10 new ambient air quality monitoring stations on Hawai'i Island. From a Thursday media release:
The Hawai'i Department of Health (DOH) will install 10 additional permanent air quality monitoring stations to measure fine particles (PM2.5) and sulfur dioxide (SO2) on Hawai'i Island to enhance data collection efforts for vog conditions around the island. There are currently five permanent stations on Hawai'i Island in Hilo, Mountain View, Pahala, Ocean View and Kona.

Although specific locations have not been determined, DOH has identified general areas where monitoring is needed, including South Kohala, North Kona and South Kona on the west side of the island. When all of the stations are in place, DOH's ambient air monitoring network will have a total of 25 stations statewide, including two National Park Service stations located at Hawaii Volcanoes National Park.

DOH is inviting Hawai'i Island residents to submit their suggestions for locations of these additional permanent air quality monitoring stations to enhance response efforts to the ongoing Kilauea eruption. When fully operational, the additional air quality monitoring stations will provide real-time data from different areas of the island so emergency responders can advise residents and visitors on appropriate actions they can take to protect their health and safety.

"The input we have received from residents during community meetings has been invaluable," said Dr. Bruce Anderson, health director. "We want to encourage ongoing dialogue so we can better address their concerns and ensure an effective response."

Air quality monitoring stations measure particulates, or pollution including ash in the air, and gases such as sulfur dioxide. Monitors closer to the Kilauea East Rift Zone also gauge levels of hydrogen sulfide in the air. Data are used primarily to provide air pollution updates to the public in a timely manner, identify trends, forecast air quality, correlate air quality to health effects, guide emergency management activities, and support air pollution studies.

Anderson noted that each air quality monitoring station contains sophisticated equipment that yields reliable data for informed decision-making. A fully-loaded station with a shelter can cost as much as $120,000 each. Site modifications that include security and fencing or electrical access can add to this cost. Installing a station typically takes from a few months up to a year to complete, but DOH is speeding up the process to obtain air quality data faster.

Selecting an air quality monitoring station is based on rigorous U.S. Environmental Protection Agency (EPA) regulatory requirements. The following are factors considered in the decision-making process:

§ Atmospheric conditions: This includes the effects of buildings, terrain, and heat sources or sinks on air trajectories that can produce anomalies of pollutant concentrations. Meteorology is also considered in determining the geographic location of a site as well as the height, direction, extension of sampling probes, and prevailing wind conditions.

§ Logistics: This includes procurement, site security, set-up and maintenance, and transportation of material and personnel for the monitoring operation.

§ Security risks: DOH is considering installing air quality monitoring sites at schools since they offer secure areas to minimize the threats of theft and vandalism. As additional benefits, the schools will have access to data to determine the best actions for students, such as sheltering in place and whether it is safe to go outdoors for recess. It can also serve as a learning tool for the students.

§ Economics: DOH considers the economics of each air quality monitoring site, including the resources required for site acquisition, site preparation, data collection activities, instrumentation, installation, maintenance, data retrieval, data analysis, quality assurance, and data interpretation.
The community should base their recommendations for air quality monitoring station locations on these factors and email their suggestions to the DOH's Clean Air Branch at cab@doh.hawaii.gov by Wednesday, June 27, 2018.
Floriculture, Nursery Hardships
The Hawaii Floriculture & Nursery Association is meeting with USDA, Hawaii Department of Agriculture, Hawaii County Department of Research & Development, UH-Manoa CTAHR and others today concerning the programs and services they have available for those affected by the current losses and displacements due to the lava flows and volcanic emissions. HFNA said it "is concerned about our nurserymen and women who are experiencing hardships due to the volcanic eruptions and lava flows. We are working to source out the federal, state, and county resources available so you will be prepared in the unfortunate event you have need of the programs and services available."
DLNR Provides Emergency Cinder For Flower Businesses
The Hawaii Department of Land and Natural Resources is providing "emergency cinder resource" vital for tropical flower businesses on Hawaii Island. This DLNR news release was distributed on Thursday:
Recent volcanic eruptions on the Big Island have forced the sole source of black cinder to vacate its harvesting plant, jeopardizing the island's tropical floral business, a major economic industry in East Hawaiʻi. These businesses provide plants and flowers to flower and lei shops and stores for sale statewide and out-of-state exports.

Unfortunately, the black cinder in Puna that the industry relies on is extracted from an extinct cone that is now close to the very active fissure 8 in the current eruption area. The cinder harvesting plant was forced to vacate and no one can predict when it might again be usable.

Cinder granules help with drainage of potted tropical plants and are the main media for propagation of anthuriums and orchids. Cinder is used for farming and potting plants that are steam-treated to remove pathogens for shipping clearance by the Hawai'i Dept. of Agriculture. Both uses of cinder were abruptly halted due to the volcanic eruptions in the East Rift Zone.

With only a few weeks of remaining cinder supply left, and concern for potential loss of jobs and income if supplies run out, the Hawai'i Floriculture and Nursery Association (HFNA) reached out to Gov. David Ige and the Department of Land and Natural Resources (DLNR) for help to find an alternate source. HFNA members are farmers and wholesale floral producers and nurseries throughout the state who raise and sell tropical floral crops.

Governor Ige said, "I am delighted that the state, working with HFNA, was able to quickly coordinate efforts to avoid a sudden shutdown of the farming and floral nursery industry in East Hawai'i."

Under the governor's emergency declaration to support disaster response victims and help the economy of East Hawai'i, DLNR's Hawai'i Land Division staff, HFNA president Eric Tanouye and member Gordon Inouye located an alternative source of cinder on the island to meet a demand of 100-plus cubic yards weekly. The Pu'unene cinder pit is on state land on the border of Mauna Loa forest reserve in Humu'ula along the old Saddle Road, and was previously mined for black cinder.

Working in coordination with HFNA, DLNR executed an emergency right-of-entry permit, which takes effect immediately, allowing access for raw cinder mining purposes on an interim basis during this emergency disaster declaration period.

The HFNA will coordinate with an excavation organization to provide farmers and nurseries with the needed black cinder to avoid a supply disruption. The wholesale price will be assessed based on the rates prior to the eruptions and agreed upon royalty rate of $2.50 per cubic yard. HFNA and its consultant agents and contractors will maintain and provide all insurance and comprehensive liability insurance to cover this operation.

Monthly payment to DLNR will be credited to its Division of Forestry and Wildlife in support of forestry resources. Cost of processing and sterilization through steaming is a cost to the provider. No environmental document is required because this is a previously used resource and location.