(BIVN) – Hawaii Island is in for a voggy weekend, as the eruption of Kilauea Volcano continues at Fissure 8 in the lower East Rift Zone. "Lava now covers 5,914 acres or an area of nine and one quarter (9.24) square miles," Hawaii County Civil Defense stated this morning. "There have been 467 homes destroyed."
"Lava continues to flow through the well-established channel to the ocean at Kapoho," the USGS Hawaiian Volcano Observatory reported late last night. "Occasionally, lava spills over the channel levees. The ocean entry remained fairly broad with laze blown onshore."
"Fissures 16 and 18 continue to ooze lava," the USGS scientists wrote. "Fissure 8, the channel, and the ocean entry are relatively stable with only a small amount of expansion at the southern boundary of the flow near the coast and south of Vacationland."
The USGS Hawaiian Volcano Observatory also had this update on the events at the summit, posted at 10:27 p.m. HST:
Between 6 am and noon, more than 180 earthquakes occurred in the summit area, 18 of which were stronger than magnitude-3.0. An explosive event occurred at noon today that produced an ash and gas plume to nearly 10,000 ft. Seismicity dropped abruptly after the explosive event but is expected to build up slowly over the next hours. Inward slumping of the rim and walls of Halema`uma`u continues in response to ongoing subsidence at the summit.

Sulfur dioxide emissions from the volcano's summit have dropped to levels that are about half those measured prior to the onset of the current episode of eruptive activity. This gas and minor amounts of ash are being transported downwind, with small bursts of ash and gas accompanying intermittent explosive activity.
"The National Weather Service reports heavy vog is blanketing the interior and southern parts of the island, impacting Hilo and wrapping around to Kona through the weekend," this morning Hawaii County Civil Defense message stated. Officials offered the following guidance:
Do continue to be on the alert for air quality conditions around you. Limit outside activities and stay indoors if you have breathing issues.
You can monitor the latest air quality measurements through the University of Hawaii's Vog Measurement and Prediction Project, linked on our Civil Defense Agency website.
Even as the eruption continues in Leilani Estates, government is moving forward with recovery efforts.
"Residents of Hawai'i County who suffered damage or losses from the recent Kilauea volcanic eruption and earthquakes, can now register for disaster assistance with the Federal Emergency Management Agency (FEMA)," civil defense repeated this morning.
The following was provided by county officials:
The Disaster Recovery Center or DRC, is open daily from 8am to 8pm, and is located at the Keaau High School Gym.
Shuttle buses will be running between the two shelters and the DRC from 7:30 am to 9 pm.
The shuttles run every 20 minutes from the Keaau Armory, and every hour from the Pahoa Community Center shelter. The full bus schedule can be found on our Civil Defense Website at HawaiiCounty.gov/Active-Alerts.
For a list of the information you need to bring with you to the DRC, or if you want to register online, go to www.DisasterAssistance.gov.
Shuttle buses will run on the following schedules from 7:30 a.m. to 9 p.m.
Route 1 – Keaau Armory and Keaau High School Parking Lot to Keaau High School Gym
Continuous shuttle every 20 mins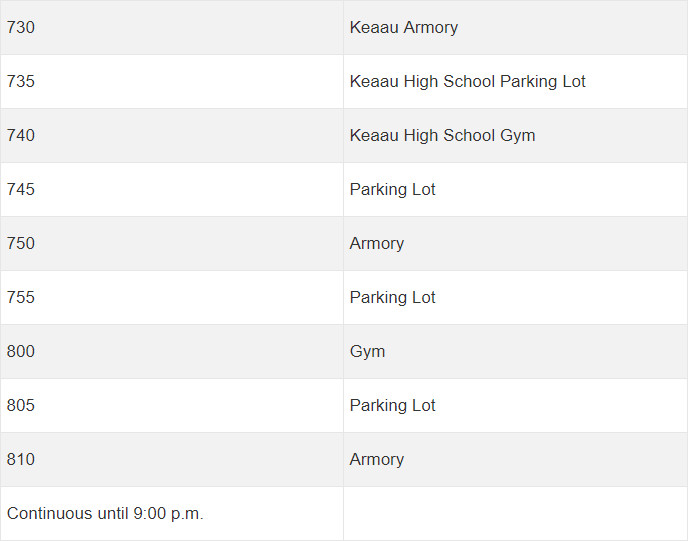 Route 2 – Pahoa Community Center to Keaau High School Gym
Continuous shuttle every hour