(BIVN) – During a Hawaii County Council committee meeting in Hilo on Tuesday, administration officials presented plans to address housing solutions for residents displaced by the recent lava event in Puna.
The Office of the Mayor, Research and Development, and Planning Department went through a power point presentation during the council's Human Services and Social Services Committee meeting, explaining the approach and rational behind their efforts to find temporary housing for the roughly-200 people still staying at the county emergency shelters.
One slide presented the outlook for "Temporary Shelter Housing" – like the 20 micro-units at Sacred Hearts Church in Pahoa.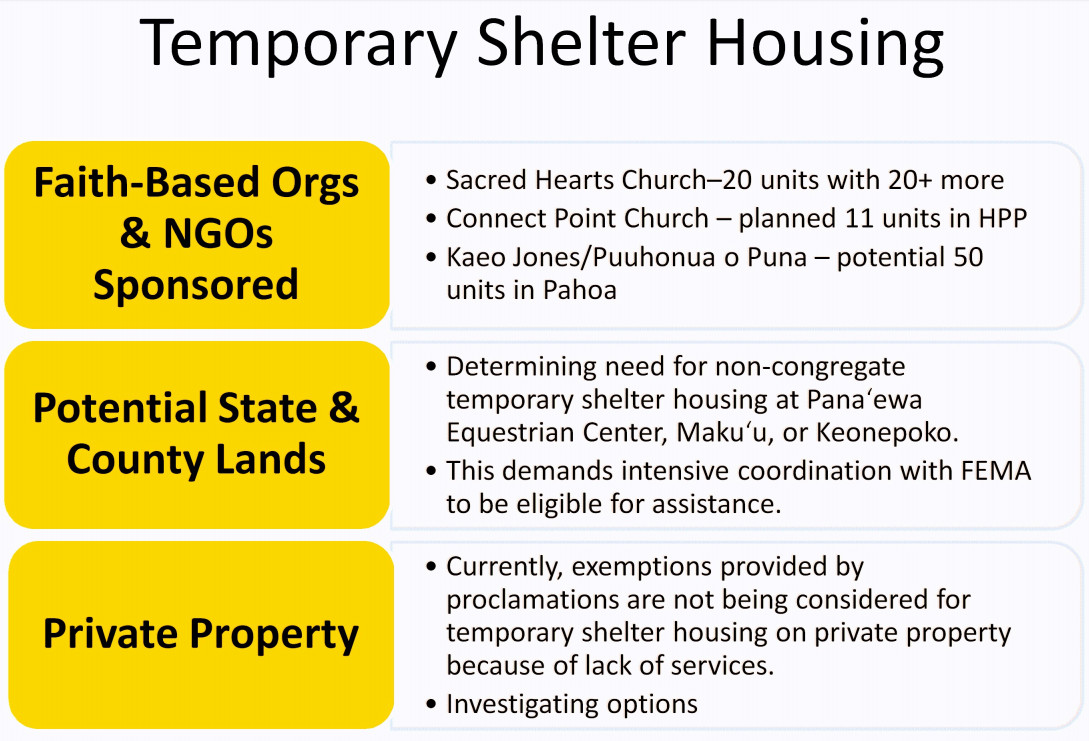 The Pana`ewa Equestrian Center could serve as a larger micro-unit shelter site, if needed, officials said.
County officials say a survey is underway that will help determine the "barriers to exiting" the shelter, which will inform a "mix of programs and assistance needed to close current shelters."
Parks and Recreation Director Roxcie Waltjen explained:
The council also requested an update on the County's plans for building or re-building in the areas of lava zones 1 and 2. "More than 25 percent of the area in Zone 1 has been covered by lava since 1800," the planning director Michael Yee noted in a slide, "Zone 2 includes the areas adjacent to and downslope of the most active parts of the rift zones. About 15-25 percent of the areas in Zone 2 has been covered by lava since 1800."
Yee noted in the presentation that a number of land use tools could be utilized for the lava zone development issue, including condemnation, "land use district or zone amendments", and "transfers of development rights."