(BIVN) – The southern margin of the lava flow originating from Fissure 8 is about 500 meters, or 0.3 miles, from the Pohoiki boat ramp this morning, officials report.
During a media conference call at 1 p.m. on Thursday, USGS Hawaiian Volcano Observatory spokesperson Janet Babb said its not possible to forecast how soon – if at all – the lava will inundate the treasured Isaac Hale Park and Pohoiki area.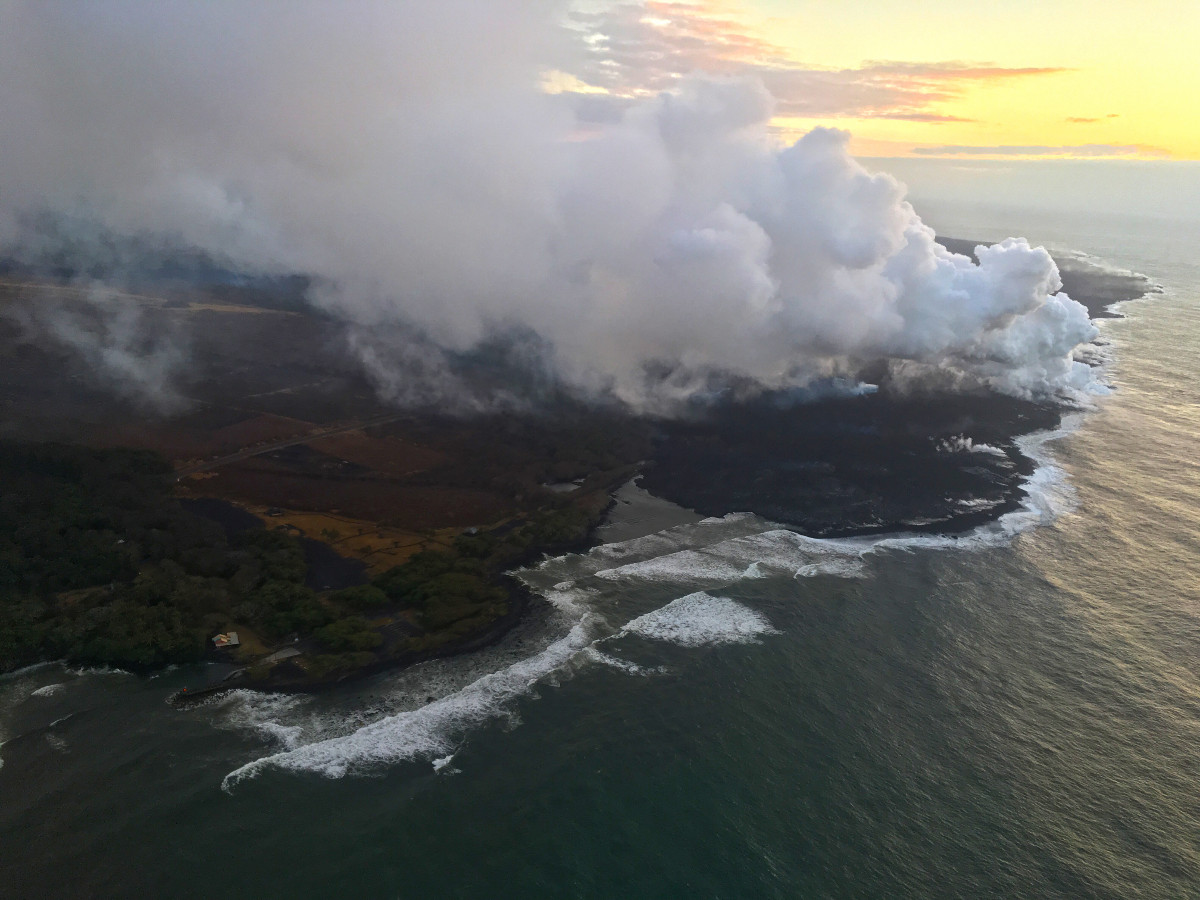 UPDATE: The Hawaiian Volcano Observatory reports a collapse event with energy equal to a 5.4 magnitude earthquake has occurred at Halemaumau Crater at 4:36 pm.
USGS posted this update just after noon:
Fissure 8 continues to erupt lava into the perched channel leading northeastward from the vent. Lava levels in the channel appeared a bit low this morning and there were no overflows noted. The southern margin of the flow is about 500 m (0.3 mi) from the boat ramp at Isaac Hale Park this morning. Despite no visible surface connection to the fissure 8 channel, lava continues to ooze out at a few points on the 6 km (3.7 mi) wide flow front into the ocean. No other fissures are active this morning.
During today's conference call, Babb also took questions about the activity (or lack of) at Puʻu ʻŌʻō on the middle East Rift Zone, the recent hydro-volcanic explosions (as the littoral explosions at the ocean entry are now being called) and the community meeting planned for tonight in Pahala concerning future activity at the Kīlauea summit.
FEMA says the Disaster Recovery Center in Kea'au will close on Sundays beginning July 22. "Weekdays, the DRC will remain open from 8 a.m. to 6 p.m. to help Hawai'i County residents who suffered losses from the Kilauea eruptions and earthquakes," a FEMA news release states. "The center will be open on Saturdays from 8 a.m. to 4 p.m."