(BIVN) – Hector has strengthened into a Category 4 hurricane on the Saffir-Simpson Hurricane Wind Scale, with maximum sustained winds near 130 mph (215 km/h) with higher gusts.
Hector is 1,395 miles east southeast of Hilo and is moving west at 12 mph. There has been little change to the forecast philosophy from the previous advisory. The National Hurricane Center has the storm tracking to the south of Hawai'i Island, possibly passing by on Wednesday.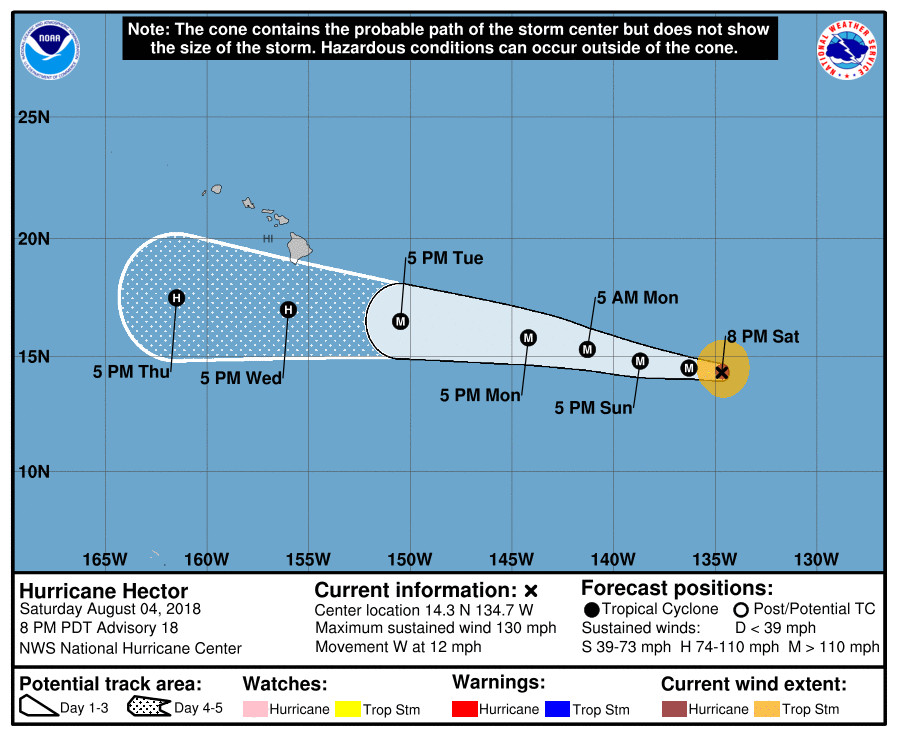 "Hector has the textbook appearance of a major hurricane in satellite imagery this evening, as it is maintaining a well-defined 10 nm wide eye inside a central dense overcast," the National Hurricane Center reported at 5 p.m. HST. "The most notable change since the last advisory has been an increase in convection in an outer band that now mostly surrounds the CDO."
"The recent increase in outer band convection decreases the short-term chance that Hector will become an annular hurricane," the forecasters said. "However, the cyclone will be in the light-shear moderate-SST conditions favorable for such an evolution, and it could occur later in the forecast period. Before this, it is likely that Hector will undergo another eyewall replacement with associated fluctuations in intensity."
Hurricane-force winds extend outward up to 30 miles from Hector's center and tropical-storm-force winds extend outward up to 105 miles. The storm is expected to remain a major hurricane as it moves into the central Pacific basin Sunday night or early Monday.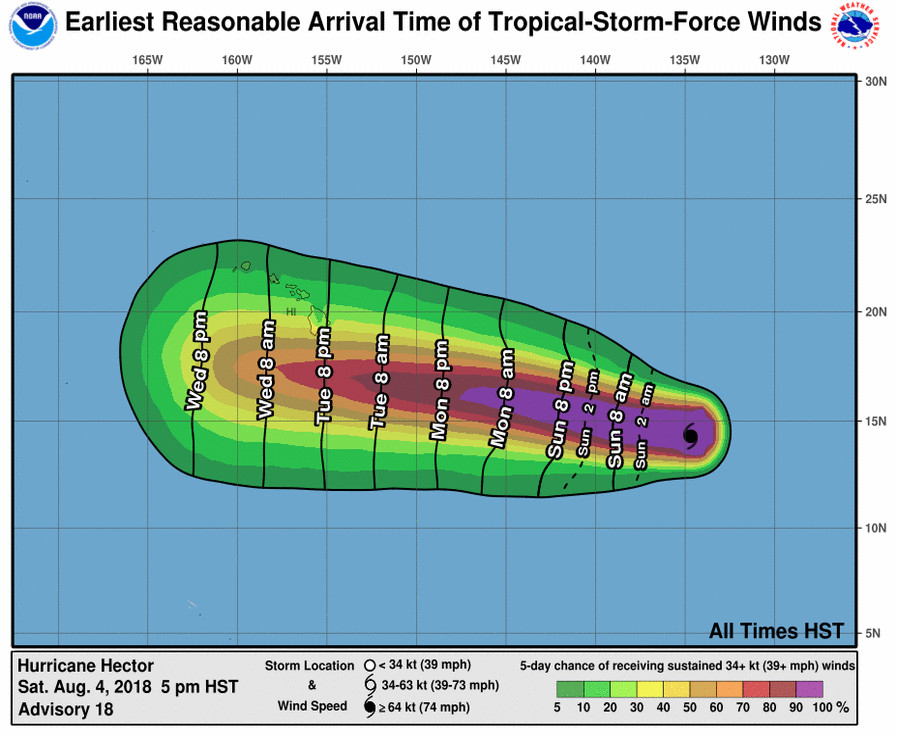 "While the official forecast track continues to lie south of the Hawaiian Islands, it is too soon to determine what kind of impacts might occur in the state, since track errors can be large at long time ranges," the National Hurricane Center stated. "This remains a good time for everyone in the Hawaiian Islands to ensure they have their hurricane plan in place."
Hurricane Hector's proximity to the Big Island will be largely determined by a subtropical ridge to the north, which forecasters say "should steer the hurricane generally westward through the forecast period, with Hector gradually gaining some latitude on Sunday and beyond due to a weakness in the ridge."
By 72-96 hours, forecasters say, "most of the guidance shows a more westward motion south of the Hawaiian Islands. Based on slight shifts in the consensus models, the new forecast track is nudged a little to the north of the previous track through 72 h, and it is similar to the previous track after that time. It should be noted that there remains some spread in the dynamical models as Hector approaches Hawaii, with the NAVGEM, HWRF, and GFS to the north of the center of the guidance envelope and the ECMWF to the south."
On Friday, the Hawaii Emergency Management Agency recommended residents and visitors take the following actions to prepare for any possible hurricane or tropical cyclone:
Prepare an "emergency kit" of a minimum of 14 days of food, water and other supplies.
Talk with family members and develop a clear understanding what you will do if a hurricane or tropical storm threatens. Prepare an action plan that includes details such as whether your family plans to shelter in place or evacuate.
Know if your home is in an inundation zone, flood zone, or susceptible to high winds and other hazards. Know if your home is retrofitted with hurricane resistant clips or straps.
Stay tuned to local media and their websites/applications regarding weather updates.
Sign up for local notification systems (i.e., HNL.Info).
Get to know your neighbors and community so you can help each other.
Walk your property and check for potential flood threats. Clear your gutters and other drainage systems. Remove and secure loose items. Keep your car gas tanks filled.
Prepare your pets by checking or purchasing a carrier and other preparedness items. A pet carrier is necessary for your pet's safety if you plan to evacuate to a pet-friendly shelter. Don't forget 14 days of food and water for your furry family members.
Set aside an emergency supply of any needed medication and keep a copy of your prescriptions in case you run out of medication after a disaster.
Secure your important documents in protective containers.
Visitors should download GoHawaii App and read the Hawaii Tourism Authority's Travel Safety Brochure at http://www.travelsmarthawaii.com.
Build an emergency kit – now.