(BIVN) – 1,520 miles away from Hilo, Hurricane Hector remains a small but powerful storm as it makes its way west towards the Central Pacific. Its projected path – at the moment – has the storm passing just to the south of Hawai'i Island.
Hector's maximum sustained winds remain near 120 mph (195 km/h) with higher gusts, keeping the storm at Category Three strength; a major hurricane. Short-term fluctuations in intensity are likely during the next few days, forecasters say, but Hector is expected to be near major hurricane intensity through early next week.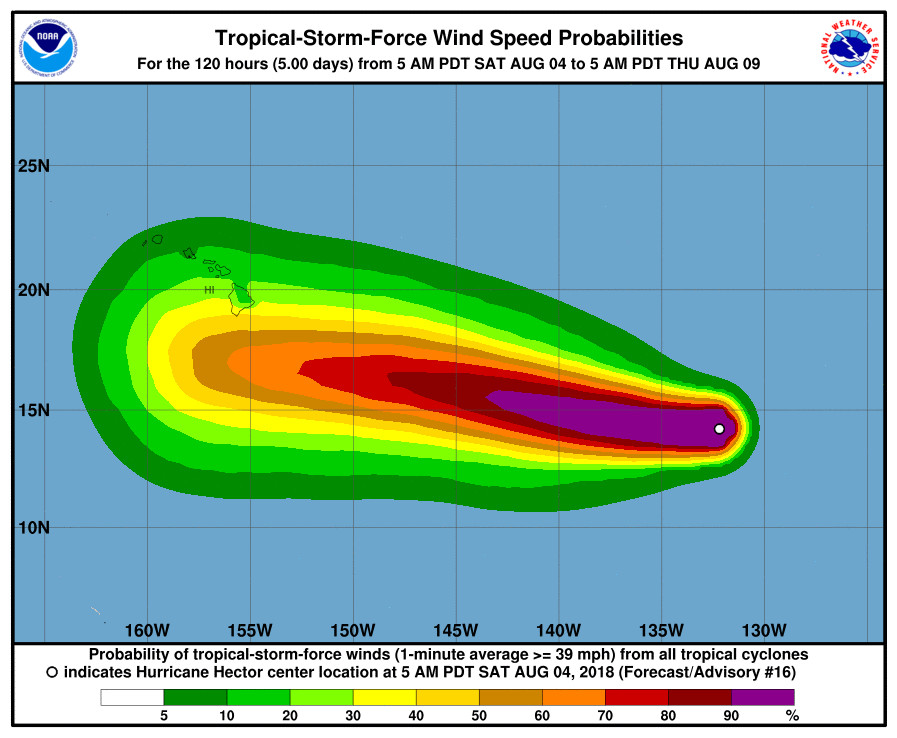 Hurricane-force winds now extend outward up to 25 miles (35 km) from the center and tropical-storm-force winds extend outward up to 80 miles (130 km).
"There have been some subtle changes in Hector during the past several hours with satellite imagery indicating a slight disruption of the eyewall convective pattern," the NWS National Hurricane Center wrote this morning. "This appears to be due to a slowly evolving eyewall cycle, which can only be readily seen by high-resolution microwave data such as AMSR2, due to Hector's small size."
The eyewall cycle makes future intensity changes are harder to predict, the NWS says. "Since Hector is forecast to remain in a favorable large-scale environment, albeit with marginal SSTs, little overall change in strength is indicated during the next couple of days," the forecasters say. "Hector's small size could also make it prone to short-term fluctuations in intensity, up or down, like the one observed yesterday. In about 3 days, Hector is forecast to move over somewhat cooler SSTs and into a drier environment, so gradual weakening is shown. Little change was made to the previous NHC wind speed prediction, near or just above the model consensus."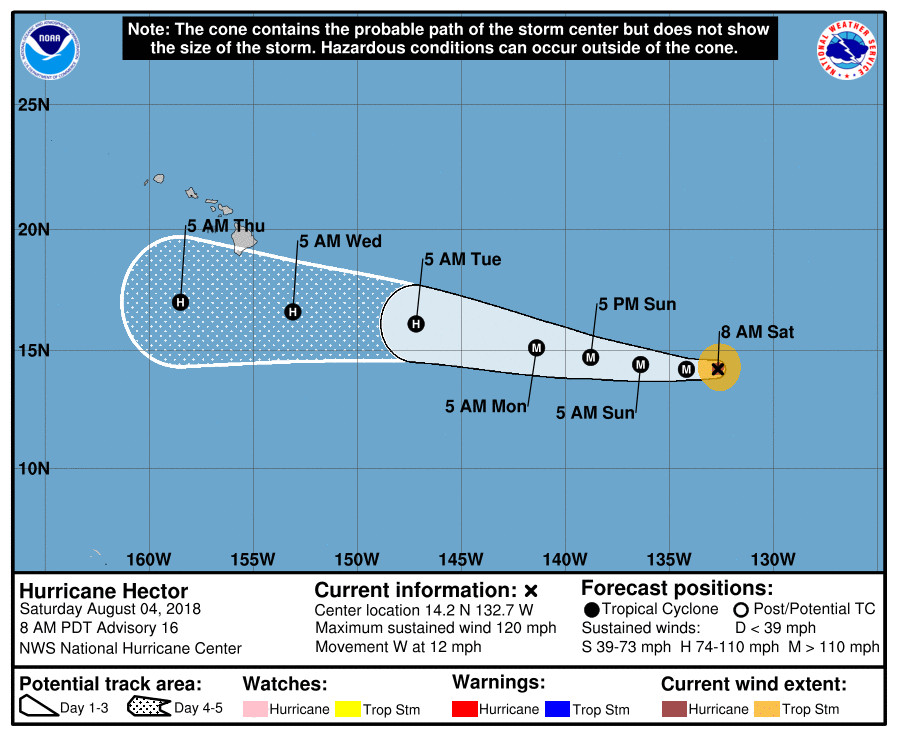 As for the direction of Hector over the next five days, the NWS wrote:
Hector is locked into a westward motion of 270/10 kt. A large subtropical ridge to the north should steer the hurricane generally westward throughout the forecast period, with Hector gradually gaining some latitude on Sunday and beyond due to a weakness in the ridge. Overall the model guidance is in much better agreement than yesterday, and only cosmetic changes were made to previous track forecast.

There is the potential for Hector to affect portions of the Hawaiian Islands by the middle of next week, but it is too soon to specify the magnitude of any impacts or where they could occur. This is a good time for everyone in the Hawaiian Islands to ensure they have their hurricane plan in place.