(BIVN) – At 5 p.m. HST, the strong Category Four Hurricane Hector was 735 miles east southeast of Hilo and moving west northwest at 16 mph.
A Tropical Storm Watch is in effect for Hawaii County. Hector's maximum sustained winds are near 155 mph with higher gusts. Hurricane-force winds extend outward up to 35 miles (55 km) from the center and tropical-storm-force winds extend outward up to 105 miles.
Hurricane Hector is expected to continue to move west northwest until Tuesday, at which time it should turn toward the west. On the forecast track, Hector is expected to pass roughly 150 miles south of the Big Island of Hawaii on
Wednesday as a major hurricane.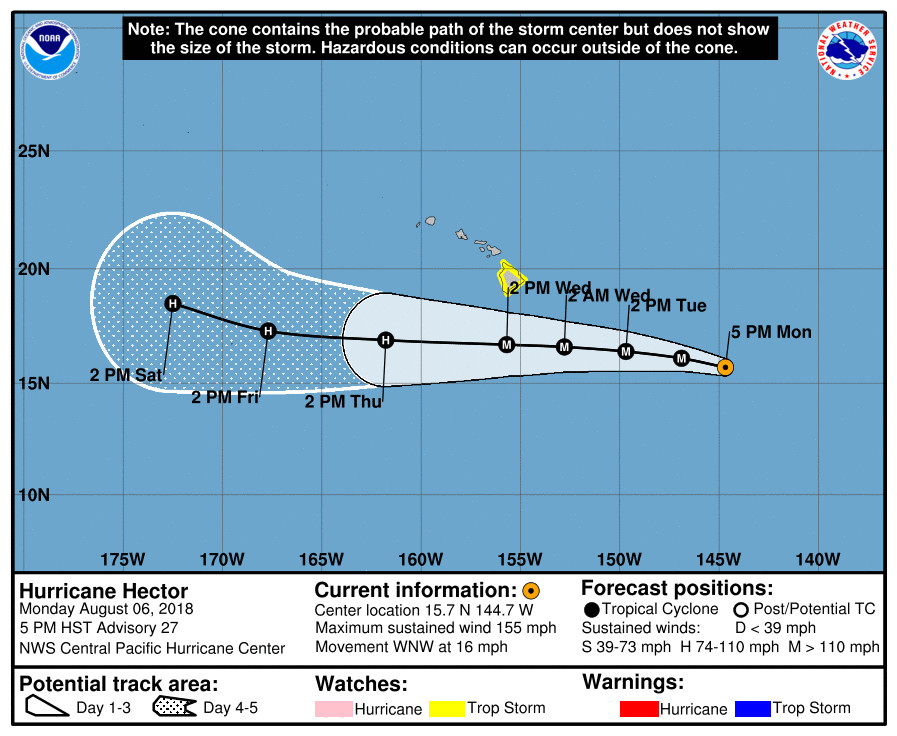 Hawaii County Civil Defense issued this alert message at 5 p.m. HST:
As of 5:00 pm Monday, the center of Hurricane Hector was approximately 735 miles ESE of Hilo at latitude 15.7 N and longitude 144.7 W, moving in a WNW direction at a speed of approximately 16 miles per hour. Strongest sustained winds are estimated at 155 miles per hour with higher gusts. Be aware that hurricanes are erratic and can change speed, direction, and intensity quickly.

Due to the position, strength, and movement of Hurricane Hector, the following advisories have been issues by the Central Pacific Hurricane Center:

The County of Hawaii is under a tropical storm watch. A tropical storm watch means damaging winds, damaging surf, and flooding rains are possible within the next 48 hours.

The following public safety measures and recommendations are now in effect:

Secure large objects in your yard and prepare your house for strong winds.

Secure all boats and aircraft.

There are no evacuations at this time.

All roads are currently open. Whittington, Punaluu, and Milolii Beach Parks will be closed after tonight. All pavilion and camping permits for these three parks have been cancelled from Tuesday-Friday.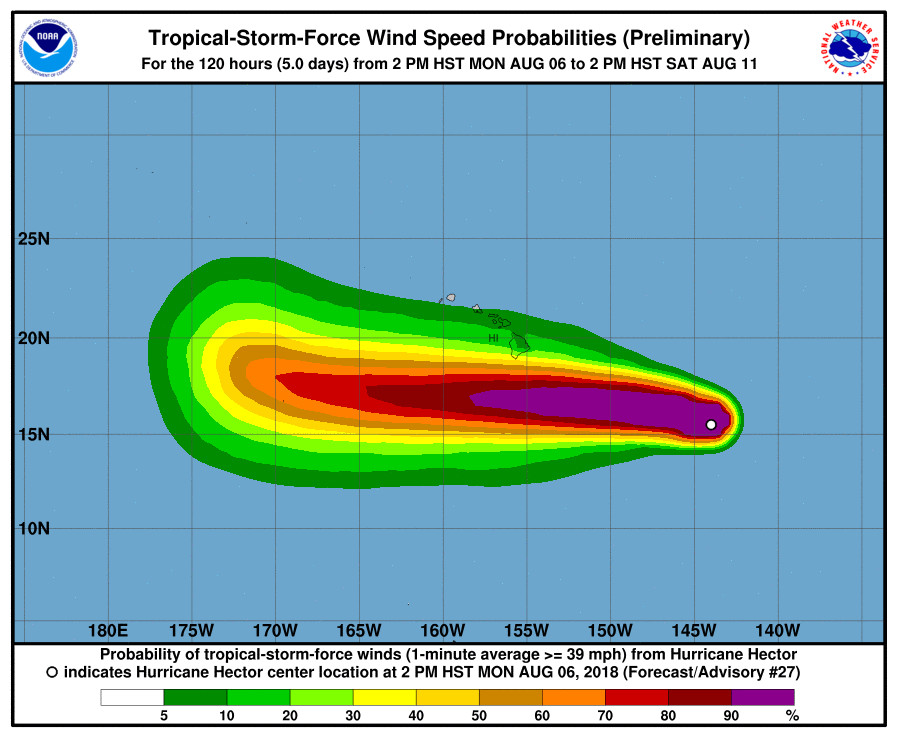 The NWS Central Pacific Hurricane Center Honolulu posted this forecast discussion at 5 p.m. HST:
Hector has shown little change in satellite imagery today and remains very impressive. Continuous bursts of lightning have been occurring within the eyewall, and the hurricane is maintaining an annular structure. Fixes from HFO, SAB, and JTWC came in at 6.5/127 kt again, and CIMSS ADT yielded 132 kt. Given what was sampled by morning reconnaissance aircraft and the lack of significant change in the satellite presentation, the initial intensity will be held at 135 kt. Unfortunately, the US Air Force Reserve 53rd Weather Reconnaissance Squadron had to cut its mission short this morning, but the next mission will occur this evening around 0530 UTC.

The initial motion of Hector is toward the west-northwest (285 degrees) at 14 kt. Hector took on a slight northward drift today as the deep ridge to the north weakened. The ridge will move to the north of Hawaii on Tuesday, which should cause Hector to resume a motion toward due west and take the hurricane just south of the Hawaiian Islands on Wednesday. As a result, a Tropical Storm Watch remains in effect for the Big Island of Hawaii. Aside from a slight adjustment to the north, little change was made to the track forecast. The forecast lies down the middle of a fairly tightly clustered guidance suite during the next 72 hours and runs near to just north of the TVCN. On days four and five, a gradual turn toward the west-northwest is expected as the deep ridge to the north weakens.

Hector is expected to remain a major hurricane during the next couple of days. The system is in a low vertical wind shear environment, and with nearby sea surface temperatures just over 27C, Hector is near its maximum potential intensity according the SHIPS guidance. There will be only minor fluctuations in sea surface temperature during the next 72 hours and continued low vertical wind shear, though models indicate mid level dry air affecting the hurricane. So far, this has not had much of an effect on Hector, leading to lower confidence in the intensity forecast. The forecast rate of weakening was decreased with this advisory and is line with the dynamical models, while keeping Hector stronger than SHIPS and LGEM during the next 72 hours. Thereafter, little change in intensity is expected as sea surface temperatures increase along the track.

FORECAST POSITIONS AND MAX WINDS

INIT 07/0300Z 15.7N 144.7W 135 KT 155 MPH
12H 07/1200Z 16.1N 146.9W 130 KT 150 MPH
24H 08/0000Z 16.4N 149.7W 125 KT 145 MPH
36H 08/1200Z 16.6N 152.8W 115 KT 130 MPH
48H 09/0000Z 16.7N 155.7W 105 KT 120 MPH
72H 10/0000Z 16.9N 161.8W 95 KT 110 MPH
96H 11/0000Z 17.3N 167.7W 95 KT 110 MPH
120H 12/0000Z 18.5N 172.5W 95 KT 110 MPH
The National Weather Service in Honolulu posted this information about Hector-related impacts at 3:49 p.m. HST:
The current track for Hurricane Hector has it passing by just south of the main Hawaiian Islands during the Tuesday night through Thursday time frame. Weather impacts for each island remains highly dependent on it's track and intensity. From Wednesday morning into Thursday, deep tropical moisture associated with Hector along with stronger easterly winds, will combine to produce an increase in rain showers over portions of the Big Island especially over southeast sections. Other areas of the state may see little change in rainfall from current levels. Again, this will be highly dependent on Hector's track and intensity. Please continue to closely monitor this hurricane as it moves closer to the state. Tune into local TV and radio stations, or go online to find the latest official forecasts produced from the National Weather Forecast Office in Honolulu at weather.gov/hawaii and the Central Pacific Hurricane Center at weather.gov/cphc.